Snapchat Dark Mode: The popularity of apps was at its height back in 2019. Almost every other software maker was focused on pushing out dark mode on their programs. With the advent of system-wide dark themes on Android and iOS, entering the dark side suddenly got seamless. However, if there is one app that didn't abide by the industry norm, that has to be Snapchat.
The photo-centric messaging tool that many people use to maintain Snap Streaks with pals, finally released out dark mode on iOS earlier this year, with Android compatibility still planned to arrive soon. Today, we will be going through the procedures necessary to enable dark mode on Snapchat.
What Is Snapchat Dark Mode?
Dark Mode (often dubbed night mode) is a setting where the app's color scheme is adjusted to a darker landscape. Another title for dark mode might be bedtime mode–this is the display setting if you want to remain up for a bit with the lights out. You can turn on Dark Mode on Facebook along with many other apps, including Snapchat.
Unfortunately, not many applications have a night mode–even some of the most popular ones have yet to incorporate this essential function. Regardless of other apps' capabilities, here's how to enable dark mode on Snapchat.
Get Snapchat Dark Mode on iOS and Android (2022)
While the Snapchat app for iPhone has a native option to enable or disable the dark style, the choice is missing from the Android app. Now, many Android users have long been wondering how to achieve dark mode on Snapchat on their devices. Fortunately for you, you've found the ideal spot.
We've come up with a clever workaround to allow Snapchat's dark look on Android devices. To that end, let's get started.
Also Check:
How To Turn on Dark Mode in Snapchat on iPhone?
Open your Snapchat profile by tapping the Bitmoji icon in the upper-left corner of the screen.
Press the Settings gear icon at the top-right corner of the screen from the profile page.
This option is found under "App Appearance" in the "My Account" section of Snapchat's settings.
Select "Always dark" from the "App Appearance" options to enable Snapchat's dark mode on your iPhone.
How To Enable Snapchat Dark Mode in Oppo, Vivo, or OnePlus Phones?
It is possible to enable Snapchat's dark mode on select Oppo, Vivo, and OnePlus phones using ColorOS/experimental FuntouchOS's per-app forced dark mode. Do keep in mind that you'll need an OxygenOS build based on ColorOS if you're using OnePlus devices.
Open the Settings app and select "Display & brightness" from the drop-down menu. To fine-tune your phone's dark mode settings, select "Dark mode settings."
A list of third-party programs that are compatible with dark mode may be found by clicking "Dark mode for third-party applications (Beta)" on the menu bar.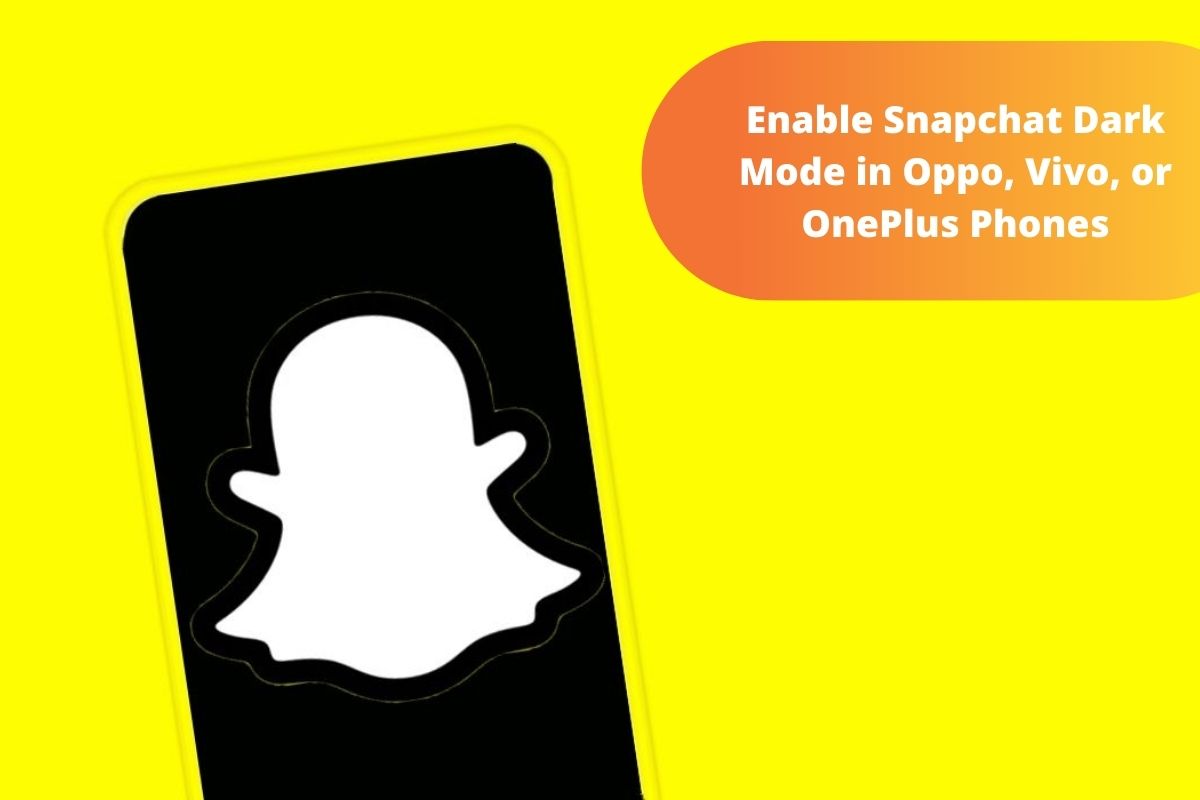 Toggle the Snapchat option on the list of supported apps. When the confirmation message displays, select "Turn on" to activate Snapchat's dark mode.
Enjoy the dark theme of Snapchat right now by opening the app! In comparison to the system-wide dark mode enabled via Developer Options, this implementation is more appealing.
Get Snapchat Dark Mode on Any Android Phone
As of right now, there is no official Snapchat dark mode for Android. This section will be updated as soon as Snapchat launches its Android app with a dark look. The developer options' "forced systemwide dark mode" is the closest you'll get for the time being.
Though not ideal, it does a better job than the existing Android light mode, which is so bright that it blinds your eyes. You may force-enable the dark mode on the Android version of Snapchat by following the steps below:
Take a look at "About phone" in the Settings menu. You can now find the "Build number" by scrolling down and tapping it seven times. Your Android smartphone is now in developer mode.
To access the developer options, return to the Settings home page and select "System -> Developer options."
The "Override force-dark" switch must be turned on for the forced dark mode to work. Apps that don't have native dark mode support will soon have their colors inverted by Android.
To get Snapchat version 10.72.0.0 on your device, go to the APKMirror link and press the "Download APK" button. It's possible to result in you missing out on new features, but it's a price worth paying to obtain Snapchat dark theme right away.
The only way to immediately enable Snapchat's dark mode on an Android device is to use this workaround.
Even in the year 2022, Snapchat will still be one of the few widely used social networking apps without dark theme support for Android. In the meantime, we hope this tutorial has given you a taste of what you can expect from the feature when it launches later this year. If you'd want to enable dark mode in additional popular apps, see our detailed tutorial on how to do so.
I hope you got the gist of what this app was all about. Share this app with your family and friends for up-to-date information. Newsconduct.com is a good place to keep up with the latest in technology.