The Apple Watch has been an enormous success for the business, effectively locking up the wearables market at the outset. We're eager to see what Apple will do with the following iteration of its digital watch now that 2023 is well underway. Here are all the rumors, stories, and predictions we have found regarding the Apple Watch Series 9 so far…
Apple Watch Series 9 Release Date
If you'll excuse the pun, Apple's Watch release timetable functions just as it should. Its most recent variants have traditionally debuted in the second or third week of September, frequently concurrently with the release of new iPhones, with on-sale dates a week and a half later:
Apple Watch Series 8: September 7, 2022
Apple Watch Series 7: September 14, 2021
Apple Watch Series 6: September 15, 2020
Apple Watch Series 5: September 10, 2019
Apple Watch Series 4: September 12, 2018
Apple Watch Series 3: September 12, 2017
We anticipate the Apple Watch Series 9 to debut in September 2023, most likely at an Apple Event on September 6 or 12. This is what we expect to happen since it appears highly unlikely that Apple will alter the cadence this year.
Will There Be a New Apple Watch Ultra?
The two most vocal Apple observers, Mark Gurman of Bloomberg and analyst Ming-Chi Kuo believe that we won't only be seeing the Apple Watch Series 9 in the fall of 2023. A new Apple Watch Ultra is reportedly arriving somewhere in the second half of this year, according to a report from Kuo in mid-July 2023.
Gurman predicted in June that the second generation of the Apple Watch Ultra will launch later in 2023 alongside the new Watch Series 9. Gurman wrote:
"There will be two Apple Watch Series 9 models and an updated version of the Ultra (the watches are codenamed N207, N208 and N210)."
2023 Apple Watch Pricing
Once again, Apple's pricing policy for the Apple Watch for US customers has been extremely stable. However, the majority of price rises were borne by European nations in 2022. As a result, the base model increased by £50 in the UK:
Apple Watch Series 8 – $399/£419
Apple Watch Series 7 – $399/£369
Apple Watch Series 6 – $399/£379
Apple Watch Series 5 – $399/£399
Apple Watch Series 4 – $399/£399
We anticipate the Series 9 will cost about the same as the Apple Watch Series 8 if it succeeds, despite a price increase now in place in Europe. So, it should cost roughly $399 or £419 instead. We don't anticipate the price of the Apple Watch Ultra to change for the second iteration ($799/£849).
New Apple Watch Design
The design of the Apple Watch Series 9 is not expected to alter, although there may be some modifications coming to the Apple Watch Ultra that will eventually filter down to a later Apple Watch model. The screen size of the Apple Watch Ultrsa may vary in the future.
The Ultra screen size may grow from 1.9 inches to 2.1 inches. The next-generation Apple Watch will reportedly have a larger display,
According to Bloomberg's Mark Gurman, this may not happen in 2023 and instead be a feature of 2024 Watch (or later). Gurman wrote in early April that Apple is planning:
"A major update to the watch hardware in 2024, complete with a larger, custom-built display."
I believe the new watchOS should be a fairly extensive upgrade — with notable changes to the user interface — unlike iOS 17. It's important for watchOS to have a big year given that the Apple Watch hardware updates will be anything but major. The device is poised for a more… https://t.co/cXFOrLkawE

— Mark Gurman (@markgurman) April 2, 2023
Apple Watch Series 9 Software and New Features
The Apple Watch Series 9 will come pre-installed with watchOS 10, which is one thing we can say with certainty. This indicates that you may anticipate a few new watch faces—possibly a few that are unique to the new model—as well as one or two new features.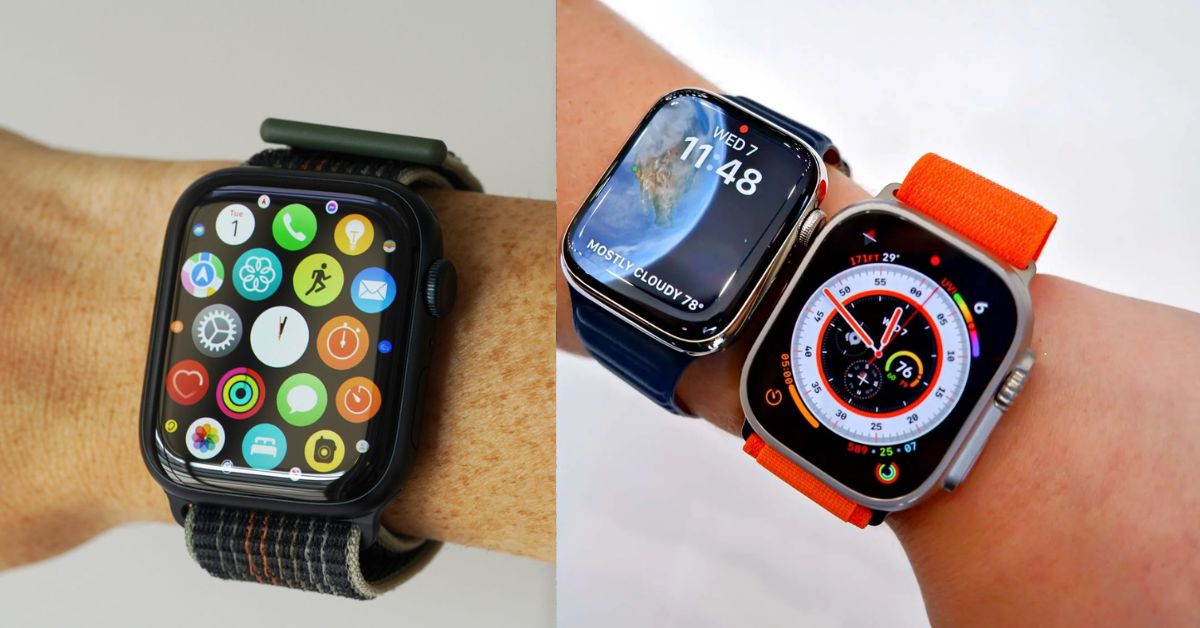 Following WWDC on June 5, we were given a sneak peek at several new features and applications coming to the Apple Watch operating system, including a revised user interface and watchOS 10 apps. In addition to new apps and upgrades to current apps, including the Compass and Maps app and new Health features, there will be new clocks to pick from and new Watch faces.
For More Apple watch related news, You can check the news given below:
There won't be a significant improvement over the 2022 models with the Apple Watch Series 9. There are still several potential new functions that could be added to the Apple Watch Series 9 even without significant revisions. You can see more features below:
S9 Chip
Every new Apple Watch features a new chip, which can be seen in the technical specifications. There is a S8 chip in Series 8, a S7 chip in the Series 7, and an S6 chip in the Series 6. The sole peculiarity is that each chip has a different name while being the same.
The S7 and S8 are rebranded variants of the same CPU, whereas the S6 offered a 20% performance bump over the Series 5. With a design based on the A15 that improves performance and battery life and maybe includes a Neural Engine embedded into the processor, the S9 is expected to change that.
New Health Sensors
Apple has been working on a non-invasive method to check blood glucose levels without the need for additional equipment for years. A covert Apple team has accomplished numerous "major milestones" and the feature is currently at the "proof of concept" level. Although it might still be a few years away, it's unlikely that it will show up in this year's watch.
A bioimpedance sensor and an electrodermal activity (EDA) sensor for detecting stress levels and body composition are further potential sensors.
MicroLED Display
Over the past few years, there have been many reports regarding Apple possibly employing MicroLED displays on a variety of products, but the Apple Watch seems the most likely candidate.
After all, the Apple Watch had an OLED screen years before the iPhone did, so it stands to reason that Apple will also introduce its MicroLED screen on the Apple Watch. Switching to microLED has many benefits, including panels that are lighter, brighter, higher resolution, more power-efficient, and with quicker response times.
The Apple Watch Ultra is the first device to use microLED technology, so we might have to wait a little while for them. The next-generation Apple Watch Ultra was once planned to ship with a microLED, but that upgrade was forecast for 2024, and a new Apple Watch Ultra is now anticipated in 2023.
The Apple Watch Ultra variant with a microLED display is now expected to ship sometime in 2026. As it appears that Apple has run into manufacturing issues with the new screen technology. Therefore, we probably won't see microLED features until the third or fourth iteration of the Apple Watch Ultra.
You can check out the news that is provided below for more information regarding the Apple watch:
Action Button
Apple unveiled the brand-new Apple Watch Ultra with a bewildering selection of functions and components last year. The newest Apple Watch model had the Action button in addition to a more robust design, flat edges, and a slightly larger display (49mm as opposed to 45mm on the Apple Watch Series 8).
The Action button, which is adjacent to the Digital Crown on the opposite side, would comfortably fit on the Apple Watch Series 9. It is possible to program the Ultra to perform certain actions, such as starting a stopwatch, an exercise, or a flashlight. This feature would be a great improvement over the current Apple Watch model.
Dual-Frequency GPS
The Apple Watch Ultra improved its GPS to include the L5 band in addition to the normal L1 band for quicker and more accurate location tracking, just like the iPhone 14 Pro. The extra band might come in helpful in crowded city places where the normal Watch can struggle, even if you are not hiking in difficult terrain.
We believe that this could very easily occur because Apple frequently introduces new features on higher-end models before bringing them down to lower-end versions.
5G Network
Even the most expensive Apple Watch Ultra has 4G LTE, making Apple Watches one of the only current Apple products that haven't received a 5G update. The Apple Watch is getting closer to being completely independent, so having the fastest connection possible makes sense.
There will undoubtedly be a few issues to solve, but Apple often excels at this. Be sure to check back frequently as we'll keep updating this post as new information becomes available. If you can't wait until September, here are our picks for the greatest Apple Watch discounts available right now.
You can keep up with what's happening in the world by reading the most recent entries on our website, News Conduct.