Julia Haart, the star of the My Unorthodox Life Season one, sits down at the head of her dinner with the family.  She raised a toast mentioning that they are a rare and usual group of people. She looked at the table filled with her friends and relatives after the ending of the reality show. The relationship that they have formed has withstood all the problems of religion, location, and disagreement. Despite being so different, they were sitting at the same table. They are connected and united.
This speech from Julia conveyed the whole meaning of My Unorthodox Life Season 1. It displays the effect of Julia Haart's decision on her career, family, and her perspective on the world. She decided to leave her ultra-orthodox Jewish community and enter a secular world at 42 years. She also became a part of Elite World Group as CEO. 
According to the sources, Julia is returning for the next season. This season will include all the fun of the first nine episodes. It will include more discussions about religion, feminism, and personal freedom. 
Here is everything you need to know about the upcoming season of My Unorthodox Life.
Some Information about My Unorthodox Life Season 2
Haart was welcomed to The Ellen Show this September and informed the audience about the renewal of My Unorthodox Life for Season 2. Netflix also confirmed it via a press release. They mentioned that it will cover more fashion, family, female empowerment, fabulousness, faith, and Julia Haart. We have no information about the release date of the show. However, the previous season came out in the summer. So, we can expect this season in the summer of 2022.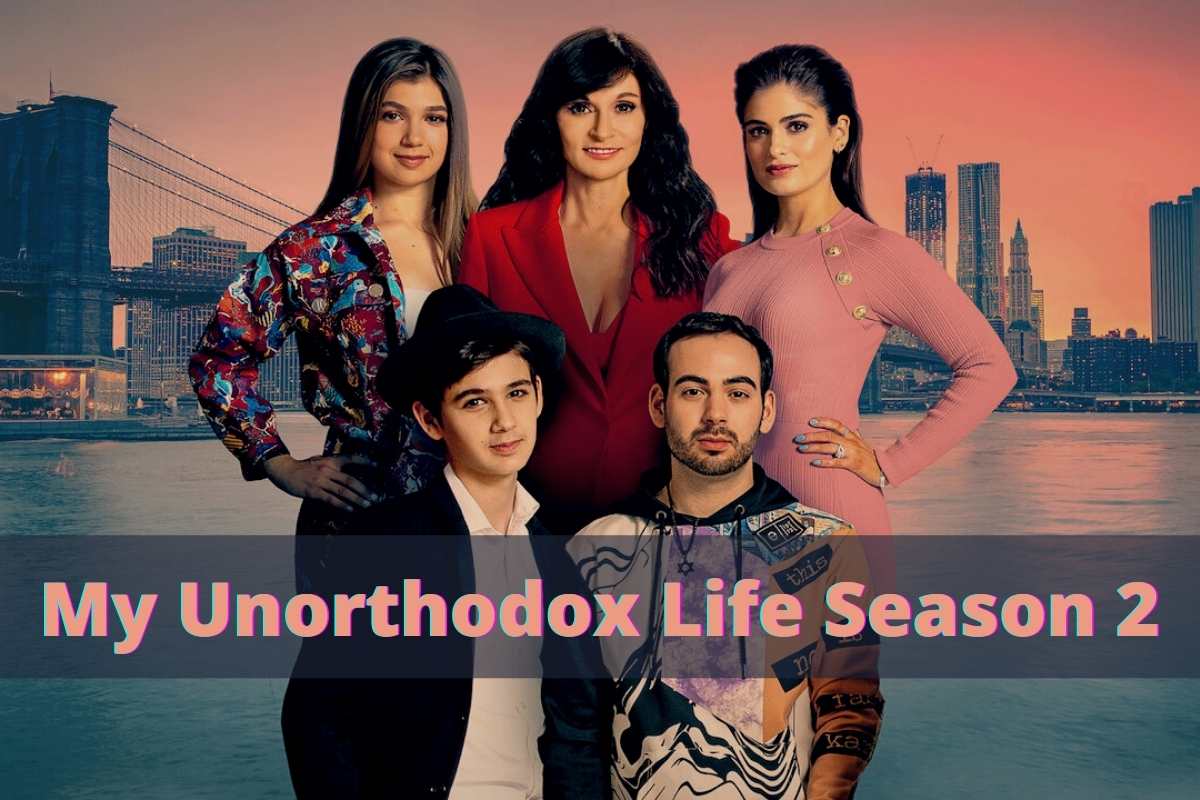 Related Post
My Unorthodox Life Season 2 Cast
After the press release by Netlfix, we can assume the return of most of the family members for Season 2. It may include:
Miriam Haart
Julia Haart (born April 11, 1971) is an American fashion designer, businesswoman, and author who lives in New York City with her family. She is presently a co-owner and former CEO of Elite World Group, which she founded in 2003.   (formerly known as Pacific Global Management Group), a holding company that oversees the Elite World Group, was co-founded by her. ]She formerly owned her own shoe line, and she worked as the creative head of the Italian luxury brand La Perla before that. Haart was also the subject of and executive producer of the Netflix miniseries My Unorthodox Life, which chronicled her choice to leave her Haredi community in 2013, which was shown in 2013.
Shlomo Haart
A fashion designer and businesswoman, Julia Haart (born April 11, 1971) has also written a book. In addition to being a co-owner and previous CEO, she is also a consultant.  2 She is a co-founder of Freedom Holding (previously Pacific Global Management Group), a holding company that owns the Elite World Group. 3 She formerly owned her own shoe line, and she worked as the creative head of the Italian luxury brand La Perla for several years. The Netflix miniseries My Unorthodox Life, which chronicled Haart's decision to leave her Haredi community in 2013, was also filmed with Haart as the subject and executive producer
The elder daughter of Haart, who is a social media influencer, named Batsheva The eldest son of Haart named Shlomo, who was preparing to go to law school and was also dating for the last time
 The youngest daughter of Haart is named Miriam, who was pursuing software engineering at Stanford The youngest son of Haart is named Aron, who lives in the ultra-orthodox community part-time We may also see Robert Brotherton, who is the right hand of HAART. He is the COO at Elite World Group. 
However, we doubt the appearance of Ben Weinstein, who is Batsheva's husband. The first season focused on their relationship after Haart left the community. Their love blossomed in that scenario, and they got married later on. However, in 2021 Weinstein and Batsheva announced their separation. They also posted on Instagram, saying that they possess love and respect for each other. But, to live joyful and peaceful life further, they require space. They have no secrets and no indecent events to blame. They believe that they are just best friends who have spent nine years of their life growing in their way. Weinstein also posted a solo photo with a caption not so famous. This post questions his appearance in the next season. 
In February 2022, news came out about the divorce of Julia Haart. She has filed for divorce from her husband, named Silvio Scaglia Haart. Their relationship was also the focus of the previous season. A source from Page 6 mentioned that the separation will be covered in the upcoming season. Scaglia's appearance is confirmed through a post by Julia. She uploaded a picture on Instagram with a caption saying that day 1 of shooting is done with Scaglia. 
Read More
My Unorthodox Life Season 2: Everything That Could Be Addressed
After the first season premiered, many orthodox and ultra-orthodox women raised their voices to criticize the message that Haart gave throughout the series. They were against the thoughts of oppression in the community displayed in Season 1. The New York Times mentioned that Haart was all set to debate the topic in an interview. However, the New York Times later declined the agreement, and they didn't agree on the alternatives. She told in a statement to the Times that her purpose in sharing her story was to aware people of the unquestionably repressive society. She wants people to know about the denied opportunities same as men. Right to freedom will also be covered in her upcoming book and season 2.
After the release of the show, Haart discussed these issues in many interviews. So, there are high chances of covering these in the upcoming seasons. She was asked in a conversation about these issues, where she replied that no man, no religion, and no philosophy should tell women their character and work. She mentions it to be only related to fundamentalism. 
If you have watched Season one, you will understand the above-mentioned description clearly. To know more about the upcoming season and twists, be updated through our website.
My Unorthodox Life Offical Trailer
Sad to inform you that My Unorthodox Season 2 is Not renewed yet, so the trailer is not out. you can watch the interesting Trailer for Season 1
For more interesting information like this, you may also check, News Conduct.