Billions is an American drama TV series that premiered on Showtime Network. The first season aired on 17th January 2016, and the showrunners are a trio of Brian Koppelman, David Levien, and Andrew Ross Sorkin. It is regarded as the first American TV series to have a non-binary character. The series depicts the inner workings of giant financial centers, most notably New York and Connecticut. The plotline of Billions follows the life of a hedge fund manager Bobby Axelrod and how he can accumulate wealth and power in the financing world.
In the entire series, you will see how Axelrod uses his aggressive tactics to secure high returns frequently cross over into the illegal—acts that United States Attorney Chuck Rhoades attempts to prosecute. The investigations conducted by Preet Bharara, United States Attorney for the Southern District of New York in Manhattan, from 2009 to 2017 inspired the Billions TV series. The first season of Billions loosely covers the prosecution of hedge fund manager Steven A. Cohen of the SAC Capital Advisors led by Preet Bharara in 2013. 
The series is quite popular among viewers for its realistic coverage of the hedge fund industry. The Billions has also won awards GLAAD Media Awards for their representation of the LGBTQ community. The show has received many Satellite Award nominations, a Critics' Choice Television Award, and an Artios Award for Outstanding Achievement in Comedy Pilot Casting, the latter for its pilot episode. 
The fifth season of Billions started on 3rd May 2020, and owing to the COVID-19 epidemic, only 7 of the season's 12 episodes went on air. It gained resumed on 5th September 2021 with the remaining episodes of the fifth season. On 23rd January 2022, the sixth season of Billions aired on Showtime. And in February 2022, the show was renewed for the seventh season. Fans are wondering when they might see the next installment of the show. 
We've assembled all you need to know about Billions Season 7's release date, plot, cast, and trailer. Read the complete article to learn more. 
Billions Season 7 Release Date
Season 5 of Billion ran a two-course premiere, one on 3rd May 2021 of seven episodes and another of five chapters on 5th September 2021 due to the COVID-19 pandemic. Then in October 2020, the show was renewed for a new season which aired from 23rd January 2022 to 10th April 2022 on Showtime. In February 2022, the showrunners revived the drama for a seventh season.
The drama series is one of Showtime's most popular, with a large and passionate fan base. Even though Lewis's departure has caused some disappointment, most fans have accepted it. From 2016 to 2019, the first four seasons aired in the first three months of each year, season one in January, season two in February, and seasons three & four in March. 
However, because of the effects of the COVID-2019 epidemic, the team encountered significant difficulties when creating and screening the fifth season.
Nevertheless, things have returned to normal since Season 6 of the show has resumed its regular release schedule. If everything goes as planned, Billions season 7 will premiere in the first quarter of 2023.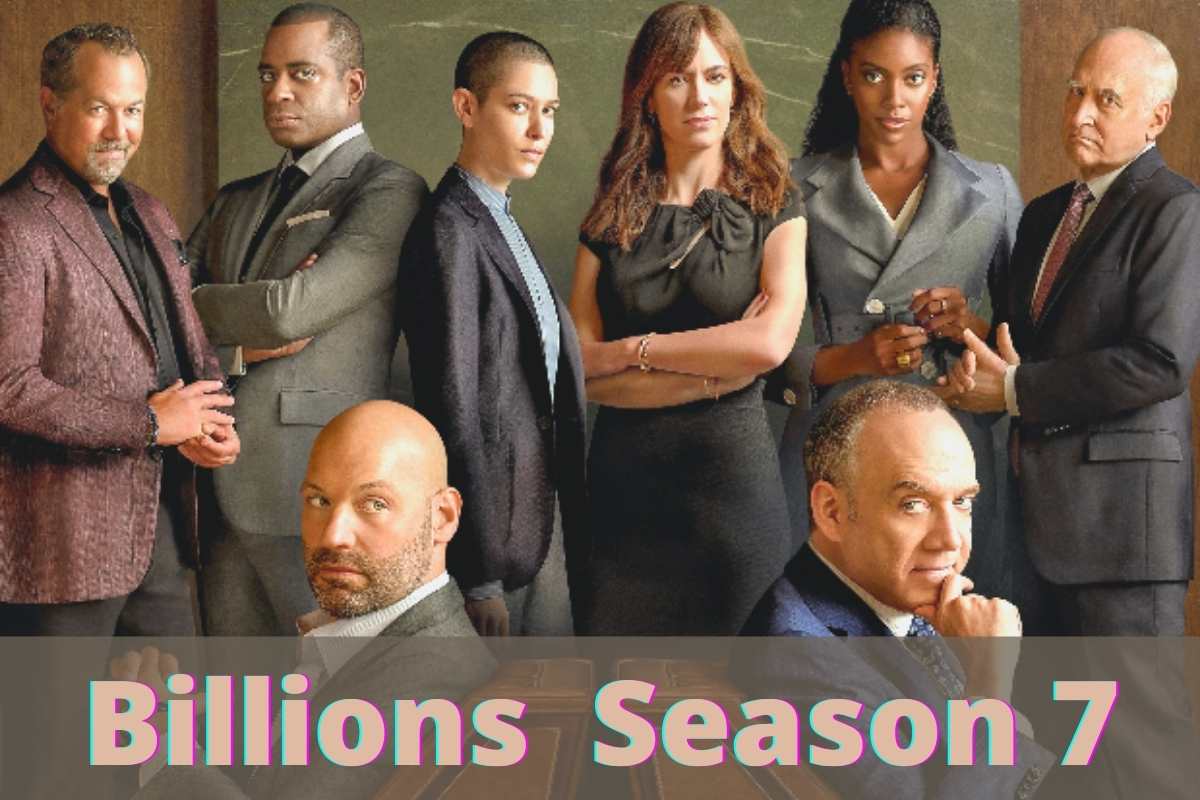 Read More
Billions Season 7 Plot
In the finale episode of season 6, Prince loses $3.5 billion to avoid jail time. However, Chuck gets himself imprisoned. Everyone at Michael Prince Capital has realized what kind of man their new boss is. This had made them nervous. At the end of the episode, Dave visits Chuck in prison and informs him that she will need his assistance to prevent Prince from becoming President of the United States.
When season 7 of Billions of releases, we might see Micheal Thomas Aquinius Prince in pursuit of squandering the $3.5 billion which he had lost in the previous season. His feud with the prosecutor might also resurface. Additionally, if Philip and Taylor take over MPC next season, they may try to break out from Prince's massive shadow. And we may also see Wendy's attitude toward her job changing now that she has been granted asylum.
There are many possible storylines for Billions season 7, and one thing is for sure the upcoming season of Billions will be far better than the previous seasons. We eagerly await the showrunners' publication of the synopsis for the seventh installment. We might be able to figure out what happens in Billions Season 7 after the summary is released. Until then, all we can do is wait. Other updates may be released soon by the creators.
Recent Post
Billions Season 7 Cast
Showtime hasn't made any official announcements yet, but many of the long-running Billions of cast members will likely return. This will include Maggie Siff, Condola Rashad, Asia Kate Dillon, Jeffrey DeMunn, and Paul Giamatti. Daniel Breaker (Scooter Dunbar) and Sakina Jaffrey (Daevisha "Dave" Mahar, both newbies from Season 6, are anticipated to return for the upcoming season. The other cast of Billions season 7 may also include the following actors:
Louis Cancelmi as Victor Mateo
In addition to his acting career, Louis Cancelmi is a director and producer of stage and screen productions in the United States. he is a regular performer at the Public Theater's Astor Library home and at Central Park's Delacorte Theater. His most well-known roles are those in Boardwalk Empire, Blue Bloods, and The Irishman, the last of which made him a household name across the country.
Will Roland as Winston
He is most known for creating the part of Jared Kleinman in Dear Evan Hansen, for which he got a Grammy and Daytime Emmy Award. He made his acting debut in the 2008 drama film One Penny, for which he is well known. He recently appeared on Broadway and off-Broadway as Jeremy Heere, the principal character in the musical Be More Chill.
Other Cast:
Similar Post
Billions Season 7 Trailer
Billions Season 7 trailer is yet to release. Showrunners are expected to announce the trailer anytime soon. Till then, you can watch the previous seasons of Billions on Disney Plus Hotstar.
If you want some other information like this then do visit our website, News Conduct.