Various talented artists are given honors at the Kennedy Center Opera House annually. All US Presidents have participated in this timeless ceremony except former President Donald Trump.
However, President Biden has returned to tradition and he celebrated Bette Midler and Joni Mitchell at Kennedy Center Honors. 
2021 Kennedy Center Honorees 
A group of five artists was selected to receive honors by Kennedy Center. This includes singer and actor Betty Midler, Motown founder Berry Gordy, Opera Singer Justino Diaz, Creator of Saturday Night Live Lorne Michaels, and singer Joni Mitchell. 
All the artists mentioned above are universally recognized for their excellent work. Midler has received an Emmy, a Grammy, and Tony along with a Golden Globe! Her career has been successful for several years with more than 30 million sales worldwide.
Jeremy Clarkson Reveals France's Reaction To His Multiple Driving Offences 
Canadian Singer Mitchell has received several Grammys! He has also gained access to the Rock & Roll Hall of Fame with his famous songs "Big Yellow Taxi" and "Both Sides, Now." 
Another artist of Canadian origin, Michaels is given worldwide recognition for creating the comedy show "Saturday Night Live."
Diaz is a Puerto Rican opera singer who has worked with international companies.
Songwriter and singer Gordon is the founder of  Motown record label. In recent years, his label is successful dominating the jazz and blues music industry.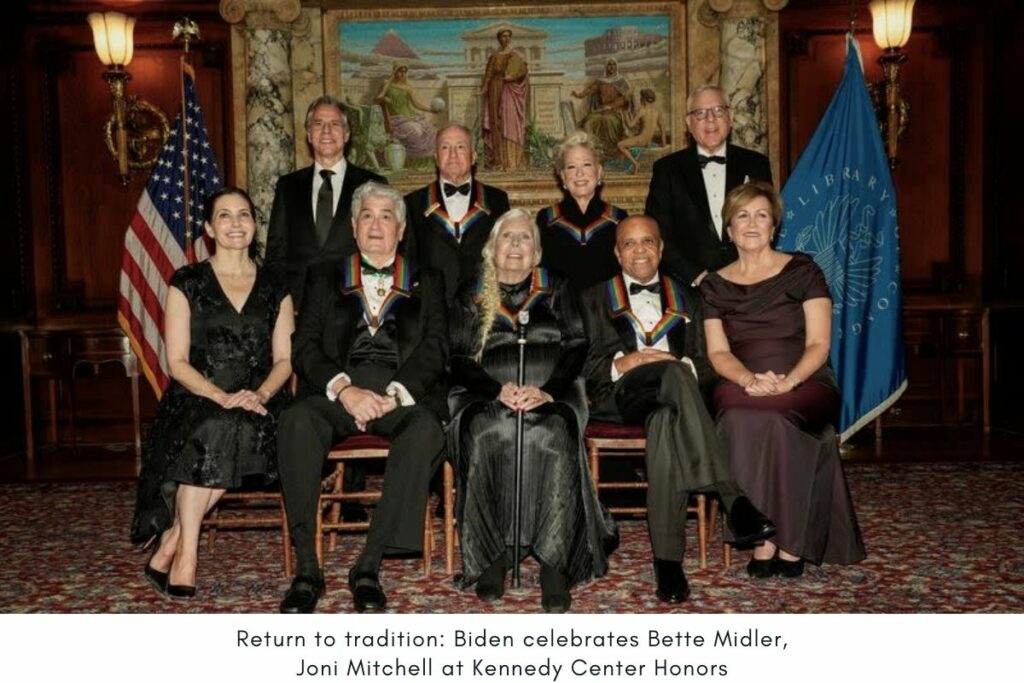 President Joe Biden at Kennedy Center Honors 
Before Washington even, President Biden hosted a small ceremony for the honorees. Such an event has been held by all Presidents of the United States except Donald Trump. The former president did not even attend the event at Kennedy Center itself!
Although people expected the arts community to publicly express their disappointment, they were pretty calm! Most of them were okay with the President not celebrating them. The 2018 honoree Singer Cher went so far as to say had Trump come to the event, she would accept the award in a bathroom! 
President Biden also attended the award ceremony on December 6, 2021. The host, David Letterman appreciated their appearance and said, 
"It is quite nice, very nice, to see the presidential box once again being occupied." 
Tom Holland Confirms Fight Scenes in Forthcoming Film Spider-man: No Way Home Is 'very Violent'
Kennedy Center Honors- Where can we watch the ceremony?
To watch the ceremony, viewers will have to wait up until December 2022. CBS will broadcast it and Paramount+ users can stream it.