Disney doesn't do things halfway, and after the end of season two of The Mandalorian, fans are dying to know what comes next for the show. At least we know that season three is coming, which is great news for fans of Mando and his cute muppet friend. Now all we have to do is wait for it.
Even though there are a lot of Star Wars spin-offs coming out, like Andor and Obi-Wan Kenobi, and Ahsoka is coming out soon, The Mandalorian is still one of the most popular shows in the galaxy.Here's what you need to know about season three of The Mandalorian.
The Mandalorian season 3 Cast: Who will be in it?
Disney has already said that Pedro Pascal will be back as Din Djarin, the Mandalorian who is the main character of the whole series (presumably with help from stunt doubles Barry Lowin, Brendan Wayne, and Lateef Crowder). Pascal's stunt doubles In an Instagram post after the end of the second season, Brendan Wayne confirmed this by writing: "No spoilers!!! But just in case nobody else knew it yet, Pedro Pascal is amazing. This season, they planned a beautiful journey for him. This story became epic when Pedro did more than what was written on the page. I'd like to thank Pedro Pascal."
And he added: "Yes!! Pedro is on the way back. There was never even a doubt. DO NOT BELIEVE EVERYTHING YOU READ."Baby Yoda (we're not going to call him Grogu, you can't make us) will also be back for more adventures all over the galaxy, which is good news since he is so popular right now. Glad they were able to sign that deal.
Katee Sackhoff, who plays Bo-Katan Kryze, is a big name who is coming back. She said that the character has "unfinished business" at the Star Wars Celebration panel where news was given.This ominous warning could mean that Bo-Katan and his old friend Din Djarin will fight over who gets the Darksaber."There are so many stories to choose from. I don't write for the show, so I don't know if any of that will be in it "Sackhoff said (via Collider).
"Last season, Bo knew exactly what she wanted to do, and she didn't take the Darksaber. I think a lot of people were shocked by that. So, it's clear that she's doubting herself."And it sounds like we might spend some time in the Mines of Mandalore. "Seeing Mandalore again was a big deal for me as someone who loves this character," Sackhoff said.
When Ming-Na Wen, who plays Fennec Shand, talked to Digital Spy about her character's role in the third chapter, there was some doubt there."I'm not sure. Most likely, you'll know before I do. You guys are inquiring about everything, "she told me. "I mean, come on, I didn't even know I was filming The Book of Boba Fett, so you're asking the wrong person."
Giancarlo Esposito, who plays Moff Gideon, has said that he will have a bigger role in season three and be more dangerous than ever.He said to Metro, "He is the ultimate bad guy who is all-powerful and knows everything there is to know about technology and other things. So, it's safe to say that you'll see Moff again… soon."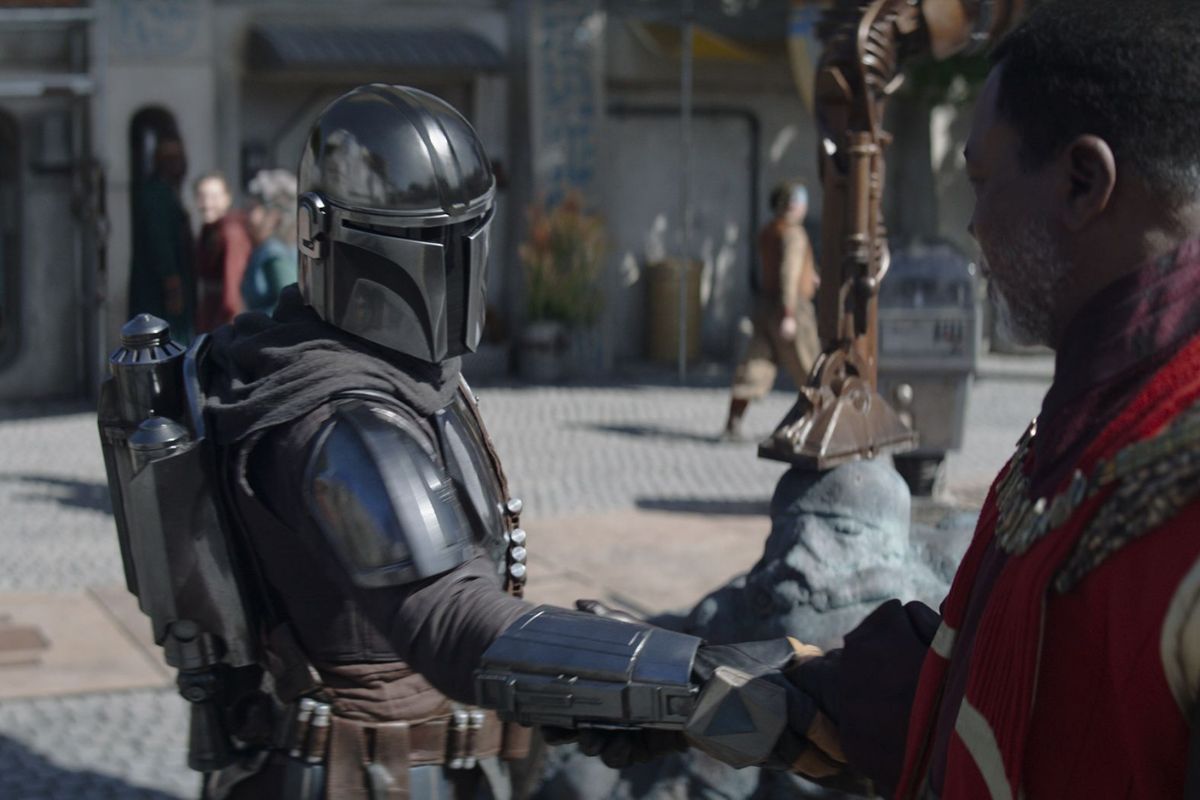 Greef Karga (Carl Weathers, confirmed) and Ahsoka Tano could also come back (Rosario Dawson). Cara Dune is a character who will not be back at all. Since the first two seasons of The Mandalorian were shot, Gina Carano has been fired from the show because she wrote offensive things on social media. Here is where you can find out more about that.
When criticised by a caller after Carano's firing, Disney CEO Bob Chapek said on the company's investor call (via The Hollywood Reporter), "I don't really see Disney as being left-leaning or right-leaning. Instead, it stands for values."
"Values that are universal. How to show respect. Values of good behaviour. Values of honesty and values of being open to everyone."Carano was also dropped by United Talent Agency, her agent at the time.
The Mandalorian season 3 release Date: When will it return on Disney+?
Disney has finally said that the movie will come out on March 1, 2023. Before the official announcement, a lot of people had been guessing that it would come out in February, but now we know it will come out in March.
Even the actors didn't know for sure. On The Rich Eisen Show in 2022, Giancarlo Esposito, who plays Moff Gideon, said, "You'll get it as soon as possible." I still need to finish a few more things before I can finish my work. I think it will happen this summer, though. There isn't a set date yet, but one will be set soon." (As it has indeed been. So yay!) Even when they are told, they can't talk about it. Sometimes, like with Ming-Na Wen, they don't even make the show they thought they were making (more on that story later).
The Mandalorian Season 3 Plot: What Will the Third Season Be About?
The end of The Mandalorian's second season felt like the end of the show, leaving a lot of questions about what will happen in season three. At first, people thought that the scene after the credits might have been there to set up a whole new story about Boba Fett (Temuera Morrison) and Fennec Shand (Ming-Na Wen). But it was called "The Book of Boba Fett." Not really a Mandalorian story, but a side story that happens at the same time as the Mandalorian arc.
"When they told me I was going to be a regular on the show, I just assumed it was for season three of The Mandalorian," Ming-Na Wen told Digital Spy. "Then, when the scripts came out, they had the numbers 301, 302, 303, and 304 on them. So I just thought I was signing on, even though my contracts don't say "The Mandalorian.""So, while I was working with Tem and Robert [Rodriguez] for two weeks, I didn't know that I was actually filming the spin-off [laughs].
Read Also:-
"When the crew and actors found out, they thought they were going to die. It was insane. So, yeah, it was great to finally find out I was filming The Book of Boba Fett. In a way, they call it "The Mandalorian 2.5." So I wasn't wrong at all."
Fans who have seen all of The Book of Boba Fett already know what's going on, but in case you haven't, here's a juicy tidbit: the last episodes of Boba Fett set up the plot for the next season of The Mandalorian.
As the show came to an end, Boba and Fennec didn't like the idea of being seen as heroes. This makes sense, given that they used to be cruel. Boba even says, "We're not made for this," to which Fennec replies, "I agree." "Who else if not us?"When a stranger gives them a melon, they know the answer. Fett throws it at the leaders of the Mods street gang, Black Krrsantan and Sophie Thatcher's Drash. In theory, these characters could replace Boba Fett in Jabba the Hutt's old seat, giving Boba the chance to go back to being a bounty hunter. If not the torch, then at least the watermelon. Then we get a quick, cute look at Mando flying away with Grogu.
So we thought the story would start with The third season of The Mandalorian, in which Mando and Grogu get back together, has now aired in Boba Fett. (We've dug deep into this for you.)Which is kind of good news. When Grogu and Mando were pulled apart, the whole point of the show seemed to be in danger. We're so glad that they're back together, and it sounds like Pascal feels the same way.
When Can We See a Trailer for the Third Season of the Mandalorian?
You can see the first teaser trailer for season three above. It was first shown at D23, and then it went online. A full trailer hasn't come out yet, but that's fine because there are already a million Baby Yoda memes and clips floating around that you should watch over and over again. We'll have at least a few other Star Wars shows to watch while we wait for the new one. We'll let you know when we find out more. On Disney+, you can now stream seasons 1 and 2 of The Mandalorian, as well as The Book of Boba Fett and Obi-Wan Kenobi.
Follow our site newsconduct.com  and get all the latest updates daily.