Hurricane Hilary is making its way into California and Arizona, where it will potentially cause rains and flooding. As of Saturday afternoon, Hilary was churning off one of Mexico's Baja California peninsula's westernmost spurs, heading north-northwest at 17 mph, and generating strong gusts of at least 110 mph.
The now-Category 1 storm will likely lose strength once it makes landfall, but it will bring heavy precipitation to parts of the Southwest, especially Southern California. Several weather-related advisories and warnings have been issued by the National Weather Service offices in Tucson, Flagstaff, and Phoenix.
The majority of the effects will be seen in southern Arizona from Saturday through Sunday, according to the weather service, which described the situation as "deteriorating" in places like Yuma and La Paz counties. There are currently two advisories in effect for these two counties:
Flood watch from Saturday 8 a.m. until Monday 5 p.m.
Wind advisory Sunday between 11 a.m. and 11 p.m.
Here are some things Arizonans should be aware of as the hurricane brings monsoon weather to the state…
Where Did Hurricane Hilary Form?
On Wednesday 16 August, Hilary developed into a tropical storm off the southern Pacific coast of Mexico. On Friday morning, Hilary was upgraded to a Category 4 hurricane; on Saturday morning, it was downgraded to a Category 3. By late Saturday, Hilary had been downgraded to Category 2.
What's the Difference Between a Hurricane and a Typhoon?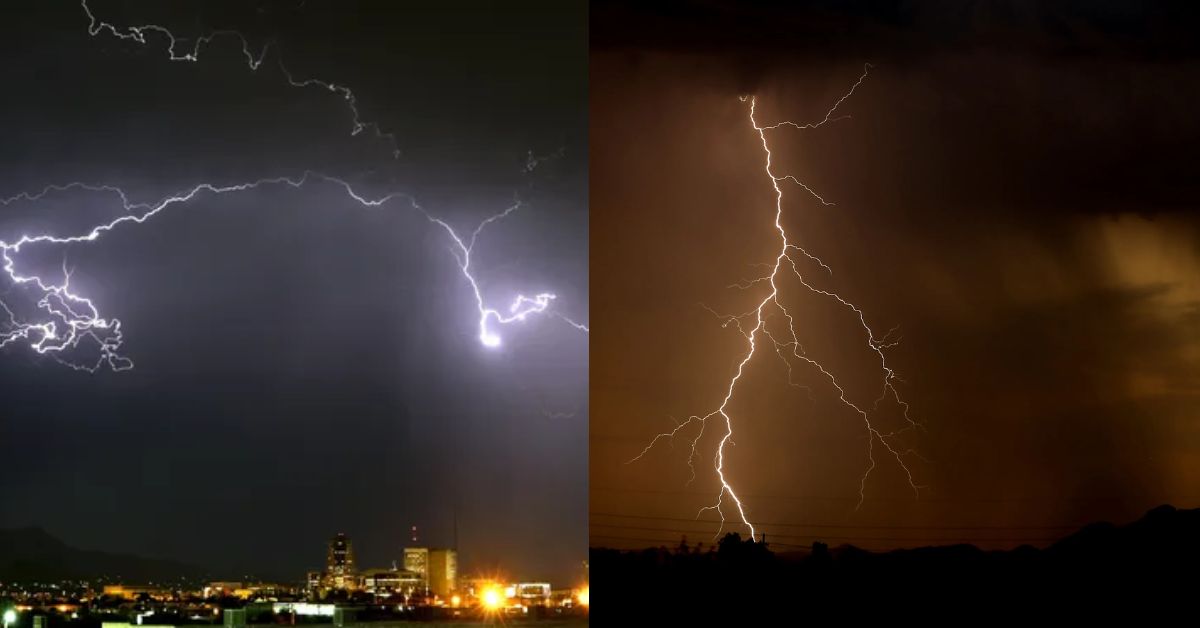 Typhoons and hurricanes are both tropical cyclones that receive their names based on the region of the world in which they are forming. A hurricane is a storm that is located in the North Atlantic or the central or eastern regions of the North Pacific.
It's a typhoon if it's in the northwest Pacific. The storm is typically referred to as a tropical cyclone if it forms in the South Pacific or Indian Oceans. Because of its position, Hilary is a hurricane.
If you are interested in obtaining additional information, please visit this link:
In spite of this, Hilary will most certainly weaken to a tropical storm as it makes landfall, with gusts of wind up to 40 or 50 miles per hour expected to hit Yuma and other parts of western Arizona.
Is Hurricane Hilary Going to Hit Arizona?
On Sunday at about noon, Hurricane Hilary, a Category 2 storm traveling north from Mexico, is expected to make landfall in Baja California. It was still off the Mexican coast as of Saturday afternoon.
Although it won't directly impact Arizona, the National Weather Service in Tucson predicts that western Pima County and Yuma County may experience higher precipitation and stronger winds during the weekend.
Gusty winds in Yuma and western Pima County, which are closer to California, could reach up to 50 and 60 mph in some places. Additionally, depending on the location, these places may receive more or less rain—up to half an inch.
Storm activity is anticipated. More thunderstorm activity is expected on Sunday, but it will be more "hit or miss" than on Saturday afternoon and evening, a meteorologist with the National Weather Service.
Tucson, Phoenix, and northern Arizona will see a classic monsoon day with constant showers and thunderstorms. In Tucson and cities north of Tucson, Dang said:
"Potential for localized heavy rainfall and some gusty winds, but otherwise, it doesn't really feel like a hurricane."
Localized flash flooding and severe winds that could potentially cause damage, however, could be experienced by those who live farther away or travel farther, he said. He pointed out that Tucson-like weather patterns will also be present in Phoenix and northern Arizona.
The National Weather Service has never before issued a hurricane or tropical storm advisory for southern California due to a hurricane. Although this meteorological phenomenon is not unprecedented in Arizona, it is unusual.
What Parts of Arizona Will Be Impacted by Hilary?
Although Hilary is not anticipated to make landfall in Arizona, it will have the greatest effects on the state's southern regions because of its proximity to Baja California, where it is anticipated to do so on Sunday.
The highest risk of flash floods will be in Yuma County through La Paz County in Arizona and Riverside County in California. The prediction for Friday night suggested that rain would start in the evening and last into Saturday morning.
Additionally, it mentioned how earlier storms had damaged a portion of Interstate 10 due to severe rain. In addition, the weather service issued a wind advisory for southwest Arizona and southeast California from Sunday afternoon through early Monday morning.
The wind advisory covers predicted wind speeds of 35 to 45 mph, which may result in power outages from downed power lines.
How Much Rain Has Phoenix Gotten This Year?
Phoenix will have some rain as a result of Hurricane Hilary, but it won't likely experience any severe storm conditions. As a result of an exceptionally dry monsoon, according to Matt Salerno, a meteorologist with the National Weather Service in Phoenix.
Phoenix has received 2.9 inches of rainfall so far this year or about an inch and a half less than average. Phoenix is expected to receive between a quarter and a half inch of rain, which will help offset some of the difference but not entirely.
Shadab Javed Tweeted on Aug 21, 2023:
Crazy video footage of wipeouts from surfers in Newport Beach, California during Hurricane Hillary #HuracanHilary #HurricaneHilary #HurricaneHillary #Hurricane #BajaCaliforniaSur #Baja #SoCal #Hilary #Hillary #SanDiego pic.twitter.com/bSLq0vMYsG

— Shadab Javed (@JShadab1) August 20, 2023
We hope you found some useful information in our article. Share your views in the comments and stay tuned to NewsConduct.com for the latest buzz and current news on your locality.