As soon as Amazon bought season one of The Legend of Vox Machina, season two was set in stone. The first season was made possible by a successful Kickstarter campaign. When Amazon decided to air the first ten episodes, they ordered fourteen more episodes (expanding season one to twelve episodes, with the same schedule for season two). "Critical Role paved a new way for original digital content with fresh new voices and humor that won them fans all over the world," said Jennifer Salke, head of Amazon Studios.
"Their wildly successful Kickstarter campaign is proof of that" (via Variety). "We're excited to work with the whole team to bring our Prime Video customers The Legend of Vox Machina and the new Critical Role series." Sam Riegel and Travis Willingham of Critical Role said in a joint statement, "We were blown away by how excited people were about the Kickstarter campaign, and now we can give the fans everything they wanted and more." In this article, we will discuss everything about The Legend of Vox Machina for Season 2.
The Legend of Vo Machina Season 2 Expected Release Date
Animated shows take a long time to make, but since Vox Machina's hugely successful Kickstarter campaign ended in 2019, the team has had plenty of time to start working on season two. When you consider that the show's first season didn't come out until early 2022 instead of late 2020 because of the pandemic, we think that new episodes will come out sooner than you might think. If we're really lucky, season two will come out before the end of the year, putting it back on the schedule it was on before. If not, it probably won't happen until January 2023. The Legend of Vox Machina for Season 2.
The Legend Of Vox Machina Season 2 Cast
Because the show was made in a unique way, Laura Bailey, Taliesin Jaffe, Liam O'Brien, Ashley Johnson, Matthew Mercer, Marisha Ray, Sam Riegel, and Travis Willingham aren't just actors; they're also executive producers with an equal stake in the success of the series.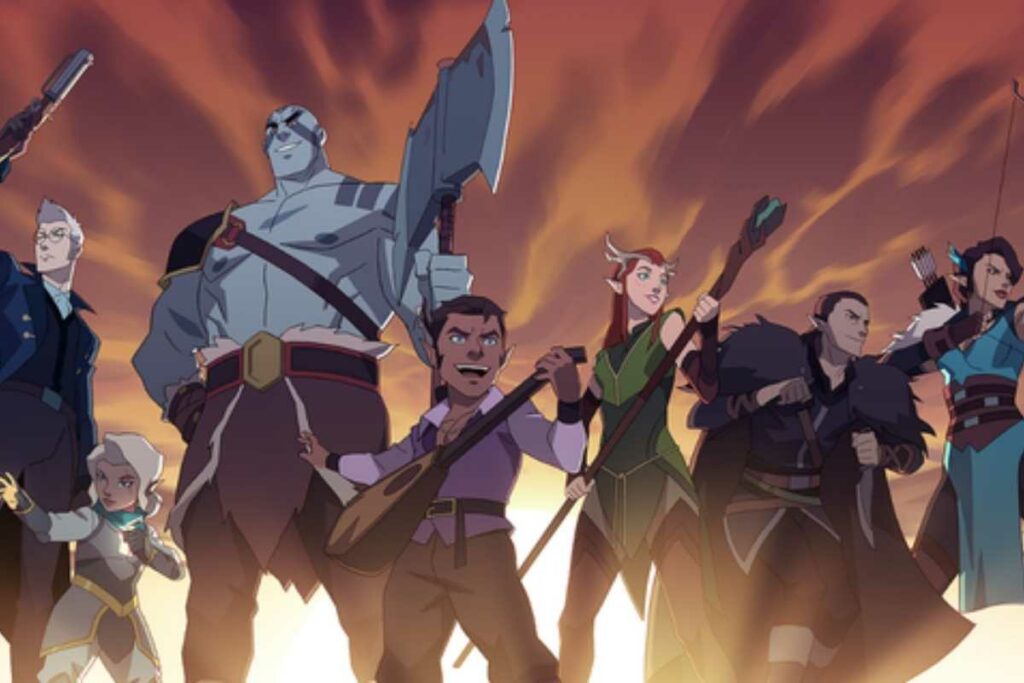 The Legend Of Vox Machina Season 2 Plot
The series is based on Critical Role's first Dungeons and Dragons campaign. Season one ended on a pretty shocking cliffhanger that set up season two perfectly, especially if you like dragons. After being brought before King Uriel Tal'Dorei, ruler of the Tal'Dorei Empire, Vox Machina was shocked to learn that Uriel was giving up the throne and giving control of the Empire to the Tal'Dorei Council, citing Vox Machina's teamwork as a reason.
But when Vex'ahlia's ringing ears made the group think a dragon was coming, Keyleth and King Uriel saw four dragons coming quickly. At the end of the season, four dragons, each as scary as the last, were getting ready to kill Emon. Expect season two to start right after the cliffhanger, dealing with the effects of what is sure to be a violent start to the new season.
The Legend Of Vox Machina Season 2 Trailer
When new footage does come out, we'll send our best wizards to work on it so they can make it fit into this movie. Please add us to your bookmarks so you can find out about all the latest news, scoops, and Unearthed Arcana we find as we try to cover this great show.
Premiere Date Of The Legend Of Vox Machine Season 2
The second season of The Legend of Vox Machine will be available on Amazon Prime in late 2023. This is not an official date from the production, though. Also, the release date was set by looking at all the news on social media and the statements from the actors. Lastly, this is probably when Season 2 of The Legend of Vox Machine will come out. But because of COVID, this may have to be put off. We'll let you know what's going on. Also, the official release date and teaser for THE LEGEND OF VOX MACHINA SEASON 2 will be announced very soon. We hope you all enjoyed watching Season 1 of The Legend of Vox Machine. The Legend of Vox Machine Season 2 keeps the same level of suspense, though.
The Legend Of Vox Machine Season 2
Season 1 of The Legend of Vox Machine left some questions unanswered, so everyone is wondering when season 2 will come out and pick up where season 1 left off. The second season of The Legend of Vox Machine has also given fans a very unique storyline. You can watch this web series on Amazon Prime.
For more articles like this stay tuned with  newsconduct