Netflix recently has been creating a lot of unique content which not only makes the platform loved more but also has a lot of fan base after all the new content have been introduced. One such content of Netflix is Sweet tooth.
It is a unique fantasy series about how humanity handles plague that has changed everyone's life. In this story, you will see that the world has been filled with strange children who are full of disease, danger and who are a mixture of humans and animals.
  This story is about a young hybrid named Gus who gets involved in this mystery along with a survivor  Tommy Jepperd. And the pair got into a more dangerous situation than they could ever imagine.
The first season of Sweet tooth was based on a book by Jeff Lemire. This story is a must-watch for all the fantasy lovers who love this kind of post-apocalyptic story.  The first season had ended with a lot of questions in our minds about what will happen next in the show? And with such popularity, the first season had already gained a huge fan base. 
The main question is when will the second season of the sweet tooth be released? And we have gathered everything you need to know about this upcoming show. So keep on reading further to know everything related to its release date, cast, and Plot.
Sweet Tooth Season 2 Release Date
All the fans are waiting very eagerly for the second season but unfortunately, the release date for the 2nd season has not been announced by the makers yet. Netflix has yet not renewed The show after the first season ended.
However, the first season was released on 4th June and it completely makes sense that at least Netflix is not rushing anything with the show and it is very uncommon for Netflix to cancel any of its Netflix originals just after the first season and that means that sweet tooth is going to be back with a second season.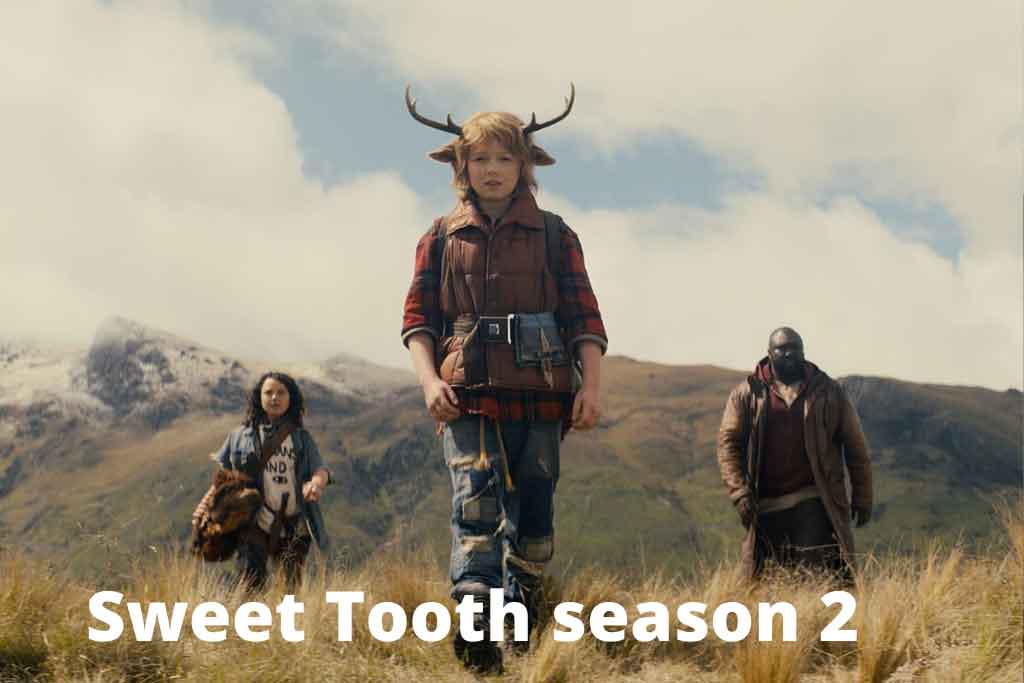 And with this, all the fans are being a lot anxious about their favorite show not being released as no updates about their second season have been shared by Netflix.  Sweet Tooth has a lot of value as it has been produced by Robert Downey Jr and all the critics and fans have a lot of high expectations from this upcoming show.
The first season has a good rating of 92% fan vote and a total of 98% in Rotten Tomatoes. The company is working on a lot of projects recently. It is more likely for them to announce Sweet Tooth really soon.
If this show is back with one more season then we are expecting that once the announcement is done by Netflix all the aftermath of it would be done in a short span of time.
As Christian Convery is, it is an important part of the show and all the actors of his age will grow a lot faster than expected. The production for the show needs to begin the shooting soon. And going by our assumptions it is more likely for this show to be released anytime in 2022 itself.
Sweet Tooth Season 2 Cast
All the important characters of the first season are going to be back for the second season as well.  As most of the characters are very important it is more likely for them to be back for the second season 2 to continue the story where it was left.
The whole story is focused on the hybrid kid Christian Convery who would be the hybrid of humans and deer. He has been named Gus or the famous Sweet Tooth.
Tommy Jepperd( by Nonzo Anozie) and Aimee (by Dania Ramirez) are also very important characters in the show.  Other than these 2 characters  Dr. Aditya Singh( by Adeel Akhtar), and the Animal Army leader, Bear( by Stefania LaVie Owen) would also be present in the show. 
The horrific leader General Abbot (by Neil Sandilands) along with his last man, will also be present in the show to catch more hybrids and experiment on them. Other than that, what we are most looking forward to in the second season is Gus' mother, Birdie (by Amy Seimetz), Who would not be his traditional mother but she had created this young hybrid and is also still alive.
New-season will bring a lot of other characters to the show which has not been out as the official announcement for the show has not been made yet so keep on checking our column to stay updated once any announcement is made by the makers of the show.
Sweet Tooth Season 2 Plot
If you have read the comic book by Jeff Lemire you would know what the exact plotline for the second season might be.  We might see Sweet Tooth is no more afraid to back out from the situation and leave everyone in danger. 
However, it will show that this hybrid child would be put on the experiments if the second season is being out and Dr. Singh who would be very reluctant to check these children would have to experiment on them to rescue his wife. We might also see Jepperd and Aimee teaming up to free the children from the lab.
Other than this all the other details about the show are not yet clear. It would be of great surprise to know how the other hybrids and the people in the lab would react to seeing Gus in the science lab. 
And we are expecting that these experiments would be further explored and might make everything weird between Gus and his mother. 
However, nothing can be predicted until and unless the official announcement has been made by the makers for the second season.  Until any further updates Stay tuned with us for all such amazing updates about your favorite shows with favorite characters.
This Way Up season 3: Release, Date And, Everything You Need to Know