Long in the making, Hollow Knight Silksong was meant to be a post-launch DLC for the original 2014 game. You'll take control of Hornet, a character who appeared in the first game. Due to the popularity of the idea of including Hornet as downloadable content for Hollow Knight, the developers ultimately chose to focus solely on them and create their own game.
Later in 2019, Hollow Knight: Silksong was unveiled. As far as can be seen, Silksong will be a very different experience than its forerunner. Hornet is a far more elegant protagonist than the Knight in Hollow Knight.
With Silk, they can fortify their skills and make valuable tools like swords and traps. What follows is a rundown of everything learned about Hollow Knight: Silksong thus far, including a release window estimate, a video of the game in action, and other updates.
You might find this to be of some use to you.
Hollow Knight Silksong Release Date Speculation
A formal release date for Hollow Knight Silksong has not yet been set, but we have good reason to believe it will be released within the next six months. The announcement for Hollow Knight Silksong came in February of 2019, about two years after the release of its predecessor.
This was supposed to be a piece of downloadable content for Hollow Knight, but it ended up being its own game entirely. Team Cherry, the studio making the game, announced a few months after the announcement that they wouldn't set a release date until they were confident it was as good as the first Hollow Knight.
In June of 2022, everything seemed to be ready after three painfully quiet years. Xbox reassured fans on Twitter that the promised release date of "within 12 months" was still on the table after the showcase event with Bethesda Games. This means that we can probably expect the release of Hollow Knight Silksong sometime in the first half of 2023.
So you're telling me Silksong is out within the next 12 months

— That guy (@1xandermander) June 12, 2022
Will Hollow Knight: Silksong Be On PS4 Or PS5?
PlayStation fans have wondered if Team Cherry will release Hollow Knight Silksong for PS4 and PS5 since the announcement was made in 2019. For a long time, it seemed doubtful, especially after Xbox players found out that the game would be available on Xbox Game Pass beginning in 2023.
There should now be no room for misunderstanding, thanks to PlayStation. The platform holder confirmed (opens in new tab) on Twitter that Hollow Knight: Silksong would be released for PS5 and PS4.
Hollow Knight Silksong Trailer
You can watch Team Cherry's initial announcement trailer for Hollow Knight: Silksong from February 2019, when the game was first shown to the public. The kidnapping of Hornet opened the two-minute trailer, and after she escaped, she was seen wandering through green fields and dark tunnels.
Based on what we saw in the teaser, there will be new foes to defeat, new monsters to take on, new friends to make along the road, and new towns to discover, each with its cast of NPCs and set of missions.
Another gameplay trailer for Hollow Knight: Silksong has been released for E3 2022. In the following previews, you can expect to see more of the game's mechanics, enemies, and our old acquaintance Hornet, who has gone from being a friend and foe to a playable hero.
Hollow Knight Silksong Gameplay
Gameplay footage for Hollow Knight Silksong was initially limited to the announcement video. Although this was merely an introduction to the sequel, we watched numerous scenes in which the main character, Hornet, leaps and bounds over her foes with impressive agility.
And the most recent trailer reinforces and improves that impression, making the action appear seamless and natural. Therefore, it may be concluded that Silksong will have a similar mix of platforming and 2D combat to that of Hollow Knight.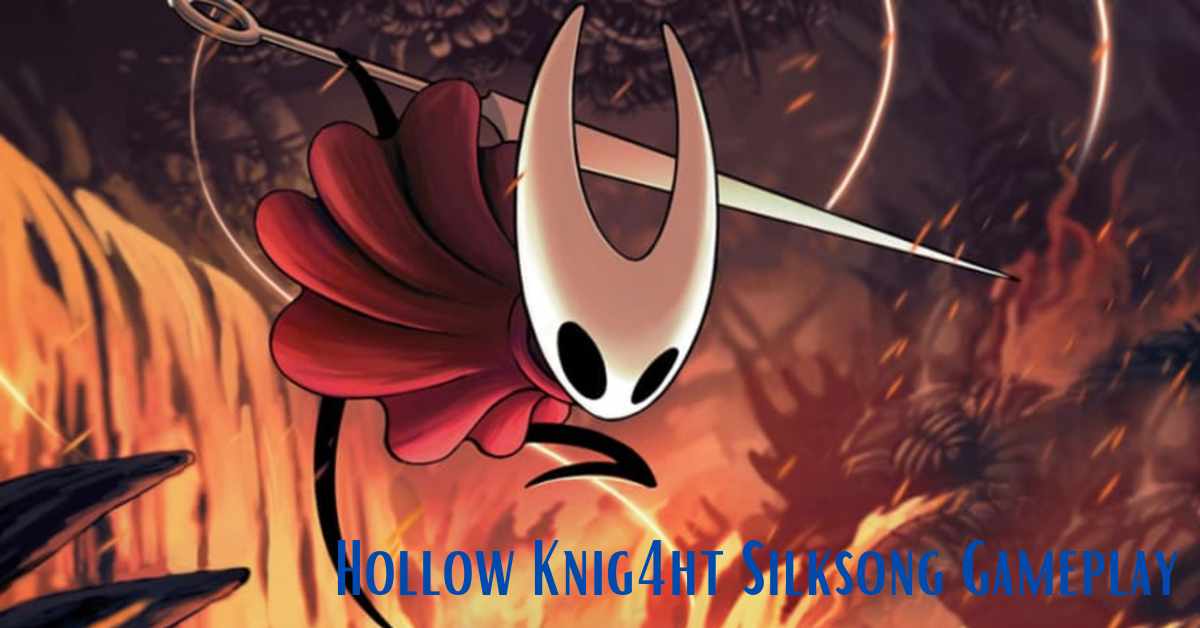 The new protagonist, Hornet, appears to be a gymnast next to the Knight, effortlessly flipping over enormous opponents. This suggests that Team Cherry has made the platforming significantly more acrobatic in Hornet than in the original game.
Silksong's healing system also differs from Hollow Knight's. Hornet can instantly restore three health nodes, unlike the Knight's method of gradually restoring health. Hornet, however, has a Silk meter, and restoring three health nodes instantly depletes the bar.