We saw in the last chapter how Boruto and his companions deal with Code and his monsters. Additionally, after nearly three years, Boruto finally meets Sarada, but instead of keeping up with his pals, he concentrates on the fight that is taking place in front of him.
With his increased skills, Boruto overwhelms Code, but he doesn't engage in any violent behavior. Our loving protagonist constantly requests information about Ten-Tails from Code and offers to save him if Code divulges the whereabouts.
Fans anticipate that Boruto will become even more stern in Chapter 3, despite the fact that Code doesn't take anything he says seriously. Let's say that you won't be left down by the happenings in the future chapter.
Boruto Two Blue Vortex Chapter 3 Release Date
The best way conceivable was for the Boruto universe to be revitalized by the time-skip, and Boruto Two Blue Vortex is shaping up to be one of the best currently airing manga series. Even the fan expectations and enthusiasm for the first two chapters were surpassed.
We are loving every second of it because this is exactly what the fans have been asking for from the beginning. Returning to the topic at hand, the third chapter of Boruto: Two Blue Vortex will be released in Japan on October 20, 2023 (a Friday) at 12:00 AM JST. Shueisha's Manga Plus and V-Jump's appendix preview page both verified this schedule.
Boruto: Two Blue Vortex will be on the cover for the upcoming VJump Magazine December 2023 Issue. The magazine is slated to release on October 20th!

B:TBV Chapter 3 will release on October 19th! pic.twitter.com/I2IqUTTIsA

— Abdul Zoldyck (@Abdul_S17) October 12, 2023
The next chapter won't be available to us until after another month has passed. The chapter will be available for readers outside of Japan on October 19, 2023 (Thursday), due to time zone differences, including those in India, Canada, the US, and other nations.
Here are the articles that are the same as the release dates of seasons and shows:
Boruto Two Blue Vortex Recap
Boruto is currently trapped as a result of Code and Kawaki's assault on Konoha. But despite the immense pressure, he maintained his composure and turned even more nasty than usual. He continued by saying that if Code chose to flee Konoha safely, he would spare his life.
Without even glancing at Sarada, Boruto gave her the command to defend the village's other residents and postponed the greetings. After that, we witness youthful prodigies like Shikadai, Chch, and Inojin engage the Superior Claw Grimes in combat.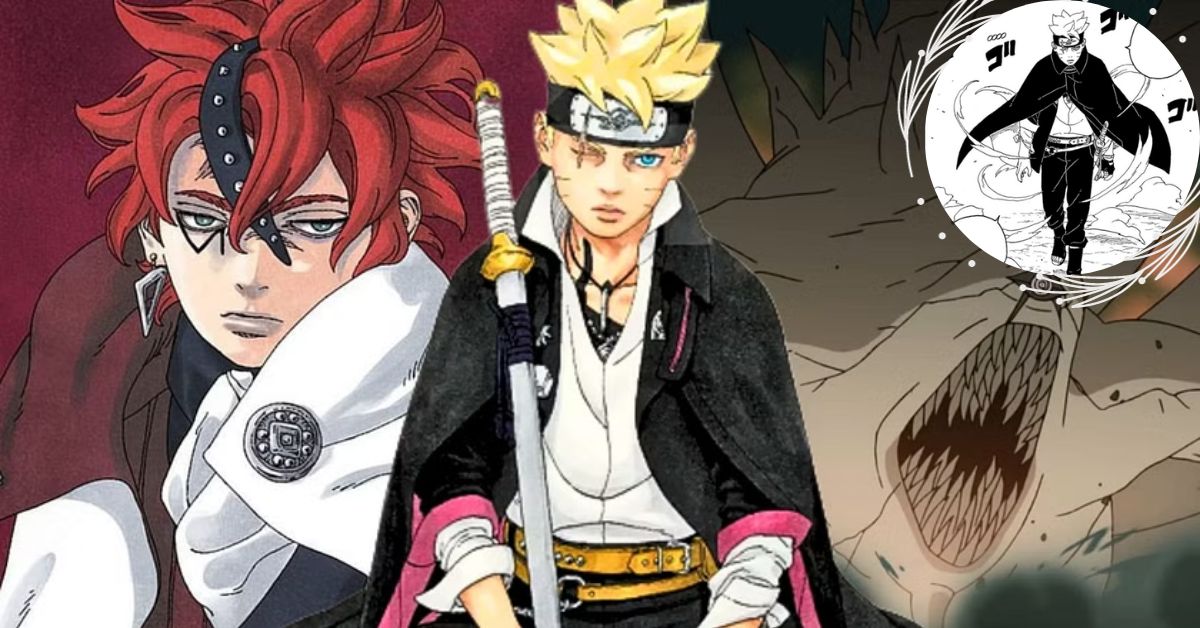 At this point, Kawaki enters the fray and is struck by one of those grimes. These superior claw grimes are removed by Boruto and Kawaki independently, demonstrating how much stronger they have become over time. Boruto's development moved code, and Boruto continued to act cockier.
In the midst of their fight, Code was reminded of the significance of True Horrors of Ten Tails by Boruto. He seems to be privy to information about them that no one else is. He further said that everyone in the world will have the worst future as a result of this.
We also witness Sarada Uchiha's ferocious and scalding abilities, which astounded the Konoha population. But as things are, we also witness a person and a superior claw grime combining to create an enigmatic creature that resembles a tree.
The arrogant discussions between Code and Boruto persisted while this was happening. Boruto said that killing the Ten Tail was simple after Code declined to escort him to where his body lay. In the final panel, Boruto continued to demonstrate his novel method. Rasengan-Uzuhiko (vortex), a more potent and revitalizing Rasengan, was created by him.
What to Expect in Boruto Two Blue Vortex Chapter 3?
The conflict between Code and Boruto is intensifying, as was previously expected. This might quickly develop into a three-way conflict with Kawaki included. The plans that other characters may have, just like how Boruto has his new Rasengan, will be intriguing to observe.
Sarada was prioritized over all the others in order to save Konoha's residents first, as will be discussed again. Since the Superior Claw Grimes poses a new threat, Sarada is likely to be the only one able to destroy it, giving readers a glimpse of her newly improved abilities.
Sasuke Uchiha's comeback now looks unlikely because the first Boruto Two Blue Vortex chapters appear to be largely focused on the current generation of shinobi. But there's a chance he'll be up soon, and we're eager to watch Sasuke's second time-travel advancement.
Additionally, given that Boruto is regarded as a traitor, the new Hokage Shikamaru is likely to join the conflict in an effort to seize him. That being said, next month will bring us all even another treat!
That concludes our knowledge of the publication date and timing of Boruto Two Blue Vortex Chapter 3. Many of us are unhappy since we have to wait a whole month for a new chapter. But since Boruto has evolved into a monthly manga series, we will have to wait patiently. While we wait, feel free to comment below with your thoughts on the previous chapters.