A slew of pre-installed apps for Android phones, many of them developed by Google, might be useful for getting work done on the go. SIM Toolkit is one of the apps you'll see on any Android app you use, regardless of the manufacturer. Is there anything useful you can do with the SIM Toolkit? What we're going to do in this piece is talk about that topic.
What Is SIM Toolkit?
Sim card provisioning grew increasingly difficult as smartphones became more feature-packed. This is because setting up a phone with a new SIM requires information such as the number of an SMS center, the name of an MMS server, and a mailbox number, among other things. SIM Application Toolkit was created since this data differed from one operator to the next.
It is possible to activate the SIM Toolkit or SIM Application Toolkit (STK) on your SIM card either manually or through a networking event, which is defined by the 3GPP and ETSI specifications. Essentially, they're pre-installed software on your SIM card, which can be thought of as a mini-computer capable of being programmed. STK was created as a way to execute apps on a GSM-based SIM card directly.
To activate various value-added services, mobile network operators and service providers employ the standard. These services can then be put on your SIM card to provide a carrier's bespoke UI and menus to a variety of different devices, such as smartphones and tablets. Your cellular service provider installs the Toolkit app on your phone via the SIM card. Using this app, users can access the network's control and interact with the network via the mobile device's interface.
Read More:
What is The SIM Toolkit Primary Function?
There are several sets of functions that the SIM Toolkit can do on your phone.
Play tones, pick menu items, and language notifications can all be controlled using the user interface.
Check your SIM card's poll interval, turn off or enable polling, check the status of a reader, and turn on or off the SIM card to manage your SIM card.
Sending text messages, USSD codes, and DTMF tones is all possible using the network control feature.
Open browser, send or receive data, open channels, and keep channel status. Inter-networking control.
Timer management and local phone information can be accessed.
If you're still not clear on what all of this means, the SIM Toolkit makes it simple to activate or utilize the value-added services offered by your operator. For example, depending on your provider, you may be able to access utilities such as missed call and international call information as well as information about flights and trains, as well as sports scores, and caller melodies.
It is also thought that STK provides better security for digital transactions because it allows encryption and authentication of your identity.
How Does SIM Toolkit Work?
Regardless of the phone's brand or model, SIM Toolkit appears and functions the same on all Android smartphones. Because some networks may offer different value-added services than others, the only thing that may differ from one phone to another is the menus and options that appear on the screen.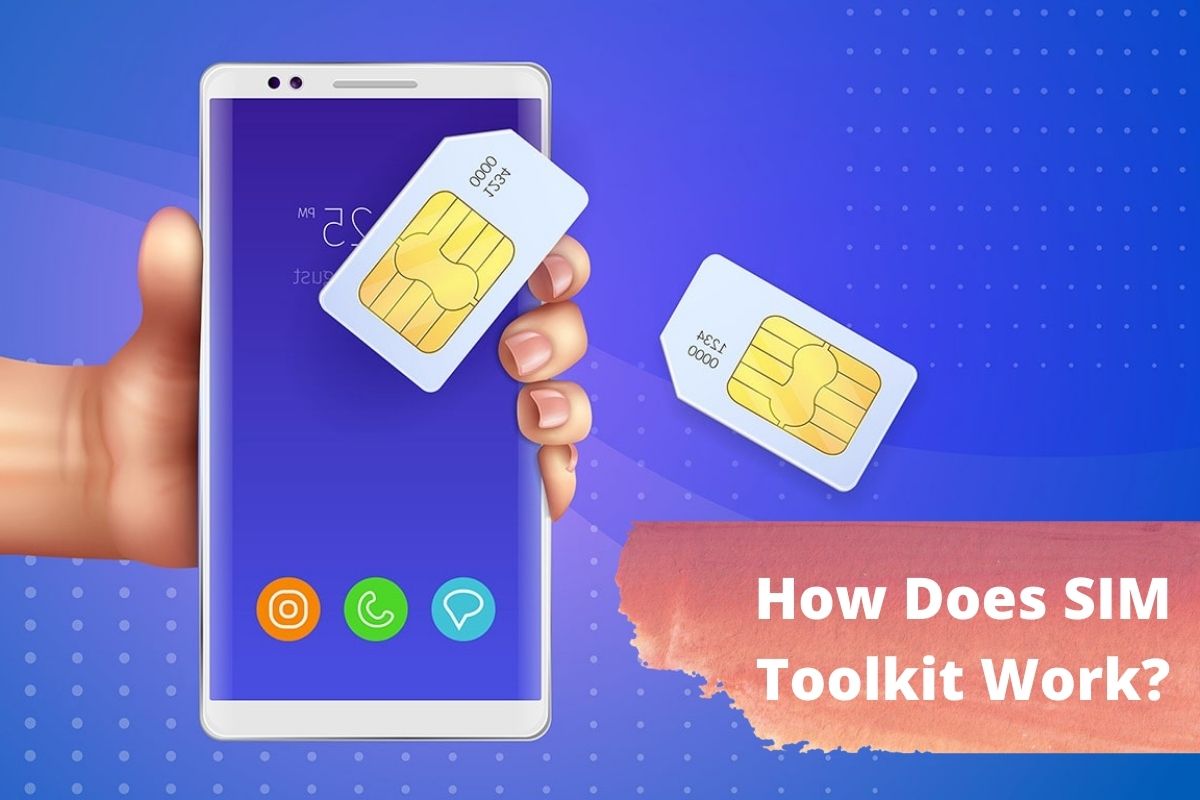 To put it another way, the SIM Toolkit is an application that allows your phone's SIM to communicate with your network. It's a client-server relationship where your phone functions as the client and your phone's built-in SIM card is the server. The SIM Toolkit, like any other app, utilizes several different layers to communicate with both your phone and your service provider. To name a few, there are:
RIL – software developed by the vendor.
Uses SIM Toolkit to convert raw RIL text to the application.
UI – User Interface App-level communications are interpreted by this interface and displayed as options and menus on your phone.
Before current smartphones, a mobile's SIM toolkit was locked with a PIN or phone lock to safeguard its applications from being exploited. It's impossible to use the programs on the phone without the SIM card if the phone is locked. The GSM 11.14 standard served as the foundation for the SIM toolkit before the advent of 4G.
LTE SIM toolkit is currently defined by 3GPP 31.111, which includes USIM Application Toolkit for 3G networks.
Can You Disable SIM Toolkit on Android?
No, that's the quick and simple answer. It is through the SIM Toolkit, which is part of your phone, that network operators can activate a new SIM card or enable a feature on your network directly to your phone. There is no way to remove or stop the SIM Toolkit software from your Android device because it is a vital element of your phone.
We think it's fine to keep the app on your phone because it's small compared to other Android apps and doesn't slow down your phone's performance.
You should have a good idea of what this app is about. For the most up-to-date information, share this app with your relatives and friends. Science and technology news is available at Newsconduct.com.