Westworld Season is all set to present a new level of storytelling. It is a science-fiction show produced by Jonathan Nolan and Lisa Joy. Out of 43 nominations, the show has won nine Primetime Emmy Awards, making it one of the best HBO blockbuster shows. Coming to details, HBO announced Westworld Season 4 on April 22, a couple of weeks before the season 3 finale. However, there are not many updates about the navigation for the upcoming season.
The last season ended with a bang, and audiences are already excited for Westworld Season 4. Unfortunately, it has left more questions than answers by introducing new cat members and giving farewell to old ones; nobody knows exactly what is coming in the new season.
Westworld Season 4 Release Date
HBO announced Westworld Season 4 in April 2020. However, there is no exact release date announced for its release.
Westworld Season 4 Cast
The cast of Westworld has been lucky; even if one character dies, the other comes by appearing as a new host. However, here is the list of the casts we will see in the brand new Westworld Season 4.
Aron Paul playing the role of Caleb Nichols.
Thandie Newton playing the role of Maeve Millay.
Ed Harris playing the role of William/The Man in Black.
Tessa Thompson playing the role of Charlotte Hale.
Simon Quarterman playing the role of Lee Sizemore.
Luke Hemsworth playing the role of Ashley Stubbs.
Rodrigo Santoro playing the role of Hector Escaton.
Jeffrey Wright playing the role of Bernard Lowe.
Westworld Season 4 Plot
The details of the storyline have been kept hidden. So the actors have no idea what is stored for them. But as per the rumors, will see the iconic park very often as it has only a few flashes.  Since humans have been eradicated from Westworld, it can be The End of the sentient robots. So you can expect the climax scenes and revolutionary reaches.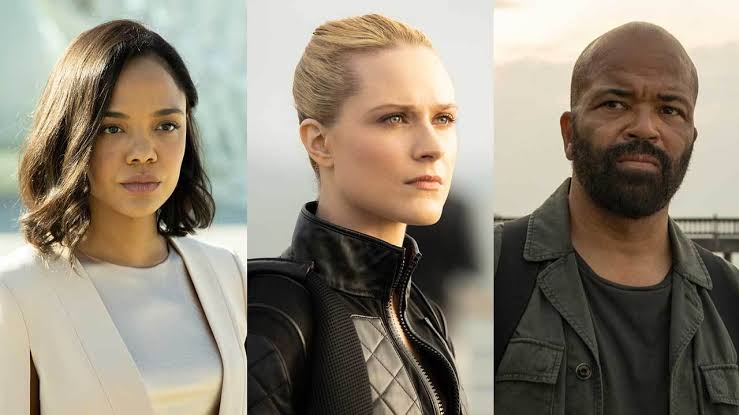 Everything We Know So Far
Not Releasing Before 2022
It is one of the hardest news to consume, but it is highly expected as well. With a show like Westworld, it is not reasonable to wait for a new season every year. For seasons two and three, there is almost a gap of two years. However, it can be because of the development and production team. Another factor can be the current situation of the pandemic when everything was stuck. So wait till 2022 for Westworld Season 4 to be released.
Man Appeared In Black Will Kill Everyone
The man in black from the season is going to be seen again in the most mysterious manner. If you have been a fan of William for his character, you will love this season a lot more as new things may take a new road!
The characters are most likely to be returned in the new season along with the Westworld park itself. However, various storylines are not revealed or resolved yet. So, it is safe to say that you will see this iconic park all over again.
Jonathan Nolan And Lisa Roy Will Be Back
Back in 2019, Jonathan Nolan and Lisa Roy quit their deal at Warner Bros. However, they revealed in an interview that they are very much committed to the Westworld, and they will be back with a bang.
Season two and Season storytelling ways were very different. It shows two different time frames. However, this time, the makers have decided to show a plot in a very, very linear way to make the audience understand what is exactly happening on the screen.
Conclusion
If you are a fan of this world-class series and searching for recent updates, you can follow our page for all the latest development and information.