On Monday, a Florida adolescent pled guilty to murder in the gruesome stabbing death of a 13-year-old friend who was discovered near a pond.
Documents from the court show that it would have been the first day of picking a jury for his trial. This was two years after he allegedly mumbled in court that demons were taking his soul.
Tristyn Bailey, a cheerleader at Patriot Oaks Academy, was last seen on surveillance video walking with her murderer, Aiden Fucci, on May 9, 2021 in St. Johns County. He was another student there. The same camera caught Fucci again, this time on his own, an hour later.
When her body was found by police, she was said to have suffered 114 stab wounds and to have had a piece of the murder weapon lodged in her head.
The police said they found her body roughly three hundred and fifty yards from Fucci's residence. On May 10, police located the rest of the knife in a nearby pond and made an arrest.
Feel free to peruse our coverage of many other high-profile cases that have taken place in the past:
Court documents show that when questioned, Fucci gave inconsistent answers before admitting that he was with Tristyn on the night she disappeared and that they had gotten into an altercation.
Fucci reportedly told police that he pushed the woman to the ground and then departed. Identical clothing to that which he wore in the surveillance footage was discovered with blood on it when officers executed a search warrant in his bedroom.
The day before jury selection was to begin in Fucci's murder trial, the then-14-year-old, charged as an adult, changed his plea. Despite his young age, he was recorded as 5 feet 11 inches tall and 180 pounds upon his arrest.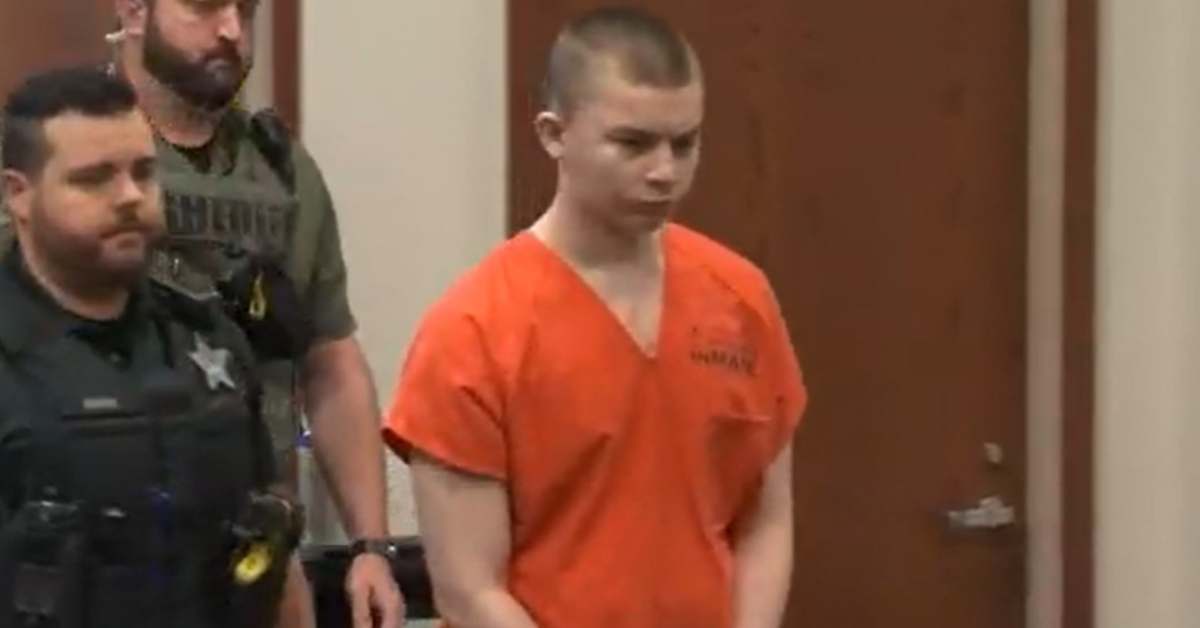 On Monday morning, just as jurors were being seated for Fucci's first-degree murder trial, his attorneys filed a plea of guilty. Among the evidence against him is over a hundred pages of emails from a school resource officer.
The officer told Fucci's companion that the murder was "100% premeditated," and that Fucci had mentioned wanting to kill something in the woods in a document obtained by WJXT-TV.
At a previous hearing, Fucci could be heard mumbling, "Please don't let the demons take my soul. The demons are going to take my soul away," according to WJXT-TV.
He continued:
"Why am I here? I just want to talk to my mom and dad. What's going on? What's going on?"
Crystal Smith, Fucci's mother, was also arrested and charged with evidence tampering after police claimed to have gotten video of her washing blood from her son's jeans in a bathroom sink immediately after taking him in for interrogation.
After obtaining a search warrant, the police allegedly discovered blood on the aforementioned jeans, as well as in the sink drain. After posting bond, she has an April 4 court date.
After her son's guilty plea, St. Johns County Sheriff Robert Hardwick praised investigators for going "all out" to bring Fucci to justice. He also praised the community as a whole, which helped the Bailey family and gave tips.
On the same day, Baily's lawyer, Matthew H. Hinson, released a statement in which he lauded the work of the prosecution, the sheriff's office, and the family's neighbors.
He said in a statement:
"Foremost, we would like to give thanks to God. Since this nightmare began, we have had the love and support of so many. We know so many have lifted Tristyn, our family, and her friends up in prayer. The members of our community have been simply exceptional in the support they have given us."
The court has set a new hearing date on February 23 for Fucci, who is still in custody. Stay up-to-date with the newest information by following our Twitter account.