Created by Mike Flanagan, Midnight Mass has managed to make millions of viewers fans. And it seems like the fans and Mike himself want Netflix to allow Midnight Mass to be available physically. So that fans can purchase a copy of the limited horror series, Midnight Mass, which was released on September 24, 2021.
But, it seems like Netflix does not want to make Midnight Mass physically available for purchase. Why is Netflix not agreeing? Is Mike happy with Netflix not agreeing to make Midnight Mass physically published? Continue reading to find all the answers related to Midnight Mass.
Does Mike Want Midnight Mass Physically Publish?
Mike definitely wants his hit series to be available in other formats as well. Recently, a fan asked Mike as to why Midnight Mass isn't available as a BlueRay version as well. Mike replied to this question saying:
"I have asked repeatedly, and at the moment @netflix will not support a physical media release. I will keep trying, either until they change their minds or I am dead, whichever comes first."
It seems like Mike will stop at nothing to get Midnight Mass available as a Blue Ray version. And maybe one day Netflix will get convinced. 
Why is Netflix not agreeing to release Midnight Mass physical edition?
For many, it doesn't make sense as to why Netflix won't agree for a Midnight Mass physical edition when the creator and fans both want the same.
The logical answer to this is that subscribers might decrease if Midnight Mass or other shows which are only available on Netflix begin getting a physical format resulting in decreased revenue.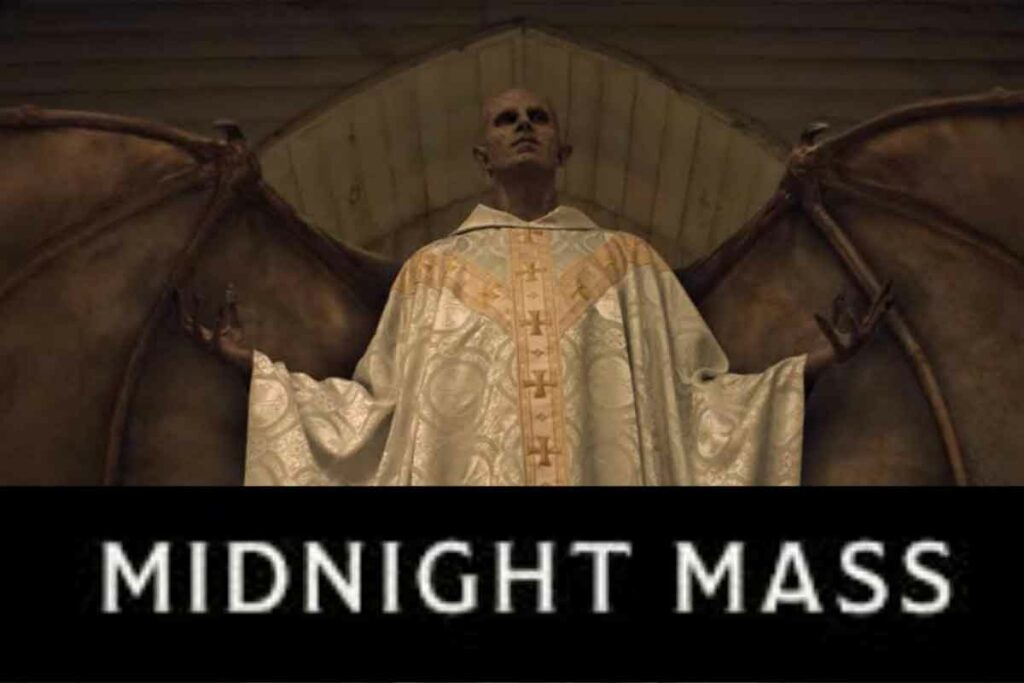 This is because the reason why subscribers continue their Netflix subscription year long is so that they can watch new shows as well as rewatch their favorite shows and movies. But, if Netflix starts making physical editions, then fans can just purchase it once and watch it as many times as they want. 
However, we are convinced that if Mike keeps trying, Midnight Mass will get a physical edition. After all, Midnight Mass would not be the first series getting physically published.
Previously, Netflix has made an exception for A cursory search of Amazon, The Haunting of Hill House, The Haunting of Bly Manor, and the first two seasons of Bojack Horseman. So, if Mike continues trying and doesn't give up, Netflix will probably agree to make a Midnight Mass physical edition.
Why watch Midnight Mass?
If you haven't already watched the horror series, Midnight Mass, you should. Midnight Mass has a great storyline and a star cast that makes watching the mini-series worth your time. The official synopsis for Midnight Mass is:
"A young man returns to his isolated hometown on Crockett Island hoping to rebuild his life after serving four years in prison for killing someone in a drunk-driving incident. He arrives at the same time as a mysterious, charismatic young priest, who begins to revitalize the town's flagging faith."
Midnight Mass begins now. pic.twitter.com/1w8tUvFuyn

— Midnight Mass (@midnightmass) September 24, 2021
Midnight Mass Cast
The main cast for Midnight Mass is as follows:
Hamish Linklater as Father Paul

Zach Gilford as Riley Flynn

Kate Siegel as Erin Greene

Samantha Sloyan as Bev Keane

Rahul Kohli as Sheriff Hassan
So, log in to Netflix today, and watch Midnight Mass. Also, if you are one of those fans who wants Midnight Mass to have a physical edition, make sure to tweet and write to Netflix.
Read More: Asur Season 2 Release Date, OTT, Cast, Creators, and More Information Are Available Here.