When the trailer for "Marry Me" dropped on Twitter, the netizens enjoyed the trolling a bit too much! But now as the movie is nearing its premiere the fans have become more hungry for its details.
The movie has Jennifer Lopez and Owen Wilson in the lead. It is about a celebrity and a commoner. However, it is not the same old rom-com movies instead there is a huge plot twist in it! To know more about it, continue scrolling. 
The movie is directed by Kat Coiro, its screenplay written by John Rogers, Tami Sagher, and Harper Dill, based on the novel of the same name by Bobby Crosby. The filming for the movie began back in 2019.
Mushoku Tensei Season 3 Renewed? Release Date, Plot & Spoilers Ahead
The delays were due to uncertain filming schedules and the pandemic which got in the way. However, now as things are returning back to normal we'll be seeing the dynamic duo of Lopez and Wilson on screens very soon. 
"Marry Me" will be released in theaters as well on Peacock. It will make its way to the streaming site on the same day! So, if you can't make it to the cinema make sure that you buy the subscription for Peacock as it will be worth it. 
Release Date
After getting delayed twice, the movie will release on 11th February 2022. Just 3 days before Valentine's Day. So, in case you are waiting to add a perfect rom-com to watch in February make sure that you add "Marry Me", as the movie will not disappoint!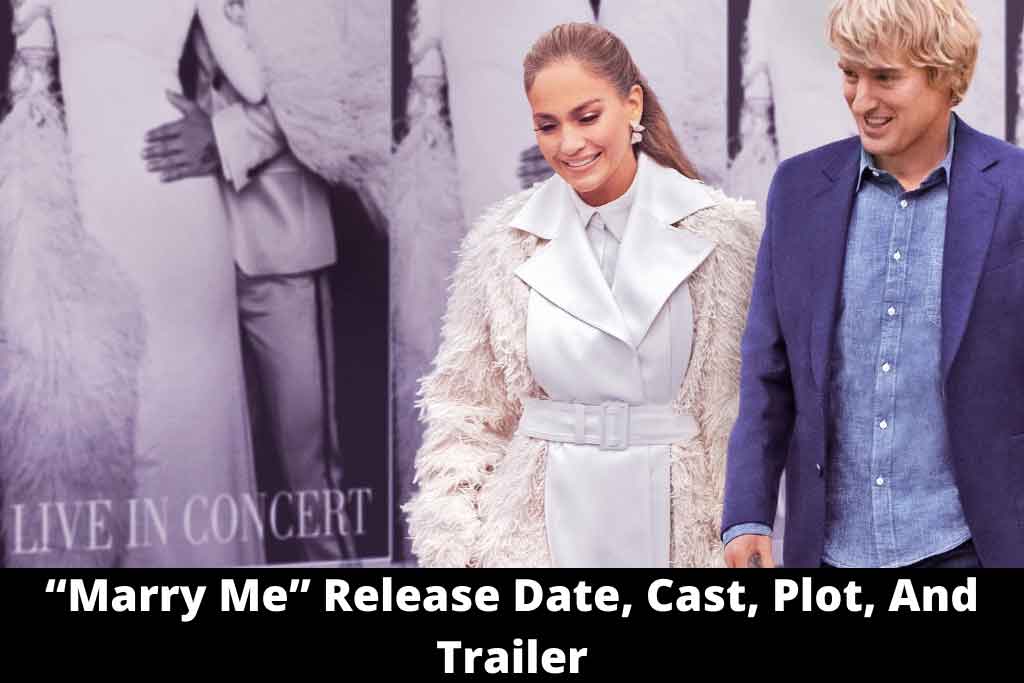 Cast
The confirmed lineup for the cast of "Marry Me" consists of: 
Jennifer Lopez as Katalina "Kat" Valdez

Owen Wilson as Charlie Gilbert

Maluma as Bastian

John Bradley as Colin Calloway

Sarah Silverman as Parker Debbs

Chloe Coleman as Lou Gilbert

Michelle Buteau

Ricky Guillart

Stephen Wallem as Jonathan Pitts

Jameela Jamil

Jimmy Fallon as Himself

Utkarsh Ambudkar as Coach Manny
Lopez will be in the titular role. Her character Katalina "Kat" Valdez is engaged to Bastian who apparently has an affair. This is when Owen Wilson's Charlie will swoop in and due to a slight mistake get himself married to Kat.
Other characters have a lot to contribute as well. You can stream the trailer to know more about their roles. The interviews are quite interesting too! Especially of Lopez and Wilson. 
Plot
The official synopsis for Marry Me reads:
"Pop superstar Kat Valdez is about to get married before an audience of her loyal fans. However, seconds before the ceremony, she learns about her fiance's cheating ways and has a meltdown on stage. In a moment of inspired insanity, Kat locks eyes with a total stranger in the crowd and marries him on the spot. As forces conspire to separate the unlikely newlyweds, they must soon decide if two people from such different worlds can find true love together."
Trailer
The trailer came back in November of 2021 on YouTube. Make sure that you stream it before you miss out.