Billion Season 6 trailer teases the fans with an intense battle between Rince and Rhoades'.
Billion is an American drama tv series that hit the screen in 2016. Created by Andrew Ross Sorkin, Brian Koppelman, and Devid Levien, the series focuses on a famous U.S Attorney, Chuck Rhoades, who is behind a hedge fund manager Bobby Axellord who collected wealth by illicit means. The show depicts the fierce war between the two.
The first season was a blockbuster, and resultantly, four more seasons premiered. The second part of the fifth season premiered on September 5, 2021, and concluded recently on October 3, 2021.
'Ben Affleck and Ex-girlfriend Ana De Armas' Movie Dark Water Pulled From Release a Year After Their Split
The series grabs the interest of critics and numerous viewers. It is a highly rated show and got an excellent IMDB rating of 8.4 out of 10.
The series has been also nominated for several accolades, but unfortunately, has not won any to date. However, the show might get lucky in the future.
Now Billion season 6 is arriving to entertain the fans. The showrunners gave the green light to season 6 of the show in 2020 and now it is coming soon. 
Let's look into more details regarding Billion season 6.
Billion Season 6 Release Date
The creators have officially confirmed the release date of Billions season 6. The show is scheduled to premiere on  23rd January 2022 on Showtime, US original network.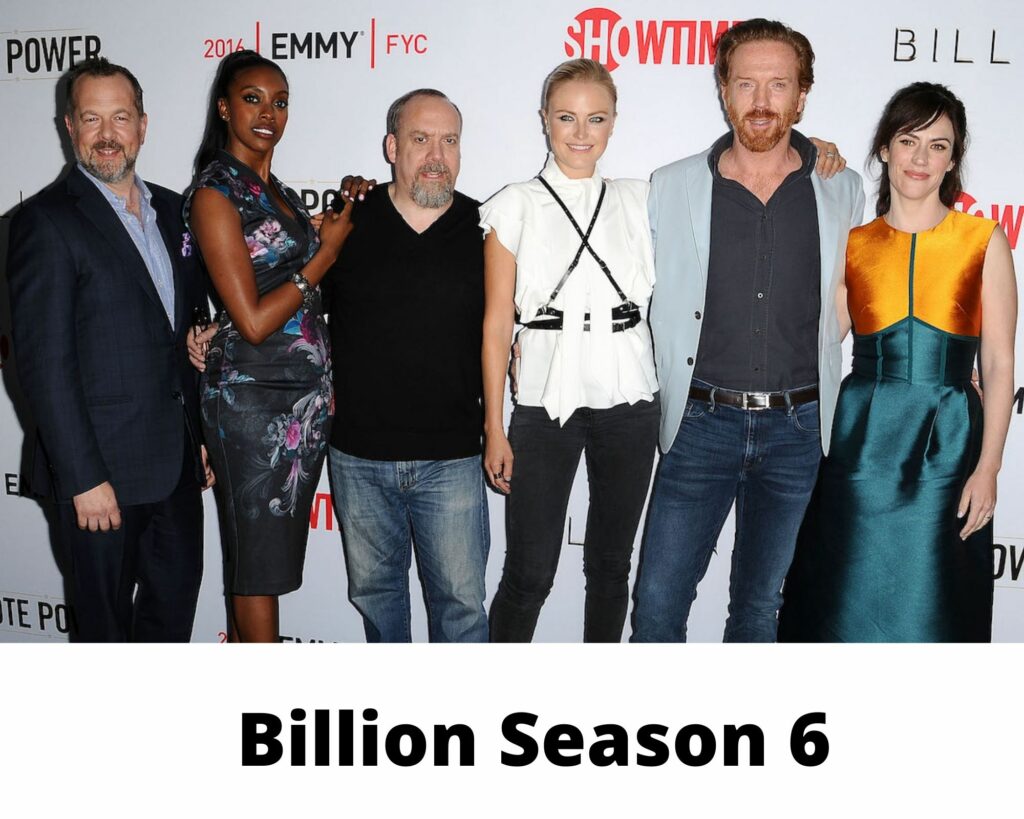 However, Uk viewers have to wait for some time to watch the next season. In the UK, the show might hit the screen on the first week of February.
Billion Season 6 Cast 
We can expect the following cast members to reprise their respective roles.
Paul Giamatti as Chuck Rhoades 

Maggie Siff as Wendy Rhoades

Malin Akerman as Lara Axelrod

Toby Leonard Moore as Bryan Connerty

David Costabile as Mike – Wags – Wagner

Condola Rashad as Kate Sacker

Asia Kate Dillon as Taylor Amber Mason

Jeffrey DeMunn as Charles Rhoades

Kelly AuCoin as – Dollar – Bill Stearn

Corey Stoll as Michael Thomas Aquinius Prince

Frank Grillo as Nico Tanner

Dan Soder as Dudley Mafee

Terry Kinney as Hall

Glenn Fleshler as Orrin Bach

Stephen Kunken as Ari Spyros

Ben Shenkman as Ira Schirmer

Daniel K. Isaac as Ben KimRob Morrow as Adam DeGiulio

Louis Cancelmi as Victor Mateo

Jack Gilpin as Sean Ayles

Timothy Davis as Chef Ryan

Harry Lennix as Franklin Sacker

Jack Gore as Gordie Axelrod

Malachi Weir as Lonnie Watley

Jerry O'Connell as Steven Birch

Arthur J. Nascarella as Bruno Caparello

Seth Barrish as Dr. Gilbert

Deborah Rush as Ellen Rhoades

Allan Havey as Karl Allard
Season 6 will have a major cast change. It might little be disheartening for the fans, but folks! You will not see Damian Lewis as Robert in the upcoming show. The creators have confirmed that Damian Lewis has departed the show. 
The president of showtime Entertainment, Gary Levine, said:
"This is not the first time I have said goodbye to Damian Lewis. What a testament to his talent that he inhabited two wildly different characters — Axe and Brody — on two of our most successful series — 'Billions' and 'Homeland' — and made them both so iconic. He is an extraordinary actor and I hope there will be a third time."
Billion Season 6 Storyline/Plot
The last season introduces a new villain in the show. Mike Prince seems to play a villain in the upcoming season. In the last few moments of season 5, Prince leaked the news of Robert's arrest. He told Robert that the authorities were coming after him.
After receiving the information, Robert decided to fly from the country and Prince acquired him a financial empire by removing him altogether. When the news reached the Rhoades, he became quite furious with the Prince 
Now, with the departure of Lewis, who played the role of Robert from the show, it seems that the next season will show a war between Mike Prince and Chuck Rhoades.
Billion Season 6 Trailer/Teaser 
The intense trailer of Billion season 6 premiered on December, 10. The trailer depicts the fierce fight between the Us Attorney, Rhoades, and Mike Price. In fact, in the trailer, Rhoades is seen talking about not only going behind one billionaire but a class of billionaires.
Meanwhile, Mike Price is trying to bring the Olympics to New York City to enrich himself. However, Rhoades will try to stop the event from happening as he knew, the ulterior motive of Mike Prince.
Further, Price is also trying to turn his employees to each other, who are already against him. You can watch the fierce trailer of billion seasons 6 here.
All five seasons were entertaining. However, some viewers might be disappointed with the departure of the main villain. But, do not worry. The story in the upcoming seasons will be power-packed and add a new flavor to the series. So, do not forget to mark your calendar accordingly.
Comedy Albums by John Mulaney, Patton Oswalt Dismissed From Spotify Amid Royalties Battle