Nine-Nine! You might be hearing this for the last time as NBC has confirmed that b99 will return this August. The eighth season will be the final season of this American sitcom revolving around the lives of a group of police officers. Ever since the show made its debut on NBC in 2013, it has become famous globally. Nationwide popularity of the show made its eighth season possible. The news of it being last season induced mixed feelings among the fans. Let us see what we have for the Brooklyn Nine-Nine Season 8.
Brooklyn Nine-Nine Season 8 Release Date
Season 7 of Brooklyn 99 premiered in 2020, ever since there was on and off news about another season. Instead of George Floyd's protests, the show was almost canceled at one point. However, NBC and universal televisions allowed the show to be produced. The show producers cut and compiled the show with eight episodes in June 2020. The filming was stopped and started multiple times in the surge of Covid-19 and George Floyd protests going on in the US. Now that filming has finally been wrapped off in June 2021, it is all set to be released on August 12, 2021. There would be back-to-back episodes every Thursday, 8 p.m. ET at NBC.
Brooklyn Nine-Nine Season 8 Cast
Brooklyn 99 revolves around the police officers of the fictional 99th precinct in New York City. This group includes detectives Jake Peralta, Amy Santiago, Rosa Diaz, Charles Boyle, Michael Hitchcock, and Norm Scully. There is also Sergeant Terry Jeffords and Captain Raymond Holt.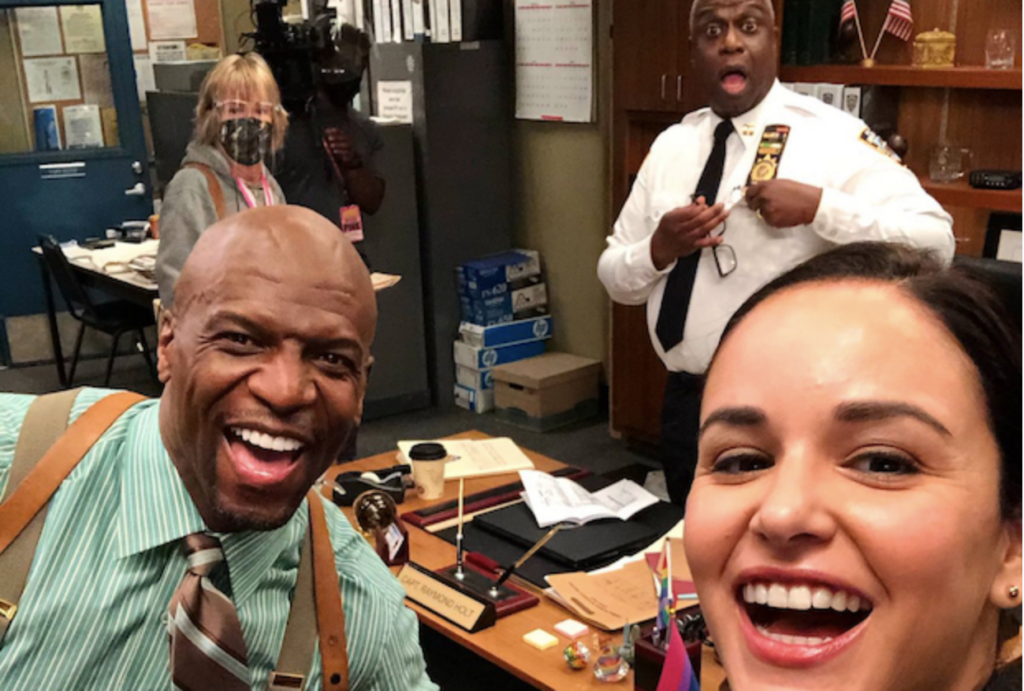 These are played by:
Andy samberg as Jake Peralta

Melissa Fumero as Amy Santiago

Stephanie beatriz as Rosa diaz

Joe Lo Truglio as Charles Boyle

Dirk Blocker as Michael Hitchcock

Joel McKinnon as Norm Scully

Terry Crews as Sergeant Terry Jeffords

Andre Braughter as Captain Raymond Holt
Recurring members of the show are
Chelsea Peretti as Gina Linetti, Captain Holt's ex-assistant

Marc Evan Jackson as Kevin Cozner, Captain Holt's Husband

Kyra Sedgwick as Chief Wuntch, Captain Holt's Nemesis

Jason Mantzoukas as Adrian Pimento, the former detective at 99th precinct

Dean Winters as The Vulture, former captain of 99th precinct

Craig Robinson as Doug Judy, a criminal 99th precinct, wants

Antonio Raul Corbo as Nikolaj, Boyle's adopted son
All the main cast members are returning for the eighth season. However, as the character of Gina Linetti left the 99th precinct after she had a baby, Chelsea Peretti will not be a part of the show. She might return in one or two episodes but will not be joining the team as a permanent member. Other recurring members can be there, but Kyra Sedgwick will not be a part of the show as her character Chief Wuntch is dead now.
Plot
Brooklyn 99 is an American sitcom featuring action drama, romance, comedy, and crime. It revolves around the lives of 6 detectives, their Sergeant, and their captain who work in the fictional 99th precinct of the NYPD. Season one of the show started with the 99th precinct welcoming their new captain, Captain Raymond Holt. After the show moved further, we saw Jake and Amy, from fighting and competing to be the best, fell in love with each other. 
Detective Jake's best friend is Detective Charles, who lives with his girlfriend and has adopted a baby boy Nicholaj. Detective Rosa is tough and kept to herself coworker at 99. Terry Jeffords is the Sergeant at 99 and the father of twin daughters.  Detectives Scully and Hitchcock are the oldest members of 99, who do almost nothing. Gina Linetti was the sarcastic administrator at 99 who had left the show. And the leader of 99 (nine-nine) leader is Captain Raymond Holt, a Black Queer member, married and lives with his husband, Kevin.
The show has evolved around seven seasons where the characters became each other's family. At the end of season 7, married couple detective Jake and Amy give birth to their first child. Season 8 is expected to revolve around their challenges as new parents. In addition, season 8 will also bring realistic issues on the screen, like the black lives movement. The comedy and action will be the same in the show.
Season 8 Trailer
Season 8 teaser has been released, which gives us a sneak peek into the madness and adventures of season 8 of Brooklyn Nine-Nine. A full-blown trailer has not been released yet. As soon as it comes, we might get further insights into the show.