We have loved the captivating stories of Elite which followed season 4, this June. This Spanish thriller teen drama is appreciated by the audience. Fans' excitement for Elite season 4 was high, and most of them enjoyed binge-watching the entire season in one day. Season one and three were connected somehow, the fourth installment also worked on this but couldn't deliver with the same energy as previous ones. Now after the end of the latest arrangement, it is pretty clear Guzman and Samuel were responsible for the murder and the forthcoming story will serve this in continuation.This enhanced the fans to think more about the next season. Now let's catch some more updates that we have down below of Elite season 5 for you. 
Elite Season 5 – Release Date
Well season 4 ended with several cliffhangers which forced us to think more about the story. Undoubtedly fans are eager to know about the possibilities of  the fifth season as already hinted that season five is in production. We know that Netflix has made a clear point in February 2021 about season five. It released a statement " Elite fans, get ready for more because the show has been renewed for a fifth season".
There is no official announcement regarding the precise release date of Elite Season 5. Last year in March we had the third season and Season 4 dropped on June 18, 2021. If we assume on the basis of track record, we can get its 5th part somewhere in  early 2022. Whatever will be the future of season 5, for now we have season 4 to quench our thirst which is already available to stream in.
Who will be part of the fifth season?
There is no official confirmation of  Elite season 5 cast  yet. Ester Exposito as Carla, Danna Paola as Lu, Alvaro Rico as Polo, Mina El Hammani as Nadi( appeared as guest in season 4) and Jorge Lopez as Valerio these all were the part of previous seasons and left the show at the end of season 3, and they went for  new ventures. 
Elite season 4 featured some characters-  Itzan Escamilla as Samuel,  Aron Piper as Ander, Miguel Bernardeau as Guzman, Omar Shana  as Omar and Claudia Salas as Rebeka.  Some new characters were also a part of the story – Manu Rios as Patrick, Pol Granch as Phillipe, Carla Diaz as Ari and Martina Cariddi as Menica. It seems that almost everyone will return as the season didn't end concretely.  But there could be turns, we may not see these in 5th part, Pol Granch may not return in part 5, Aron and Miguel Guzman and Ander as both went travelling at the end of the season, unless there is plot for their comeback to Madrid. 
We will see new characters in the upcoming stories. There was a hint that a french actor Adam Nourou will be introduced as a student named Eric in the fifth season. We know that  Netflix already revealed the name of two new characters who will take place in season 5 – Argentinian actress Valentina Zenere and Brazilian actor Andre Lamoglia as students called Sofia and Gonzalo respectively.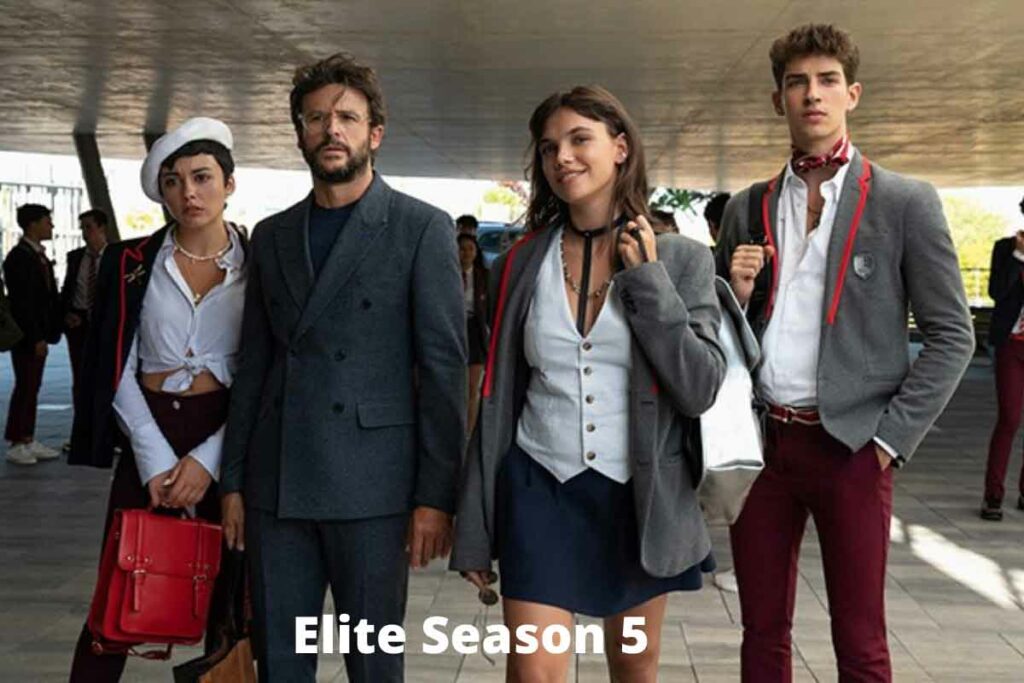 Let's wait till we get more clues on the future cast of this mystery plot. Netflix may release the  characters for the plot. We will let you know as soon as it is annouced officially.
Synopsis- What will be the scenario in the fifth part?
Season four ended with spine-chillers which made us think more about the upcoming plot. As per the assumption we could see Elite season 5, coming with the storyline that will take round of Armando's murder mystery. At the end of season 4 we have seen, Guzman killed Armando with the firecracker and he was assisted by Samuel and Rebe to conceal the murder. We could also assume that season five will explore the relationships of Ari and Samuel, Menica and Rebe. Menica is unharmed and may confess about the relationship. In the investigation by the cops, culprits would be presented in the frame.  Will there be turnaround in the story or the concluding season will probably unveil all the culprits.Whatever will be the plot, it will surely provide us a chance to enjoy the thrilling mystery again.
Elite Season 5 -Trailer
As we know that there were some hints for the upcoming story i.e .Season 5, it is not available till now but we will  update if any trailer comes out. Luckily, we have an idea of the upcoming story as the fifth season is on the way. We have to wait for sometime, till then we can enjoy season 4 already available to stream if not watched. 
Keep exploring more updates of your favorite shows and movies with us- Stay connected.