On Saturday(4-03-2023), one fatality and property damage from an overturned gas tanker carrying combustible liquids exploded on a roadway in Frederick, Maryland.
Shortly before noon ET, a truck tanker slammed into a tree. It exploded on US Highway 15 in the western Maryland city, roughly 50 miles west of Baltimore, according to Ron Snyder, public information officer for Maryland State Police. Smoke and flames could be seen for miles (MDSP).
Chief Tom Coe of the Frederick County Fire and Rescue Department reported at a press conference on Saturday that the fire had been extinguished and the hazardous materials, including gasoline and diesel fuel, had been confined after many hours of work.
Coe also noted that the toxic chemicals did not reach Carroll Creek, eventually emptying into the Monocacy River in Frederick County. According to Coe, authorities collaborated with the truck's owner to determine what was transported in the tanker.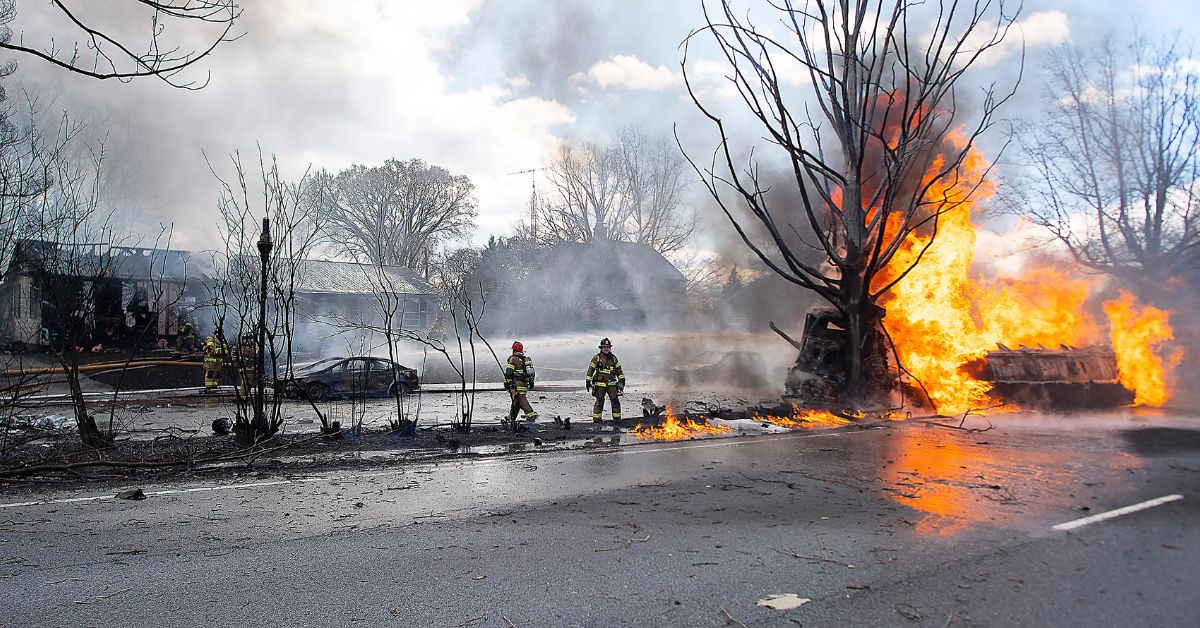 Snyder verified via phone to CNN that the truck's driver, whose identity has not been disclosed, perished in the collision. According to Coe, nobody else was hurt or killed in the crash or the ensuing fire. A month prior, a freight train carrying hazardous chemicals derailed in East Palestine, Ohio, sparking a days-long blaze that released deadly vapors and killed thousands of fish.
After the February 3 hazardous train catastrophe in Ohio, Mayor Michael O'Connor of Frederick, Maryland, held a news conference on Saturday and admitted that many locals were worried about the crash and its cause.
The mayor assured residents that no hazardous items from the tanker made it into the sewer system, but city workers and state investigators will keep checking to be sure.
O'Connor said-
"We will continue to monitor the environmental effects of this incident in the coming days and weeks ahead." 
The southbound lanes reopened at roughly 2:30 p.m. ET on Saturday, while the northbound lanes will remain closed for many hours as authorities investigate the collision. According to a news release by the state police, six structures and five cars were destroyed or damaged in the blaze.
According to Coe, an adjacent house was utterly destroyed by the fire. The heat from the fire also slightly damaged two neighboring residences and three vehicles, the chief said.
The mayor said-
"I'm just grateful that this looks like a fairly routine kinid of accident that could occur on any highway anywhere in America and this is not anything more challenging than that."
In a Facebook post, O'Connor urged residents to avoid the area earlier. According to CNN, Maryland Governor Wes Moore contacted local authorities in Frederick and emergency responders.
"My heart goes out to those affected by this tragedy in Frederick," Moore said. "… We are continuing to monitor the situation closely."
MDSP said they contacted the state's Fire Marshal and Department of Environment about the incident and were both responding to the scene.
"We are providing all available resources to assist with this incident. We will continue to support DFRS as they lead incident control and clean up. I implore all residents to avoid the area to allow DFRS to do their jobs and prevent any fire from spreading," the mayor said in the Facebook post ( You may find the declaration on the mayor's profile page).
Our coverage of the overturned gas tanker carrying volatile substances that exploded on a Maryland roadway, killing 1 person, is now complete.