The realm of anime has served as the source of creativity for a great number of Roblox experiences. You will be able to assume the character of your favorite anime hero and unleash some of the most memorable assaults in the industry's history if you play Anime Star Simulator.
You will need a substantial amount of gems, though, in order to acquire some of the game's most desirable cosmetic items. You have the option of grinding for expensive gems by battling waves of monsters and formidable bosses in order to increase your chances of obtaining them.
You can get free goods from the creators if you redeem these codes instead of doing what is required if you don't want to spend the time doing that. As was the case with Anime Showdown, you will want to make use of these codes as soon as you possibly can because there is a possibility that they will be removed without prior notice.
All Roblox Anime Star Simulator Codes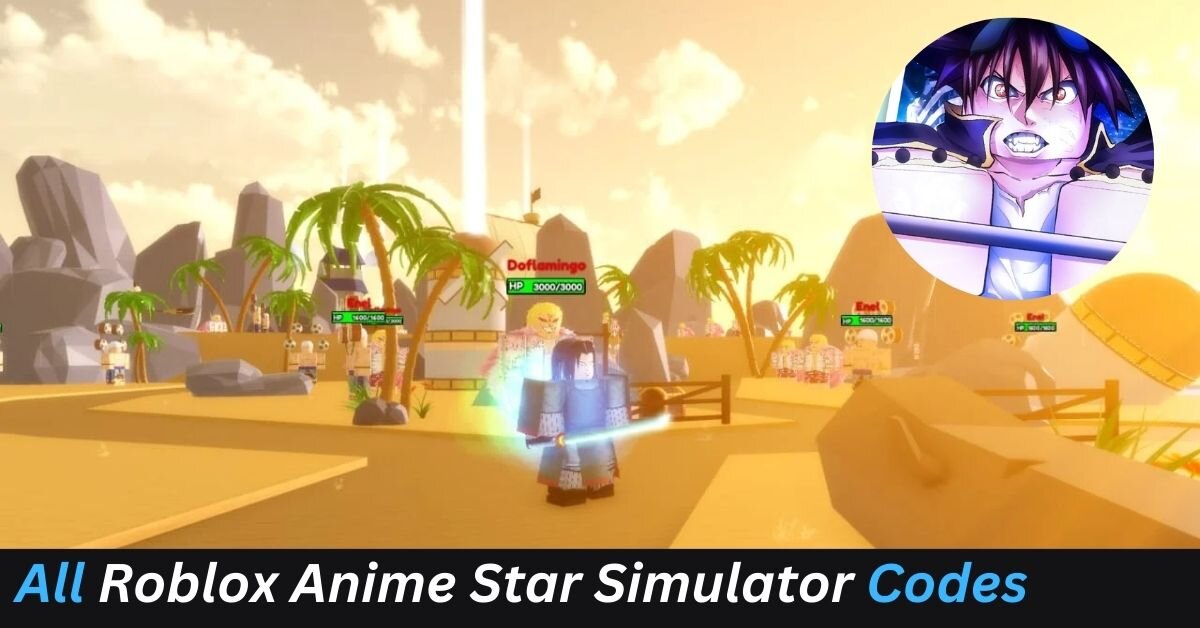 Roblox Anime Star Simulator Codes (Working)
These are the Anime Star Simulator codes that are currently active.
These are the working codes for Anime Star Simulator.
thxfor1Mvisits — Reward: 2x Practise Boost
update — Reward: 2x Chi Boost
lets players — Reward: 300 Gems
2KFAVORITES — Reward: 200 Gems
2KLIKES — Reward: Double Gems Boost
Release — Reward: 50 Free Gems
FreeBoost — Reward: Chi Boost
Roblox Anime Star Simulator codes (Expired)
There are currently no expired codes for Anime Star Simulator.
How to Redeem Codes in Roblox Anime Star Simulator?
In Roblox Anime Star Simulator, redeeming code is a straightforward process. Proceed in the following easy steps:
Simply navigate to the left side of the screen and select the icon labeled "Codes." It will appear as if there are two chat boxes talking to each other.
In the text box that will display on the screen, enter the redemption code that you want to use. Your account will be updated to reflect the addition of your prizes.
How Do I Get More Codes for Roblox Anime Star Simulator?
Since the game didn't become available to the public until February 2023, the programmers haven't had the opportunity to provide very many codes for it. When that time comes, it's likely that they'll make an announcement about it on the community Discord server.
By becoming a member of it, you can obtain new codes as soon as they are made available and keep up to date with the most recent stuff added to the game.
Why Won't My Roblox Anime Star Simulator Codes Work?
If a Roblox code does not function, the most likely explanation is that it has already reached its expiration date. This frequently occurs whenever the developer publishes updated codes to replace the previously used ones.
Verify that you have accurately typed the redemption code you are attempting to use in order to determine whether or not it is still valid. Because of the case sensitivity of the principles, even the smallest misspelling can cause them to be rejected as invalid.
In addition to this, we have procured for you a few supplementary goods that are associated with many other games that you are free to play at any time:
How to Get More Gems in Roblox Anime Star Simulator?
The most effective method for increasing your power in Anime Star Simulator is to acquire new pieces of equipment and attacks but purchasing the greatest ones will need a significant investment of gems.
After you have redeemed all of the codes available in this location, you can earn additional gems by challenging bosses.
If you are impatient and want to acquire more gems even more quickly, you can use Robux to purchase boosts to the number of gems you receive from each combat, which will make the process move much more quickly.