With Cobra Kai, The Karate Kid's legacy lives on in a new form, so it's no surprise that viewers are eager for season 5 to premiere after the cliffhanger of season 4. Once a YouTube original, Cobra Kai has since moved to Netflix, where it has found massive success with viewers and critical acclaim, including a nomination for Outstanding Comedy Series at the 2021 Emmys. The show's success can be attributed to its ability to simultaneously appeal to fans of the original 1980s series while also introducing fresh elements such comedic new characters. What we know thus far about Cobra Kai Season 5 is detailed below.
Cobra Kai Season 5 Release Date
On Friday, September 9th, in the United States and the United Kingdom, the fifth season of Cobra Kai will debut on Netflix. To everyone's delight, all of Season 5 of Cobra Kai is about to drop. As season 4 of Cobra Kai premiered on December 31, 2021, fans will get two seasons' worth of the show in a single year thanks to the fall 2022 release date.
A new era of no mercy begins Sept. 9th — only on #Netflix #CobraKaiSeason5 pic.twitter.com/CbUqsrZnLA

— William Zabka (@WilliamZabka) August 23, 2022
 Cobra Kai Season 5 Storyline
Last season, Terry Silver, the antagonist from "The Karate Kid Part III," returned to Cobra Kai to defeat Daniel LaRusso and Johnny Lawrence and establish his "no mercy" style of fighting. It all came to a head at the All Valley Tournament, which Cobra Kai won (after Silver bribed a judge). The aftermath of the tournament is explored in Season 5 of Cobra Kai. Since Johnny has taken a step back, Daniel has been compelled to shut down Miyagi Do Karate so that Cobra Kai can spread its influence throughout the Valley.
Daniel goes out to an old acquaintance, Chozen Toguchi, for assistance as Silver grows more confident and recruits additional teachers. Meanwhile, John Kreese, who Silver framed for attempted murder, is attempting to readjust to life behind bars as Miguel, Robby, Sam, and Tory continue to have tense interactions.
Cobra Kai Season 5 Trailer
A teaser for the upcoming fifth season of Cobra Kai has been released. The worst ride-share driver ever, the potential for a fight between LaRusso and Silver, and Kreese's impressive jailhouse antics are just a few of the highlights.
Cobra Kai Season 5 Cast
Principal cast members Ralph Macchio (Daniel LaRusso) and William Zabka (Johnny Lawrence) return for Cobra Kai Season 5. It's been great joy to see the two actors, who are most known for their roles in the original Karate Kid films, reprise their roles as adults, turning their antagonistic characters into friends. Thomas Ian Griffith, who plays Terry Silver, is another former Karate Kid student now training at Cobra Kai.
Silver's comeback in Season 4 transformed him into the series' main antagonist. Martin Kove, who played John Kreese in the first Karate Kid film, is back. After appearing as a guest star in Season 4, Yuji Okumoto will return for Season 5 in the recurring role of Chozen Toguchi (from Karate Kid Part II). Finally, promotional images for the upcoming season confirm that Karate Kid 3's Sean Kanan will reprise his role as Mike Barnes.
Karate kids Peyton List (Tory Nichols), Xolo Mariduea (Miguel Diaz), Tanner Buchanan (Robby Keene), and Mary Mouser (Samantha LaRusso) make up the rest of the core characters. Courtney Henggeler returns as Amanda LaRusso, and Jacob Betrand reprises his role as Eli "Hawk" Moskowitz, and Gianni DeCenzo reprises his role as Demetri. Alicia Hannah-Kim joins the cast this season as the new sensei Silver brings into Cobra Kai, Kim Da-Eun.
How To Watch Cobra Kai Season 5
Since Cobra Kai is produced by Netflix just for that service, it follows that the streaming giant is the only place to see the show's current and past seasons. Streaming access to Cobra Kai is restricted to Netflix members only.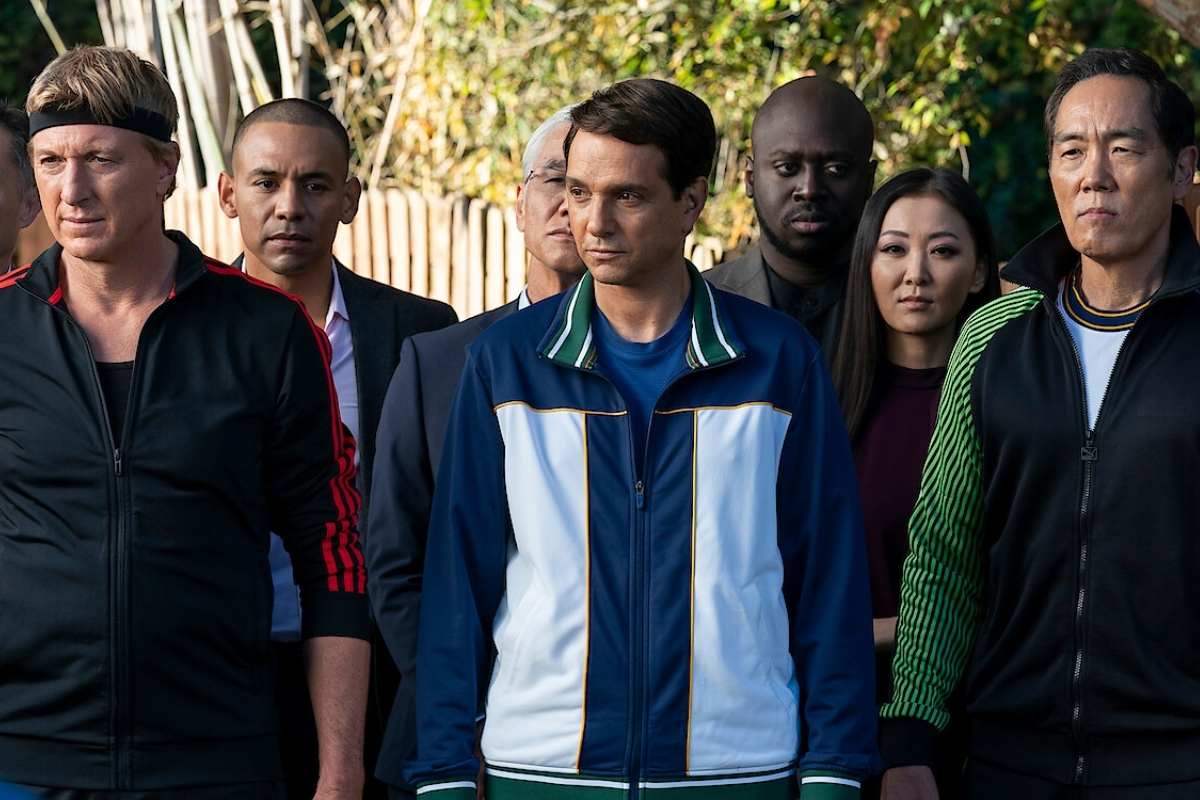 Cobra Kai Season 4 Recap
It seemed unlikely that the Cobra Kai crew could top the school brawl that ended season two (without going all Matrix on us), but they did just that with the finale of season three. So, to review: Sam and Miguel gathered their friends to try and negotiate a peace treaty between the two dojos, but they were ambushed by Cobra Kai members as they arrived at the LaRussos' home. As Tory faced off against his sworn adversary Sam, he unleashed his inner Fight Club.
After this, Kreese and Johnny got into a fight, in which Daniel intervened to keep Johnny from dying. It was made clear to us quickly that Kreese intends to play dirty, despite the fact that the three men agreed to wait until the All Valley Championships to settle their disagreements and made a contract that whoever loses leaves the valley for forever. One of the finest parts of the series finale was getting to watch Johnny and Daniel reunite for their largest reunion since Robbie Williams came back to Take That.
It appears, however, that in season four, we will see that things aren't going to go as smoothly as planned for the two old rivals. In an interview with TVLine, Josh Heald, one of the producers and writers of Cobra Kai, said, "Giving them this moment was something we've always known was coming, but we are delivering it in a way where we've also established who these people are." It was comforting to realise that I am working toward the same goal with someone else. However, we still have a long way to go, and we have different backgrounds and perspectives to overcome. We really hope this works.
The kids have finally come together, and now it's time to clean up the mess they've made. Such a contrast exists between these two multifaceted people. The third season also established that not everything at Cobra Kai is as it seems; the authors have left more than their fair share of red herrings, such as speculation that Daniel's journey to Japan might reveal some dark secrets about Mr. Miyagi. Instead, it reaffirmed his reputation as a lovable, wise, and handy grandfather in the movies.
It also ended rumours that Ali was Tory's biological mother. To this day, it is unclear how Tory contributes to the KKU (Karate Kid Universe) beyond ruining Sam's day. We know that her mother requires dialysis, but will we learn more about her past? Given that past seasons have introduced us to the backstories of all the main characters, including the most recent addition, Kreese, who we learn was bullied himself and whose mother committed suicide when he was still in high school before he went to Vietnam, this seems more than possible.
For more articles like this stay tuned with newsconduct.com