Ezra Miller is from the U.S. Miller first appeared in a full-length movie called "Afterschool." After that, they starred in the dramas "We Need to Talk About Kevin" and "The Perks of Being a Wallflower."
Who is Ezra Miller?
Ezra Miller was born in Wyckoff, New Jersey. His parents, Marta, a modern dancer, and Robert S. Miller, a former senior vice president for Workman Publishing and Hyperion Books, raised him.
Ezra Miller began training as an opera singer when he was six years old. He did this to help him get over a speech problem. Ezra Miller has been interested in different kinds of performing arts since he was young. As a teenager, he tried his hand at show business.
Ezra Miller's first movie role was in the drama Afterschool, which came out in 2008 and was nominated for the Golden Camera Award at the Cannes Film Festival. In the dramatic thriller We Need to Talk About Kevin, Ezra Miller was praised for his role as Kevin Khatchadourian, Tilda Swinton's murderous son (2011).
He has also been in TV shows like Californication, Law & Order: Special Victims Unit, and Royal Pains, as well as movies. Ezra Miller was hired to play "Credence Barebone" in "Fantastic Beasts and Where to Find Them," a movie that is not part of the Harry Potter series.
Ezra Miller Early Life
Ezra Miller was born Ezra Matthew Miller in Wyckoff, NJ, on September 30, 1992. Miller's mother, Marta, is a dancer, and his father, Robert, was the managing director and senior vice president of Hyperion Books before becoming a publisher at Workman Publishing.
Robert is Jewish, and Ezra says he is "entirely Jewish," but Marta was raised as a Christian. Caitlin and Saiya are Miller's older sisters. As a child, Ezra was made fun of because he had trouble speaking. To fix this, he started studying opera at age 6 to improve his voice.
Read More:
Miller sang with the Met Opera Children's Chorus and was in the opera "White Raven" by Philip Glass. They went to school in Conyers, New York, at Rockland Country Day School, and in Hoboken, New Jersey, at The Hudson School. After their first movie, "Afterschool," came out in 2008, Ezra quit school at the age of 16.
Ezra Miller Career
Miller played Damien Patterson on the Showtime show "Californication," which starred David Duchovny, in 2008. In 2009, Ezra was a guest star on "Law & Order: Special Victims," who started a five-episode run as Tucker Bryant on "Royal Pains" on the USA Network and starred in "City Island" with Andy Garcia, Julianna Margulies, and Alan Arkin.
Miller was in the movies "Beware the Gonzo," "Every Day," and "Another Happy Day." In "We Need to Talk About Kevin," they played the psychopathic teen Kevin Khatchadourian with Tilda Swinton. More than 60 awards, including the BAFTA Award for Best British Film, were given to the movie. Ezra starred in the 2012 movie "The Perks of Being a Wallflower" with Logan Lerman and Emma Watson.
The movie was based on the same-named Stephen Chbosky book from 1999. Miller won several awards for their performance, and the movie won a People's Choice Award for Favorite Drama Movie and a GLAAD Media Award for Outstanding Film – Wide Release. "Madame Bovary" came out in 2014, and Ezra played Leon Dupuis in "The Stanford Prison Experiment" in 2015.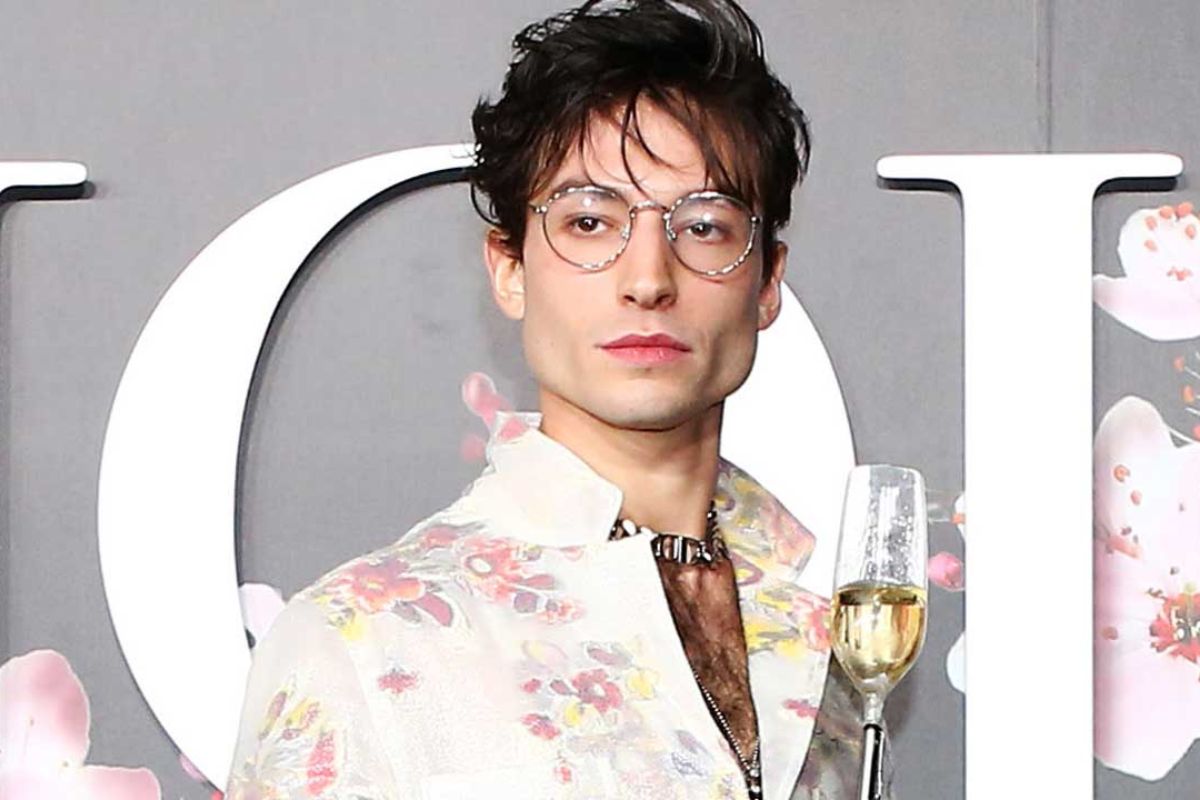 Miller then had a string of hits, starting with "Trainwreck," a comedy from 2015 that made $140.8 million on a $35 million budget. After "Trainwreck," Ezra made "Batman v. Superman: Dawn of Justice" ($873.6 million), "Suicide Squad" ($746 million), and "Fantastic Beasts and Where to Find Them" ($814 million) in 2016, "Justice League" ($657.9 million) in 2017, and "Fantastic Beasts: The Crimes of Grindelwald" ($654.9 million) in 2018.
Miller had a cameo as Barry Allen/The Flash on The CW's "Arrow" in 2020 and on HBO Max's "Peacemaker" in 2022. In 2021, Zack Snyder released a director's cut of "Justice League" called "Zack Snyder's Justice League" on HBO Max.
In the same year, Ezra was also in the movie "Asking for It" and played Trashcan Man in the remake of Stephen King's "The Stand" on CBS All Access. Miller was cast as the main character in the DC Comics movie "The Flash," which was originally supposed to come out in 2018.
"The Flash" finally started filming in England and Scotland in 2021, after many delays caused by Ezra's commitments to the "Fantastic Beasts" franchise and the search for new writers and directors. At one point, Miller and Grant Morrison wrote a screenplay for the movie together.
However, the studio didn't like it, so they hired "Birds of Prey" screenwriter Christina Hodson to write a new one.
Ezra Miller Personal Life
Ezra came out as gay in 2012, and in an interview in 2018, "When it was said that Miller is gay in "The Hollywood Reporter," the person said, "Yeah. That is, I don't feel like I belong. F**k that. Queer just means "I don't do that." I don't think of myself as a guy. I don't think of myself as a girl.
I hardly feel like a person." In the past, Ezra used all pronouns interchangeably, but as of this writing, Miller's pronouns are listed on their Instagram profile as "they/them/its/ze." Ezra told "In 2012, he told "The Daily Beast," "The way I would choose to describe myself wouldn't be gay.
I've mostly liked "shes," but I've been with a lot of different people and I'm open to love in any form." Miller talked about an experience she had with an unnamed Hollywood director and producer during the #MeToo movement in 2018. She said, "Even though I wasn't old enough, they gave me wine.
They asked, "Hey, would you like to be in our movie about the gay rights movement?" And I was like, 'No, you guys are monsters.'" In 2018, Ezra said they were in a polyamorous relationship with several people, including their bandmates from Sons of an Illustrious Father.
Ezra Miller House
Ezra Miller lives in a luxury house that is 7,200 square feet and is in the U.S. state of New Jersey. This property was bought by Ezra Miller for 6 Million dollars. This house looks old and wonderful from the outside.
It is made of red bricks and decorated with marble. Small, round windows have been added to the house in a fairly asymmetrical way. These windows let in enough light and let the house feel more open. The house of Ezra Miller has 5 bedrooms, 8 bathrooms, 1 pool, and other amenities.
Ezra Miller Net Worth
It is thought that Ezra Miller has a net worth of more than $12 million. Ezra Miller is an actor and singer from the United States. In the DC Extended Universe, Ezra Miller is best known for playing the DC Comics superhero "The Flash." Ezra Miller is also known for his roles in movies like We Need to Talk About Kevin and The Perks of Being a Wallflower.
Ezra Miller Cars
Ezra Miller just spent USD 220,000 to buy a Jaguar F-TYPE. Ezra Miller also has a $210,000 Range Rover Sport that he bought for himself. Here is a list of some of Ezra Miller's other cars.
Volvo XC40
Mercedes-Benz EPC
Audi A6
Ezra Miller Awards
Hamptons International Film Festival for Breakthrough Performer
Boston Society of Film Critics Award for Best Supporting Actor
San Diego Film Critics Society Award for Best Cast
Santa Barbara International Film Festival — Virtuoso Award
Ezra Miller Movies
Afterschool
Beware the Gonzo
We Need to Talk About Kevin
How u do dat Ezra? 🤔 pic.twitter.com/tWAgJNUy09

— Ezra Miller Fans (@ezramillerfans) August 5, 2019
Batman v Superman: Dawn of Justice
Justice League
Fantastic Beasts: The Secrets of Dumbledore
Stay in touch with us at Newsconduct.com for more interesting content and news about your favorite celebrities.