Eddie McClintock is an American actor famous for his work in some of the best films and television programs. Some of them are Warehouse 13, Sex and the City, FRIENDS, Shark, Boogeyman, Mind Games, Castle, Mumford, and A Fish Story.
His fans love to watch him over the screen. If you want to know everything about him, then you are at the right place. Scroll down for some information.
Eddie Mcclintock Age, Family, and Early Life
Eddie's full name is Edward Theodore McClintock. He was born on 27th May 1967 in Canton, Ohio, The United States of America. After the separation of his parents, Eddie shifted to North Canton along with his dad.
Eddie got married to Lynn Sanchez in the year 2005. They have two sons also, Jack McClintock and Max McClintock. Eddie McClintock lives in Los Angeles along with his small and sweet family. 
Eddie Mcclintock Education
He attended his schooling till eighth grade in St. Michael's Catholic School. After leaving the school, he attended North Canton Hoover High School to complete his further studies. 
Read More:
Eddie gained his bachelor's degree in communication from Wright State University, which is situated in Dayton. He has also studied designing in his college. Eddie has designed artwork for the album named V is for Vagina in 2007, which belonged to Puscifer. 
Eddie Mcclintock Career
Eddie McClintock is selling a few of his artworks over his website. He has also worked as a wrestler, after which he opted for working as a production assistant. Soon he developed his interest in an acting career and appeared in the roles in 1997. Eddie McClintock appeared in a lot of films.
He has worked in ten pilots, five network series, television series, and more than 25 shows, based on his resume. The age at which Eddie McClintock started working as an actor was 30. Some of the films in which he appeared are Mumford, Screenland Drive, Moving August, The Sweetest Thing, Full Frontal, Pet Peeves, and A Fish Story.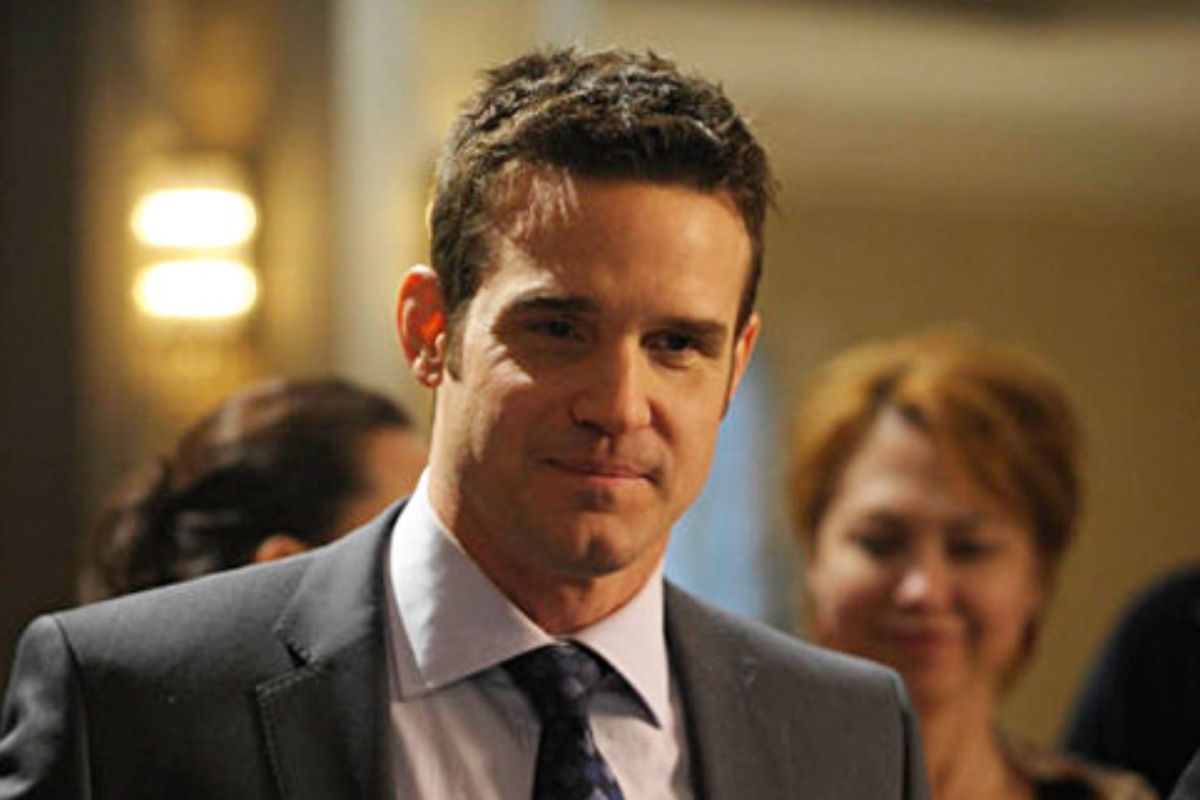 Eddie McClintock made his debut in television series through Ned And Stacey. He has also been a part of some other series like Diagnosis: Murder, Sex and the City, Spin City, Agents of Shield, Supergirl, and 9-1-1. The most recent television series in which Eddie McClintock worked is My Stepfather's Secret.
He was also a part of a sitcom named Stark Raving Mad from 1999 to 2000. This sitcom won the People's Choice Award but unfortunately got canceled after one season. In 2006, he was a part of Desperate Housewives and played the role of Frank, who was the father of Gabrielle and the adoptive child of Carlos.
He also made an appearance in the Bones for four episodes by playing the role of Special Agent Tim Sullivan. Many shows featured him as a guest like My Boys, Felicity, Friends, Ne and Stacey, Less Than Perfect, Better Off Ted, Sex and the City, and The King of Queens. 
His best performance is considered to be in Syfy's Warehouse 13. He was voted for the position of number eighty-two on BuddyTV's list of TV's Sexiest Men of 2011.
Two of his famous projects are:
Warehouse 13
Warehouse 13 is an American science fiction mystery film that got released in 2009. Some of the stars alongside Eddie McClintock are Joanne Kelly, Saul Rubinek, Genelle Williams, Simon Reynolds, Allison Scagliotti, and Aaron Ashmore. 
Eddie McClintock became famous by the name of his character, named Pete Lattimer, through this central character. The IMDb rating of the film is 7.7 out of 10. 
The Sweetest Thing
Eddie McClintock played the role of Michael in this film. The Sweetest Thing is a romantic comedy film that got released in 2002. Cameron Diaz, Christina Applegate, Selma Blair, Thomas Jane, Jason Bateman, and Parker Posey were also a part of the project, along with Eddie McClintock. 
The budget of the film was around $43 million and it gained an amount of $68.7 million at the box office. It had an IMDb rating of 5.2 out of 10.
Eddie Mcclintock Net Worth
The net worth of Eddie McClintock is estimated to be around $4 million. He has a great interest in surfing and painting and also knows to play drums. He loves to spend his time in the water. He is fully satisfied with his life as his career in the entertainment field provided him fame and a name.
The moment you realize you're not nearly Edgelord enough to have your account suspended. pic.twitter.com/gCePfldhZ4

— Eddie McClintock (@EddieMcClintock) June 10, 2022
He has also mentioned that people have approached him after watching him driving his childhood dream car. The net worth of Eddie McClintock has been seen increasing dramatically in the year 2021-22.
Most of the finances have been gained from Yeezy footwear. His business made him one of the richest celebrities of all time. However, his primary source of income is still because of his successful career as an actor.
Talking of the popularity that Eddie McClintock gained, he has more than 28 thousand Instagram followers and 72 thousand Twitter followers. However, he is not that active on social media, as he is not seen updating it daily. He opts for sharing his promotions and activities occasionally.
For more information please visit our site Newsconduct.com