Since her parents are well-known philanthropists, Phoebe Adele Gates isn't exactly what you'd expect a typical young woman to be. Phoebe Gates, the newest member of the Gates family (which also includes older siblings Jennifer and Rory), has to deal with being forced into the limelight regularly.
Phoebe is back in the news again following her parents' public declaration of their separation in May 2021, and it's not good. What more do we know about the Gates family's youngest child, other than the fact that she was born into a family with a love of technology and a desire to give back on a worldwide scale?
Because of her parent's divorce, of course, she'll have to adapt to a new normal. Phoebe Adele Gates's secret is finally out.
Phoebe Adele Gates Favorite Hobby
But even though her father and mother work in the technology industry, it appears that Phoebe Adele Gates is more of an independent thinker. In the past, Phoebe aspired to be a professional ballerina, according to Suggest. Besides attending the Professional Children's School in New York City.
Phoebe also attended The School of American Ballet at the Lincoln Center for the Performing Arts, where she refined her skills and developed her craft. In addition, she trained at the renowned Juilliard School, which is known for producing performers like Robin Williams, Adam Driver, and Patti Lupone, among others.
Phoebe Adele Gates Grew Up With Very Little Exposure to Screens
Phoebe Adele Gates, the daughter of Bill and Melinda Gates, may be assumed to have grown up with all the latest technology at her fingers at all times, but that is far from the case. It was disclosed in an interview with the Mirror in 2017 that none of his children were allowed to get a smartphone until they were 14.
Related:
Bill admitted that other kids had gotten the toys before him, but he didn't budge. Also, according to reports, he established stringent limits on how much time the kids may spend in front of screens before going to bed and prohibited cell phone use at the dinner table.
There are times when we set a screen-free period for our children, and it helps them fall asleep at a respectable time, Bill said.
Phoebe Adele Gates Doesn't Stand to Inherit Billions
Despite Bill Gates' reported net worth of $130 billion (per Forbes), the well-known father of three says he has no plans to leave his fortune to any of his children, even his youngest, Phoebe Adele Gates.
While speaking to the British daytime talk show "This Morning," Bill surprised everyone by announcing that his whole fortune will not go to his children. "Our children will be well-educated and well-off, but they will also be able to pursue their careers," he said. For youngsters, having a lot of money isn't a good thing.
In doing so, it creates its course of action. "This money is going to the poorest people in the world."
Phoebe Adele Gates Relationship With Her Siblings
Phenomenal photos taken of Phoebe Adele Gates are accompanied by images of her close friends, Jennifer Gates and Rory Gates, on Instagram. A year later, on April 24, 2020, the youngest Gates took to Instagram to honor Jennifer's 24th birthday with a touching tribute.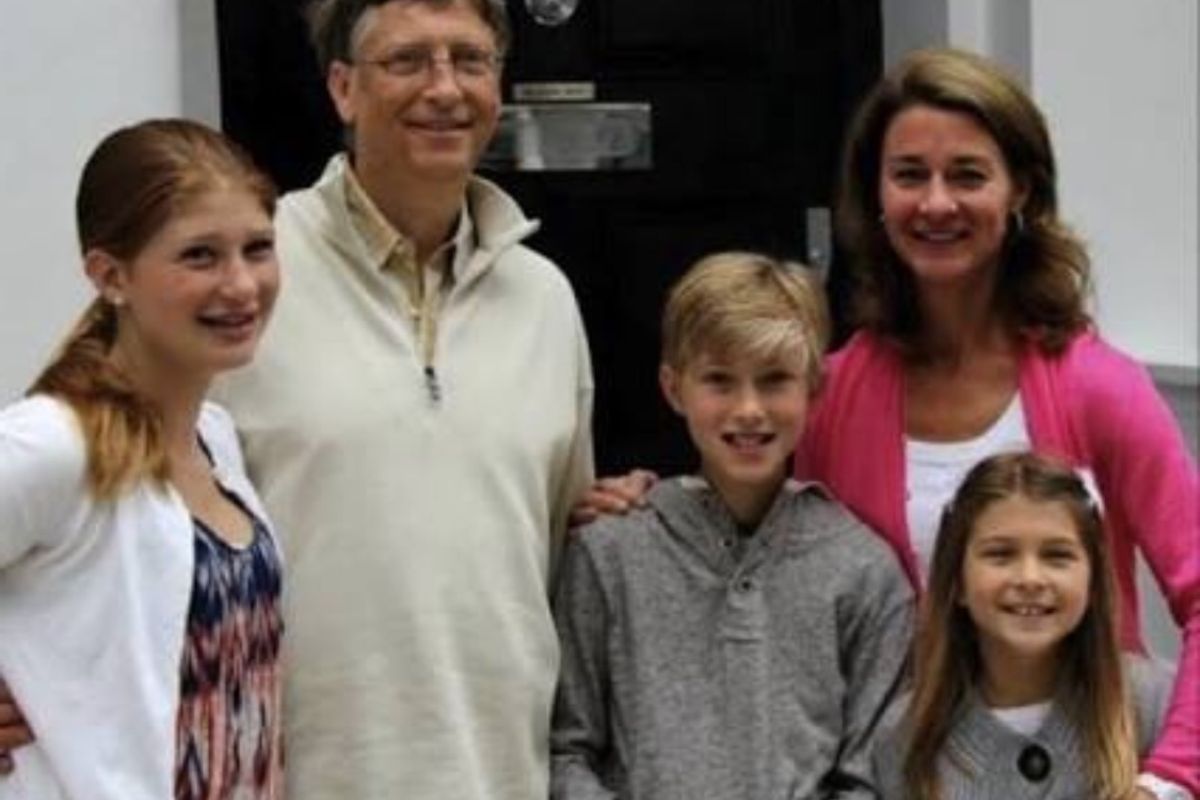 "Happy birthday to the queen of the power walk," she wrote in her birthday message. It is a pleasure to have you as a friend. Wishing the most wonderful sister a very happy birthday."
In October 2021, when Jennifer Nassar married her longtime lover Nayel Nassar, their sisterly closeness was seen. Phoebe was one of Jennifer's many bridesmaids, whom she referred to as "some of my favorite people" in an Instagram post, according to People.
Her Parents Held Off Their Divorce
After nearly 30 years of marriage, Bill and Melinda Gates announced their divorce in May 2021, shocking the world. Melinda would subsequently reveal on CBS that her marriage to Bill had broken down because of their differences. This didn't happen in a single instance, she insisted.
After a certain amount of time, I knew that the relationship we had wasn't healthy, and I couldn't put my faith in it. Phoebe Adele Gates may have had anything to do with her parents' eventual choice to divorce, even though it sounds like a typical love tale gone wrong.
It was Phoebe's graduation from high school that drove Bill and Melinda to take the final step toward separation, according to those close to the couple. Because their youngest child is graduating from high school, "it's completely because of that," an insider tells People. As a lot of people do, they made it to the end of the school year.
Despite their split, Bill and Melinda remain close to one another and their children as well.
Phoebe Adele Gates Graduated
To celebrate Phoebe alumna Adele Gates' graduation from High School in June 2021, Bill Gates took to Instagram to post an emotional homage to his youngest daughter. Radar Online reports that Phoebe graduated in June of that year. The best of luck to you as you begin your new chapter in life, Phoebe.
My daughter Phoebe and I love reading all kinds of books and are big fans of @johngreen. Here are her (and my) thoughts on his latest book: https://t.co/hRCvwf2T6N pic.twitter.com/b7lpFsAK8c

— Bill Gates (@BillGates) March 27, 2018
He added, "I'm so pleased to be your dad since you have developed into such a nice, positive, and great grownup. Both Jennifer Gates and Rory Gates attended Lakeside School, according to Business Insider. The Gates, though, aren't the only ones who have a soft spot for Lakeside.
Phoebe Adele Gates Has Traveled to a Lot of Places
When it comes to her travel preferences, it is clear Phoebe Adele Gates is a true adventurer. Phoebe's vacation to Peru was documented in a photo carousel she released in May of this year. First, she was hugged by an indigenous Peruvian, then she was seen hiking with a group of people.
She captioned the photo, "Missing this right about now." There's no telling when Phoebe will stop exploring the world and start looking for her next adventure. In 2020, she welcomed the new year with a series of photos of herself scaling a cliff.
For more information please visit our site Newsconduct.com