The Japanese light novel series, KonoSuba: God's Blessing on This Wonderful World is created by Natsume Akatsuki. And the illustration for this manga has been handled by Kurone Mishima. 
This novel series follows the life of Kazuma Sat. He is a youngster who, after his death, is transported to a fantasy realm with MMORPG features, where he joins a dysfunctional adventuring group with a goddess, an archwizard, and a crusader.
This manga was serialized as a web novel on a Japanese user-generated novel publishing website, Shōsetsuka ni Narō. This serialization happened between December 2012 & October 2013. From October 2013 to May 2020, Kadokawa Shoten's Kadokawa Sneaker Bunko imprint published KonoSuba as a printed light novel series. This light series brings a more divergent plot and more vibrant illustrations, which were also done by Kurone Mishima.
Then in October 2014, a manga adaptation of this novel began. The serialization of this manga also started around the same time and was done by Fujimi Shobo's Monthly Dragon Age. 
Finally, in January 2016, the first anime adaptation of this manga aired in Japan. This television adaptation project was undertaken by Studio Deen Ltd, a Japanese animation company. Then from January to March 2017, the second season of this anime was rolled out.
Many Konosuba fans are looking forward to the release of the third and final season. When is Konosuba Season 3 coming out? To what extent does this new season intend to build on the work of its predecessors? This page will answer questions about the Konosuba Anime Season 3 start date and various episodes. Read the complete article to learn more.
You can also like: Tower Of God Season 2: Will It Ever Going To Happen?
Konosuba Season 3 Release Date
An official announcement was made on 18th July 2021 that KonoSuba season 3's production has begun. The KonoSuba Season 3 release date has yet to be officially confirmed by Studio Deen, J.C. Staff, or any other entity involved in the anime's production.
Once the news is made official, we will update this article with all the relevant information.
In the meantime, we speculate about when the KonoSuba season 3 release date will occur in the future.
Season one of KonoSuba ended at a cliffhanger, while season 2 with Kazuma saying, Thank you for the support, everyone! Our battle has just begun, and this is just the beginning of our grand adventure in this world!
This statement can be interpreted as a hopeful endorsement for season 3 of KonoSuba. According to the precedent set by the release of previous seasons, any official news about KonoSuba Season 3 will most likely arrive after the Crimson Legend film premieres.
As anime productions take years to develop, it's probable that the groundwork for KonoSuba Season 3 has already begun. Now that the KonoSuba movie has been out for a while. Re: Dive is now in its second season. As a result, the anime won't be released until 2023.
The premiere date for Konosuba season 3 is set for January 2023. We are curious to know why Kadokawa acted so rapidly in making the statement.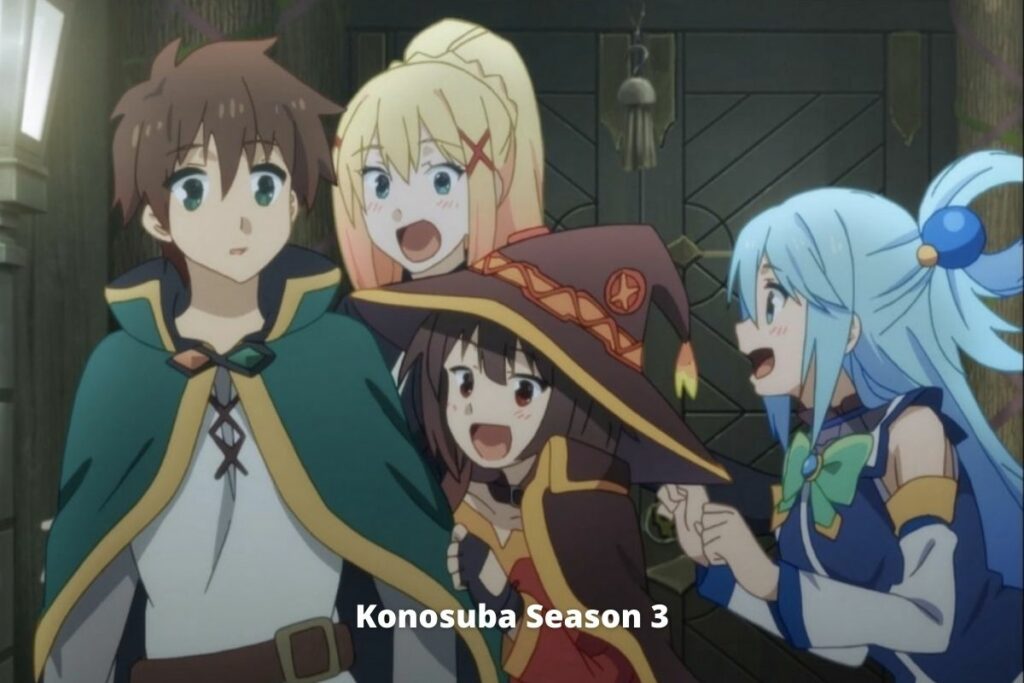 Konosuba Season 3 Plot
However, there is no official announcement about the plot of the KonoSuba season 3. But we can speculate the storyline for this upcoming season. 
Konosuba's plot transports you to different realms by allowing you to journey alongside the characters. It was based on the light book Konosuba: God's Blessing on the Wonderful World, authored by the renowned author Natsume Akatsuki. It will follow KazumaSat's life story to summarise the events of the previous two seasons. When he attempted to stop a girl from being hit by a truck, he suffered a heart attack and died. 
However, the young man's sudden death was rather humiliating. As a result, he meets the goddess Aqua after death. Her offer of rebirth has been accepted, but he will be returning to a parallel world with MMORPG aspects.
Season 3 will begin with Kazuma's victory over the devil king. He will be living a luxury lifestyle after earning a large sum of money as a prize. It was impossible to deny his popularity. He quickly draws the Crown's attention, and he and Princess Irish set out on a mission to capture the Chivalrous Thief Chris. However, things did not go as planned, and Kazuma was eventually exiled. So it's up to him to establish his innocence and uncover the truth about the royal plot.
We'll also watch Megumin and Kazuma develop feelings for one another and eventually begin dating. There will undoubtedly be many twists and turns, but hopefully, this will be the core plot.
Konosuba Season 3 Cast
The third season of "KonoSuba" has yet to be confirmed. No cast members have been revealed. In any event, it's safe to assume that the voice actors from "KonoSuba" seasons 1 and 2 will reunite for a possible third season.
Here is the list of characters that we might see in season 3 of KonoSuba :
Satou Kazuma as Jun Fukushima

Aqua as Amamiya Ten

Megumin as Rie Takahashi

Darkness as Ai Kayano

Yun Yun as Aki Toyosak
Konosuba Season 3 Trailer
Sadly no trailer has been released for season 3 of KonoSuba. 
But you need not worry! If there comes out any update regarding the show, we will be updating our article.
Just watch the show when it releases and tell us how you felt about it in the comments below.