Reality shows and all the programs of such genre are everyone's guilty as one would always binge-watch them as their favorite pass time. Now imagine a show full of beautiful Korean female idols where different girl groups compete to decide who is the best of the best.
Yes, you guessed it right, the show we are talking about is Queendom. Today we would like to discuss a Korean reality show, Queendom, or as they say in Korean, Kwindeom. 
Queendom is a Korean reality show that aired on the MNET Network. The first season of Queendom aired from 29th August 2019 to 31st October 2019. Lee Da-hee &Jang Sung-kyu hosted the Queendom season one. 
Although the show's original release was in Korean, the showrunners dubbed the show to appeal to an English-speaking audience.
K-pop reality shows are very trendy and very high in demand, and this time it is Queendom with its upcoming season coming out to serve our needs. With season one of Queendom in wraps, MNET on 14th December 2021 had announced that the show would return for a second season. 
To add to the hype of Queendom, Mnet has announced that Taeyeon of Girls' Generation, one of the most successful K-pop singers of all time, will host this season.
Let us now go into the details of Queendom Season 2 and learn everything we can about it, including the release date, cast, plot, and trailer.
Queendom Season 2 Release Date
The last episode of Queendom season one aired on 31st October 2019, nearly two years ago. And since then, the fans had wondered whether they could ever see season two of Queendom. Finally, the wait is over, and the fans will be watching Queendom season 2 in the fall of this year. 
MNET announced in March 2021 that the show would be returning with its second installment. The show went into production on 21st February 2022 and is now completely ready to be released. 
Finally, the show will be premiering on 31st March 2022 on MNET at 9:20 PM(KST).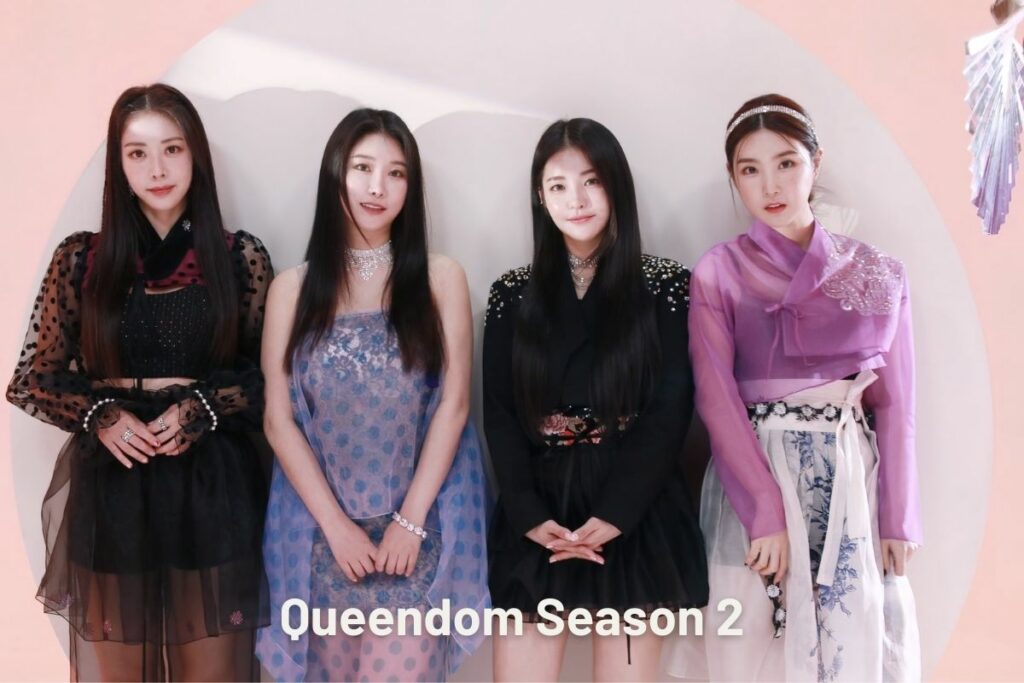 Queendom Season 2 Plot
Seeing the trailer, we think that the trailer of Queendom season two might be the same as the previous season. Different girl groups perform their hit songs in three preliminary stages, and after each performance, they are judged by the audience and given points according to their performance.
Then the final ranking is calculated using the points mentioned below:
3 first-round performances (1st preliminary performance – 10,000 points, 2nd preliminary performance – 10,000 points, 3rd preliminary performance – 15,000 points)

 Comeback Singles' digital points are determined from the time they are released until the season premieres (maximum of 15,000 points)

Text message voting for the final live comeback stages (maximum of 50,000 points)
If one artist finishes sixth place twice in the preliminary performances, they must withdraw from the show. The "Dishonored Step Down" is another name for this.
Queendom Season 2 Cast
According to various reports, it has come to our knowledge that MNET has recently announced the lineup of Queendom season 2. This news has sparked a discussion among fans, as several of the girl groups have only recently debuted.
And the fans can't wrap their heads around how this is even possible? Nevertheless, neither we nor the fans can change what happens in the show. We can just watch and discuss the show. 
You may also like:
We would also like to describe each girl group in the show. 
Viviz:

The members of this group are: Eunha, SinB, and Umji will be joining the show in its second installment. They debuted this year with the extended play Beam of Prism and title track Bop Bop.

WJSN(cosmic girls):

WJSN is another girl group that would be contesting in the show. They are also known as the cosmic girls and had made their debut in 2016. Currently, they are a thirteen-member girl group: Seola, Xuanyi, Bona, Exy, Soobin, Luda, Dawon, Eunseo, Cheng Xia, Meiqi, Yeoreum, Dayoung, and Yeonjung. And all of them will be present in Queendom season 2. Cosmic Girls have released their second album Super Yuppers in January 2022. 

KEP1ER:

This girl group is one of the most promising 4th generation girl groups created from MNET's other reality show, Girls Planet 999. This group has nine members: Choi Yujin, Shen Xiaoting, Mashiro Sakamoto, Kim Chaehyun, Kim Daeyeon, Hikaru Ezaki, Huening Bahiyyih, and Kang Yeseo. And all of them will be performing in season two of Queendom. 

Loona:

Loona is the fourth girl group of Queendom season 2. They are a twelve-member team: HeeJin, HyunJin, HaSeul, YeoJin, ViVi, Kim Lio, JinSoul, Cherry, Yves, Chuu, Go Won, and Olivia Hye. They have also won the 2021 Golden Disc Awards Next Generation Award. 
Other K-pop girl groups that will be joining Queendom season two as contestants are Brave Girls and Hyolyn. All of the fans are excited to watch this show, and we would not debate whether their excitement is justified or not. But one thing's for sure this season of Queendom is going to be better than its previous season. 
Queendom Season 2 Trailer
The Queendom season 2 teaser is now live on YouTube, revealing the lineup for the forthcoming season and some sneak previews of the show.
The trailer is available on MNET's official YouTube Channel and has more than 50k views. 
Now go see the show when it comes out, and let us know what you thought of it in the comments.