We can bet that everyone who is reading this blog, at some point in their childhood, wanted to become a superhero. And not just any ordinary superhero, but the finest of the best, one who protects the world and fights the darkness within.
What if your wish comes true, and you and your friends can become the superheroes that the world requires? No, we will not tell you how to do it. However, we would suggest something that will assist you in reconstructing the reality of being a superhero. Yes, you guessed it right, we will be talking about the My Hero Academia and the upcoming season six.
My Hero Academia or Boku no Hīrō Akademia is a Japanese manga series that follows the life of a boy born without superpowers in a world full of superheroes(quirks). My Hero Academia also tells the tale of this boy Izuku Midoriya goes on to become the successor of the All Might, Japan's greatest superhero. Kōhei Horikoshi has written and illustrated this manga series. And the series has been serialized and put into 33 volumes by Weekly Shonen Jump since July 2014. 
The story of this manga was so incredible that it has inspired several spin-offs of manga, such as My Hero Academia: Smash!!, My Hero Academia: Vigilantes and My Hero Academia: Team-Up Missions. And it has also won rewards like the 2019 Harvey Award for Best Manga.
The first season of this manga's television adaptation was released in Japan in April 2016. And the last season was season five of this franchise which aired from March to September in 2021. And the anime is all set to release its sixth installment.  
To get all the details regarding the release of My Hero Academia season six. Read the complete article to know more.
My Hero Academia Season 6 Release Date
In the season finale of season five of My Hero Academia, it was confirmed that the series would return for a sixth season. This wasn't so much of a surprise as both the manga and the anime adaptation have received an astounding response from the audience and the critics.
The event held in December last year, Jump Festa 22, confirmed that there would be season six of the My Hero Academia, but no specifics were provided regarding the release date. 
During the event, it was revealed that My Hero Academia would be coming soon, with the season scheduled for a Fall 2022 release, which is a bit later than the usual timeline. Given that the five seasons have shown have mostly premiered during the spring season of their respective years. A poster released by the showrunners has also confirmed the Fall 2022 release of season six of My Hero Academia. 
Talking about the release date for the dub of season six, we would like to share that nothing has been confirmed yet. The show has previously been dubbed, so we expect a dub to appear soon, but whether it will be dubbed or a subsequent release (and, if so, when it will be released) is unknown. We'll have to wait a little longer for any updates on the dub.
My Hero Academia season 6 Plot
In season five of My Hero Academia, we saw two strong story arcs of the manga, the Endeavor Agency, and Meta Liberation Army. It is entirely clear that we will see the manga's penultimate story arc, the Paranormal Liberation War arc, in Season 6.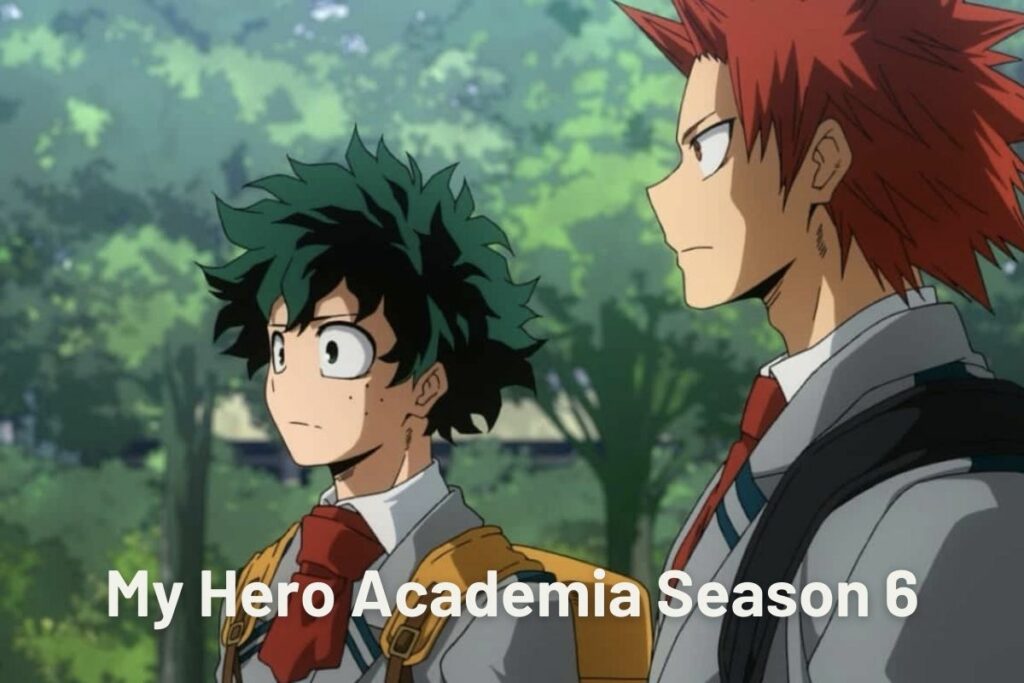 According to the teaser of season six, it looks that in season six, we are going to see a battle between Izuku and Tomura, and it has reached a level where it is inevitable. So in order to stop this rising threat, we might see heroes coming together. They can be seen training together, helping each other out so that they can defeat Tomura and the Paranormal Liberation Front once and for all. 
In this upcoming season of My Hero Academia, fans can expect the development of side stories happening inside the show. Many vital relationships will grow stronger in the middle of the chaos, while others will break down. 
We don't know about you, but this looks like a very strong plot for the sixth season of any franchise. So we would highly recommend this show.
Also read:
My Hero Academia season 6 Cast
Like all the previous seasons of My Hero Academia, season six will also feature the main character Izuku who is now a trained fighter and works alongside other heroes.
Other significant characters in the show include Ochaco Uraraka, a brilliant hero with concealed romantic feelings for Izuku, and Katsuki Bakugo, a boyhood friend of Izuku who subsequently became a bully. And other friends of Izuku like Shoto Todoroki, Eijiro Kirishian, and Tenya Ida.
My Hero Academia also features characters that are trainers and teachers. All Might, Japan's greatest superhero, is one of the student's favorite mentors. And other teachers like Hizashi Yamada and Nemuri Kayama will also be present in season six of My Hero Academia. 
Last but not least, the villains of this anime are led by the mighty Tomura Shigaraki, and villains like Himiko, Toga, and Dabi will also play a significant role in My Hero Academia season six. 
My Hero Academia season 6 Trailer
My Hero Academia season six trailer was released at Jump Festa 22 event. This short-teaser reveals the much-anticipated "Paranormal Liberation War" arc is the culmination of what has come before that will feature legendary battles and heartbreaking angst.
The trailer is available on AnimeHype official YouTube channel and was released on 19th December 2021. You can watch the trailer to sneak peeks at what will happen in season six of My Hero Academia.