Every human on this planet has some kind of fantasy that we always wanted to get fulfilled. Some of our imaginations are embarrassing, while others are wonderful and make perfect sense.
What if your desire comes true, and you and your buddies can travel to another world? Nah… we are not going to tell you how to do it. But we would recommend something that will help you reconstruct the entire incident in your imagination. 
You guessed it right, we will talk about I am Standing On A Million Lives or 100-man no Inochi no Ue ni Ore wa Tatteiru.
I'm Standing on a Million Lives is a Japanese Manga series, and the creators of this manga are Naoki Yamakawa and illustrated by Akinari Nao. The rights of this manga are held by Kodansha Ltd, a Japanese privately-held publishing company. A division of Kodansha, Kodansha USA Publishing licenses this manga to the United States. 
A TV adaptation for this manga was produced by Maho Flims Ltd, another Japanese animation studio. Season one of this adaptation first premiered in October 2020. And then, anime was renewed for a second season, which aired in July 2021 on Tokyo MX BS11, MBS, AT-X, and Wowow. The series is also available on Netflix globally. The anime is directed by Kumiko Habara and co-produced by Akio Matsuda & Terushige Yoshie.
The season of this anime franchise concluded recently, and the fans have started to wonder whether the show will have renewal? If you are one such fan, you needn't look any further. Everything you need to know is right here.
I'm Standing on a Million Lives Season 3 Release Date:
Season two of I am standing on a Million Lives concluded recently on Tokyo MX. It had twelve episodes, and the final episode of this season aired on 25th September 2021. So it has been six months since we have seen any fresh episodes of the anime. 
This isekai series was animated by Maho Film, with Kumiko Habara in charge of the direction and Takao Yoshioka was in charge of the writing. Now, as far as season 3 of I'm standing on a Million Lives is concerned, here's everything we've gathered so far. 
Wistfully, Maho Films Ltd. has not renewed this isekai fantasy anime series, and we feel that there are various reasons for this. Number one is the distasteful response from the viewers. Despite a noticeable improvement in the animation compared to the first season, the show has yet to perform as planned.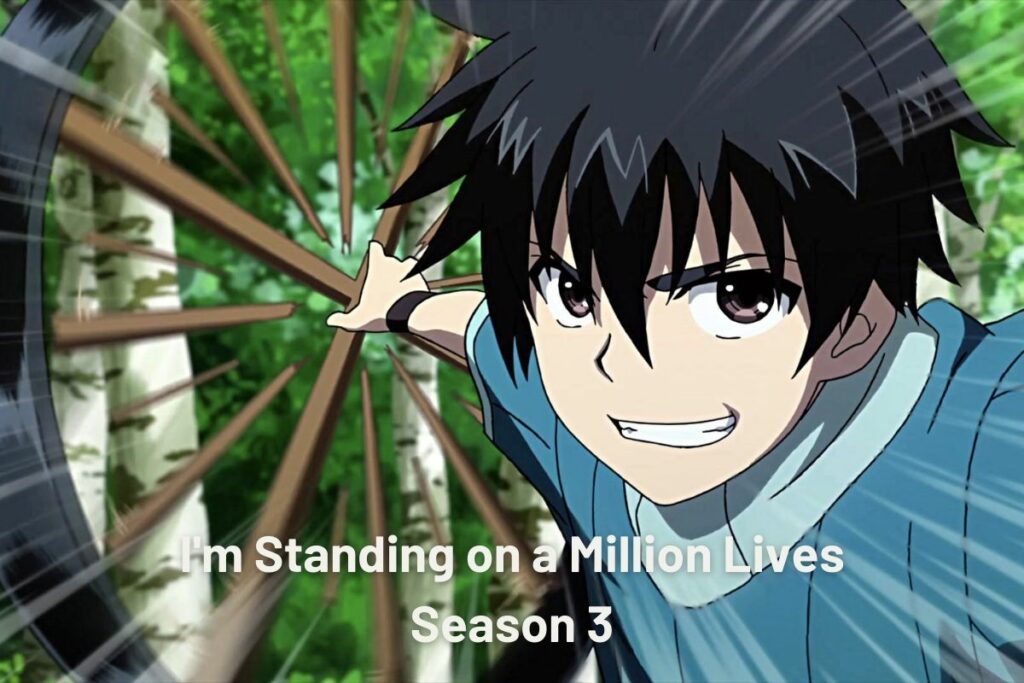 The second reason is the declining viewership and ratings that this show is getting. The ratings of this fantasy series are not so good. However, there are other aspects to consider about the anime's renewals.
If sales of Blu-Ray box sets and manga indicate a hopeful increase, I'm Standing on a Million Lives can turn things around after two dismal seasons. But this comes with a catch. 
Sadly, in recent months, Naoki Yamakawa's mangas had failed to match their success from 2020, when sales soared 11 times. Even if patterns shift, fans will have to wait a long time. Seeing all this, we can predict that if everything goes right, then and only then we can expect I am Standing on a Million Lives season 3 premiering sometime in Q3 or Q4 2023.
I'm Standing on a Million Lives Season 3 Plot
Although there isn't much information about the release of Season 3 of I'm Standing on a Million Lives, we may use it to forecast its plot. But here's what we speculate about the storyline of the third season. 
In the climax of season 2 of the fantasy series, we see that Jezby reveals herself to the dragon bishop. When Glenda asks her, the antagonist admits that she twisted the peasants' memories, and she had also killed Iris and several innocent people in the process.
When Jezby disclosed this, she tried to flee, but the heroes fought courageously and prevented her from succeeding. And when the quest is completed, all the heroes return to their world and resume their lives.
So in the third season of I'm Standing on a Million Lives, we will see the heroes heading towards the Kingdom of Goldia to gain control over the Rainbow Stair addiction. But before they get to that, they will have to fight the wireworm parasites.
In this following season, reducing drug addiction below 3 percent in the region will be one of the most challenging missions they have faced so far. So we would suggest you watch this show whenever it comes out, you will not be disappointed.
You may also go for:
I'm Standing on a Million Lives Season 3 Cast
Sadly there is no official news on the cast of I'm standing on a Million Lives season 3. But here are some characters that we are sure about:
Yuusuke Yotsuya
Lu Shindo 
Kusue Hakozaki 
Yuka Tokitate
Kahabell 
Majiha Purple
Majiha Pink
Thanzamer 
Glenda Carter 
I'm Standing on a Million Lives Season 3 Trailer
As of now, you must have come across the fact that the showrunners have not disclosed anything about the release of season 3 of I'm standing on a Million Lives. So we are sad to tell you that there is no official trailer for season three of the show. But there are many fan-made trailers available on Youtube. We are sure that those trailers will do just fine till the official trailer releases. 
The first we do after getting an update about the show we post it here on our site. So make sure you keep coming back for all the updates on I'm standing on a Million Lives.