Love is a strong feeling of affection and concern for another person (of either gender) that develops due to close friendship or kinship. These types of emotions are usually accompanied by sexual attraction. 
People who fall in love and love them back the same way are lucky, and all they want is to be with each other for as long as forever is. People in love want to spend their entire lives together, build their careers together, achieve their goals together, grow old and pale together, and most importantly, hold on to each other for as long as eternity lasts.
But as it goes for everything, love can get painful when one partner reveals that they do not have much time to live.
Netflix is to bring one such love story on its platform this year. Love Like The Falling Petals is an upcoming Japanese movie with My Dearest, Like a Cherry Blossom as the literal title. This movie is based on a novel of the same name by Keisuke Uyama and is directed by Yoshihiro Fukagawa.
Love Like The Falling Petals has been co-written by Yoshida Tomoko and the director. And the production of the film is handled by Kei Haruna from Hakuhodo DY Music & Pictures and Takahiro Kawada from Toho Studios.
The movie follows the life of a boy and a girl who falls in love with each other. Later their love life starts getting torn into pieces as the couple discovers that the girl is suffering from a severe incurable disease, and she does not have much time left. We have compiled all the buzz around the release of Love Like The Falling Petals on Netflix.
Everything we know about Love Like the Falling Petals is right here.
Love Like the Falling Petals Plot
We have discussed the plot of Love Like The Falling Petals here.
But before reading this section of the article, we just want to warn you about the spoilers about the movie that you may find reading this. So beware spoilers ahead.
Here is what we know: The male lead of the film was once an aspiring photographer who fell in love with a hairdresser(the female lead). Seeing her partner working reading hard to achieve her dreams, our hero gets inspired and returns to photography to make a name for himself. 
Have a peek at: Napoleon Movie Release Date, Cast, Plot – All We Know So Far
The director focuses on the harsh reality of Japan's rapidly aging society.
Love Like The Falling Petals mentions the fleeting nature of existence while also complaining about the financial and emotional burden that the elderly place on their families. Even by Japanese romance standards, the emasculation of adult courtship in the first half of Love Like the Falling Petals is extreme and infuriating. 
Netflix rated the movie as TV-14, which means that this movie is not suitable for children below fourteen. The content of this film is explicit and suicidal in some ways. There is the possibility that the film might contain scenes depicting sexual content. And there will be the use of strong language in the movie, so parents should stay cautious. 
Love Like the Falling Petals Release Date
We are glad to announce that Love Like The Falling Petals is releasing this month on Netflix. It will be available on the complete Asian network of Netflix. Love Like The Falling Petals is set to release on 24th March 2022.
So book your calendars for twenty-four this month and tell us in the comment how you felt after watching this new-age Japanese drama.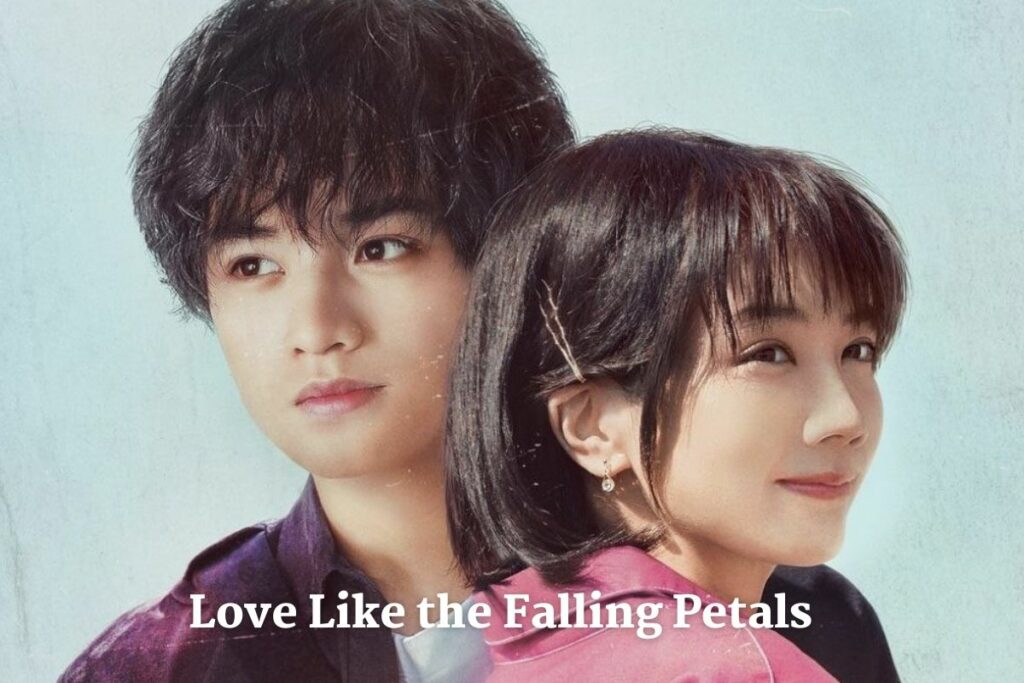 Love Like the Falling Petals Cast
Love Like The Falling Petals has yet to be released, and there has been no confirmation of the film's cast. We are only sure about the male and female leads present in the film. 
Haruto Asakura's character in this movie is played by a 28-year-old Japanese actor, singer, and entertainer, Nakajima Kento. Kento is a member of a J-pop group, Sexy Zone, and made a debut in acting in 2013 through a drama, Bad Boys J.
Matsumoto Honoka plays the role of Misaki Ariake, who is 25-year-old and is also Japanese. The other cast members of the movie are:
Nagayama Kento playing the role of Ariake Takashi
Wakatsuki Yumi for the role of Ichikawa Makoto
Yanagi Shuntaro plays Takanashi Kenzo
Oikawa Mitsuhiro as Sawai Kyosuke
Mashima Hidekazu for Tsuj
Kaname Jun for the role of Kamiya
Sakurai Yuki as Yoshino Ayano
Love Like the Falling Petals appears to be a real tear-jerker. We can't wait to see the magic that this film will bring to our screens with such a strong cast of characters and a top-tier management team behind it.
Have a peek at: Bully 2: When Will it Release? (Latest Update)
Love Like the Falling Petals Trailer
The trailer for Love Like The Falling Petals is available on Netlfix Asia's Youtube channel and was released three weeks ago. It is also available on Netflix, so you can tune into your Netflix accounts and enjoy the trailer there.