We have a piece of great news for our fans in the UK and Australia. Today we will discuss the proposed release of the ninth season of Married at First Sight. 
This American reality show is based on a Danish series, Gift Ved Første Blik. Married at First Sight follows the format from its original Danish counterpart and first premiered on 4th September 2013.
Over fourteen seasons of the show have been released in the United States, and the showrunners are ready to premiere the ninth season for its fans in the United Kingdom and Australia. In these fourteen seasons of Married at First Sight, we have seen a match between 49 couples.
On Decision Day, 29 of them (59 percent) decided to remain married, and more than half have subsequently divorced, filed for divorce, or announced their divorce. As of December 2021, just 12 couples were married, resulting in a current overall success rate of 24 percent.
The show has the same opening and ending theme, All or Nothing, composed by Louise Dowd, Jason Tarver & Marc Williams. With producers like Chris Coelen & Eric Detwiler invested in the show, Married at First Sight has done remarkable work among the audience but failed to receive positive reviews from the critics. The show is rated 5.1 on the IMDB. 
Apart from the showrunners' superb execution, the premise of MAFS is totally new and exquisite, and it is one of the reasons for the franchise's popularity. Now, showrunners are ready to release in its ninth edition in UK and Australia, and the fans are going nuts.
We will discuss the complete cast & the plot of the show, with some additional details like the release date & the trailer. Read the entire article to have a bigger picture about the show. 
Have a peek at: Bully 2: When Will it Release? (Latest Update)
Married at First Sight Season 9 Release Date
We have good news for our readers in the United Kingdom & in Australia, the dates of the release of Married, At First Sight, are confirmed and are announced. 
Season nine of the franchise is now available in Australia and will premiere on Channel 9 on 31st January 2022. And in the United Kingdom, it began premiering on 21st February 2022 on E4. The show will then air weekly from Monday to Thursday evenings for 30 episodes.
"We've finally caught up with the Australian broadcast schedule, so we can get as close to the action as possible," Karl Warner, Head of Youth and Digital, stated. He also added that Married At First Sight Australia was the buzz of the town in 2021, and I have no doubt it will be just as addicting in 2022. And we cannot agree more with Karl.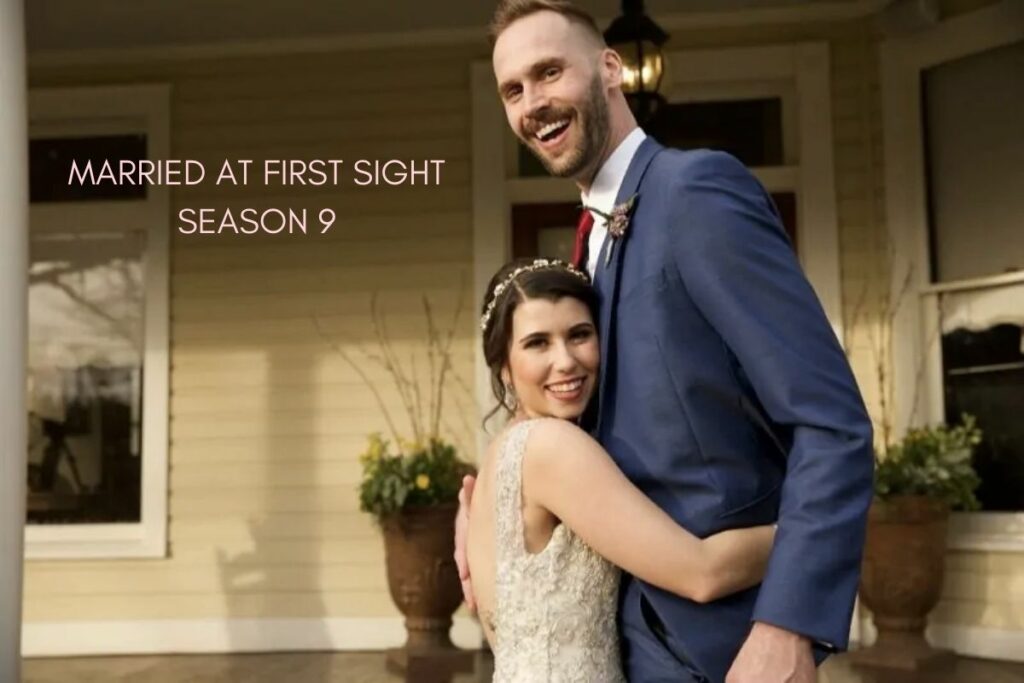 Do watch the show when you get the time. 
Married at First Sight Season 9 Plot
The premise of the show is quite simple yet refreshing at the same time. Sixteen contestants(eight male & eight females) take part in this reality show. They are then paired up by different relationship experts and agree to marry each other when they first meet.
Dr. Joseph Cilona, sexologist Dr. Logan Levkoff, sociologist Dr. Pepper Schwartz, and humanist priest Greg Epstein served as experts for the first three seasons. Later in the different seasons of the show, the expert's panel kept getting shuffled. 
The newlyweds spend their wedding night in a motel before departing on their honeymoon. After returning home, they live together as a married couple for the next eight weeks. Following that, they must decide whether to divorce or remain married.
The show's premise looks promising, and it seems like this reality show has a lot to offer. 
Married at First Sight Season 9 Cast
We have two sources confirming the cast for season nine. According to Daily Mail Australia and the post from the official MAFS Instagram account on 17th February 2022, we know that a total of sixteen contestants are in the show who are ready to tie the knot with a suitable partner. The brides on the show are:
Domenica, 28, from New South Wales
Ella, 27, a beautician from Victoria
Holly, 36, a cinema manager coming from New South Wales
Olivia, 27, a student of New South Wales
Samantha, 26, a fashion brand manager from Queensland
Selin, 32, an executive from NSW
Selina, 32, a hairdresser from South Australia
Tamara, 29, an operations manager from Queensland
The grooms on the show include:
Al, 25, a carpenter of New South Wales
Andrew, 39, a personal trainer from New South Wales
Anthony, 38, who's in sales and a pro-wrestler from Victoria
Brent, 33, a hospitality manager from New South Wales
Cody, 30, a swim coach and personal trainer from New South Wales
Jack, 26, a financial planner from New South Wales
Jackson, 31, a plumber from Victoria
Mitch, 26, a financial planner from Queensland
Have a peek at: Record of Ragnarok Season 2 Confirmed Release Date & Everything We Know in 2022!
Married at First Sight Season 9 Trailer
The showrunners released an explosive trailer for the Married At First Sight season 9 through their official Instagram account.
The trailer was running a New Year's theme, giving us a glimpse at different brides and grooms set to get married.
In addition to this, E4 also published a trailer to commemorate that MASFA was airing in the United Kingdom.
We urge you to watch this show. MAFS is a show that you can watch anytime to lighten your mood. In the comments, let us know what you think about the show.