Netflix is pretty consistent with keeping up with the trend of bringing more and more binge-worthy dating shows on its OTT platform. Season two of Love is Blind just wrapped, and we also saw the reunion of the cast. Netflix's upcoming Ultimatum: Marry or Move On will serve as the perfect spin-off for our beloved series Love is Blind.
Netflix attempts to revive the reality dating show format — and appears to be breaking up some long-term couples in the process. In this new series from Netflix, we will see six different couples from varying strata of society.
The premise looks identical to Temptation Island (another dating show from Netflix.) This is aimed to put the couples through different competitive situations so that they can discover how deep their intimacy goes.
This show also aims to help the six romantic pairs(one partner is eager to wed, and the other is unsure) to explore whether they really want to marry or not. They will be together for eight straight weeks, and each participant must pick a partner from another couple and see if their newfound relationship is better than their pre-existing one.
The power couple, Nick and Vanessa Lachey, who hosted season two of Love is Blind, teased this new show in the finale episode of season two. 
So it should come as no surprise that Ultimatum was created by the same creative team that worked on Love is Blind.
It will be interesting to see how this new format that Netflix is introducing for dating shows performs. The plot, cast, trailer, and release date of The Ultimatum: Marry or Move On are all included in this guide. 
Ultimatum Release Date
Netflix is known for its notoriety for making the fans wait for a very long time for shows to come out. However, it appears that Netflix does not have time to display any of its famous trademark gestures this time around. Promptly, after season two of Love is Blind wrapped up, Netflix had revealed the release date for The Ultimatum: Marry or Move On.
This new show is even more chaotic than its predecessor, which was based on pods. Ultimatum is a show similar to Love Is Blind, but it features couples who are already together.
Netflix announced that The Ultimatum: Marry or Move On is coming out this year. Season one will consist of eight episodes and will premiere on Netflix on 6th April 2022.
And Netflix has also planned a finale and reunion to follow the show a week later. On 13th April 2022.
You can also consider: Netflix Announces Peaky Blinders Season 6 Release Date
Ultimatum Plot
Netflix's original The Ultimatum: Marry or Move On seeds its plot from various dating shows like Love Is Blind and Temptation Island. The premise is very similar to the shows that have already aired on Netlfix before.
According to Netflix, six couples on the verge of marrying are invited to participate in this show. Every romantic couple is similar in the sense that one partner is eager to marry, but the other is unsure. 
As the show's title suggests, the last offer will be issued to the couples, requiring them to commit to marriage or move on within eight weeks.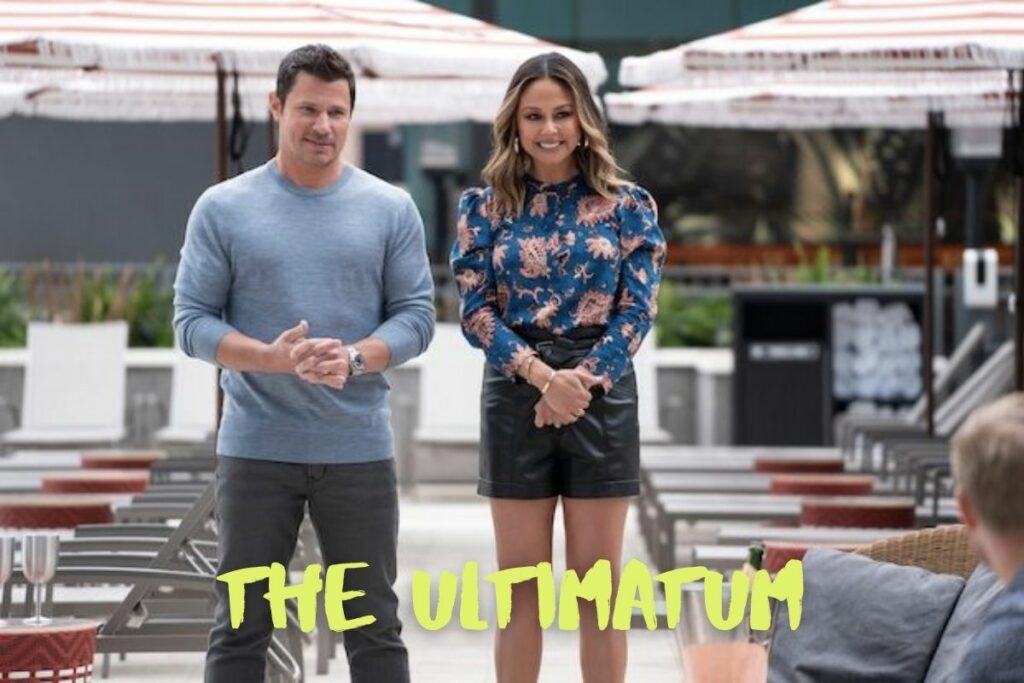 In the meantime, each individual chooses a new partner from another couple. 
Netflix believes this show will bring a life-changing opportunity in providing many possibilities for a better future. 
Well, I don't know about you, but this is definitely the ultimate recipe for drama. As the season proceeds, the contestant's chemistry with their partner becomes more and more dynamic, and in eight weeks, there will be a lot to frown upon.
While describing the plot, we believe that this show is binge-worthy, and by the end of the season, you'll have many things to gossip about. 
Ultimatum Trailer
The trailer is out on Netflix's official YouTube channel on 4th March 2022, and it tells us a lot of what will happen in the show. In the trailer's opening scene, a woman tells her partner that she is more afraid of marrying him than of losing him. Another contestant says that it is very uncomfortable to see the person you are dating is dating someone else. 
Now, I'm not sure about you, but this is the best opening dialogue for any dating show.
The trailer was full of clips in which the original couples were trying to know their new partners. And we believe it's safe to say that there will be plenty to discuss with this cast as many of them begin to question whether or not giving their partner an ultimatum brought more negatives than positives into their relationship.
You can also consider: Announced: the Release Date for the Wizard of Oz: the Board Game
Ultimatum Cast
Unfortunately, we don't have any information about the show's cast at this time. Netflix has not released any official announcement revealing the cast present in The Ultimatum. But it's only a matter of time before showgoers learn everything there is to know about them.
And we promise you that we will be among the first ones to update you on the cast of this show. Do tell us how you felt about the show in the comments.