We would like to welcome all the Apple fanboys and fangirls to our page. In a recent event held in the early part of March, Apple has launched its new Macbooks Pro Notebooks for this year, and along with these laptops, Apple has also introduced their brand new M1 Ultra Chip.
Before getting into the intricate details about these new microprocessors, we would like to inform you about what they are and why they are such a big deal for us as consumers.
Apple's M1 chipset is an ARM-based microprocessor with two processing units, a central processing unit, and a graphic processing unit, and is part of the SOC (system on chip) family. They are also used as processing units in Macbooks, iPad Pro tablets, iMacs, and iPad Air tablets.
M1 chips were first introduced to the world a few years ago, in November 2020, and in the following year, 2021, Apple also released the Apple M1 Pro and M1 Max versions. 
The central processing unit of these M1 chips has a high clock speed of 3.2 GHz and is an eight-core processor (4× high-performance + 4× high-efficiency).
The GPU that comes with the package, on the other hand, has eight-core integrated graphics designed by Apple and is based on 5nm technology. These two units of GPU and CPU, along with its internal interface of just 5nm thick, make it a super processing unit and justify the hype that comes with the release of every new M1 chip.
So today, in this article, we will talk about the new M1 Ultra Chipset and all the computing power that comes with it. Read the complete article to know more.
Recent post: Apple 27-inch iMac 2022 – News, Rumors, and Conjecture
Apple M1 Ultra Release Date
Apple announced new hardware called the Mac Studio at a yearly event this Tuesday at the Apple headquarters in California. However, the subject of our decision is not the Mac Studio itself but rather what is contained within it.
The Mac Studio houses a brand new class of SoC called the M1 Ultra Chip, which is competent enough to provide workstation capabilities to your average PC. 
The motive of this event was not only to unveil this powerful chip to work professionals but also to remind the world that Apple's transition from Intel to its own custom chips is nearly complete.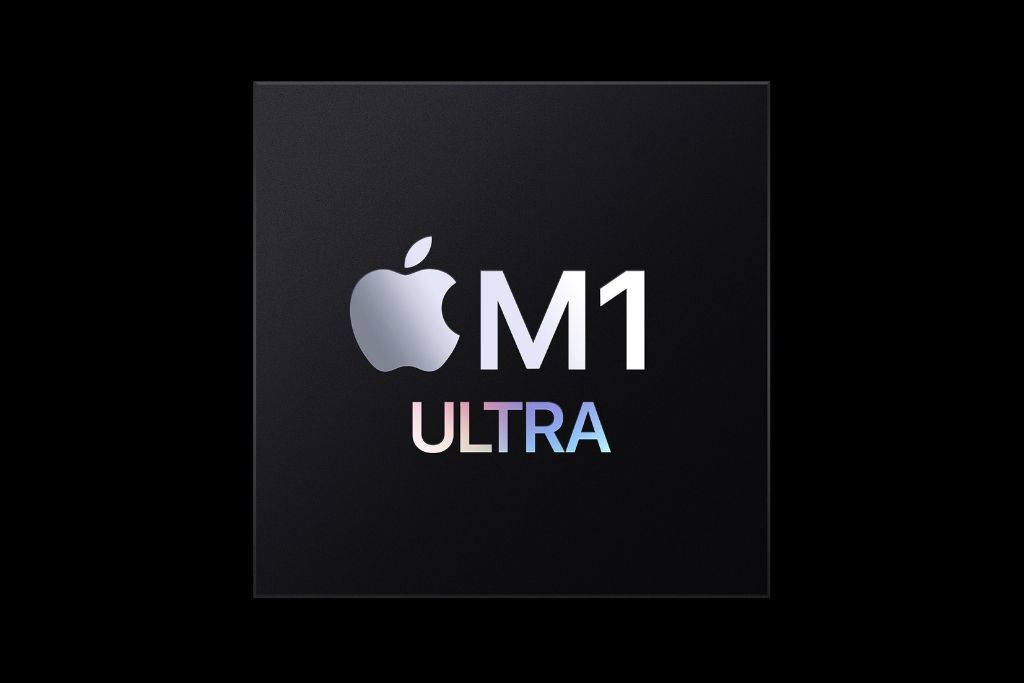 In a nutshell, Apple M1 Ultra chips were released on March 8, 2022.
It'll be interesting to see how these M1 Ultra chips and the newly unveiled Mac Studio play their roles in reshaping the computer industry. And also how the customers react to it.
Apple M1 Ultra Specs
Apple M1 Ultra Unveiled: the World's Most Powerful Processor for a Personal Computer. Apple has once again made its mark by stunning the tech world by unveiling its latest and greatest CPU to date, the M1 Ultra.
The Ultra, which powers the new Mac Studio, is at the top of the list of powerful CPUs from Apple, followed by the M1, M1 Pro, and M1 Max.
The mighty M1 Ultra is built by an in-house technology from Apple, the Ultra Fusion architecture. Using this Ultra Fusion technique, Apple was able to two M1 Max Chips using different building designs, which gives M1 Ultra a quadrupled computing power. This combination of two M1 Mx chips can provide 128GB of unified memory support. 
This M1 Ultra will be an industry-leading microprocessor as it offers features like a 2.5TB/s interprocessor bandwidth and 800GBps of memory bandwidth. 
The M1 Ultra contains 114 billion transistors and a 32-core Neural engine capable of performing 22 trillion operations per second.
Based on the 5nm process, it packs a 20-core CPU and up to 64-core GPU. And now, this next-generation SOC from Apple is also providing full Thunderbolt 4 support.
And just like every other M1 chipset, the latest and the greatest from Apple, the mighty M1 Ultra is made using the TSMC manufacturing process.
The legendary Apple M1 Ultra also packs some workstation features like HEVC, ProRes, ProRes RAW, and full support for hardware-accelerated H.264.
This processing is done through two video decode engines, four ProRes encode & decode engines, and four separate videos encode engines. And when it comes to power consumption, it can be as low as 100Watts, which is mind-boggling.
M1 Ultra checks every box of a powerful processor and has a great spec sheet. It will be amusing to see how this chip performs in the real-world environment.
Recent post: Apple Watch 8 Release Date, Specs, Price Rumors
Apple M1 Ultra Price
Apple targets high-end professionals with its M1 Ultra chipset for the professional and creative workloads. So the Mac Studio starts at $1,999
but to get one with the M1 Ultra chipset, you will have to pay around $3,999.
The prospect of Apple with such a powerful chip is to disrupt the semiconductor industry once again. On paper, M1 Ultra seems the most dynamic SOC on the planet, but we will have to wait until the results of hardware testing to see how it performs and handles real-world workloads.