Finally, some good news for all the Ozark fans out there! The series is finally coming to an end. Despite the melancholy, we'll be finally able to know who's the real culprit. Season 4, part 1 of the Netflix drama, ended dramatically with the death of a character. So, what's next?
Before you continue, let us inform you that you'll be getting some major spoilers, so if you're not up for it, now is the time for you to turn back, yeah!
There's no doubt that the crime drama Ozark never fails to catch our attention, and now it's again coming back with more money and more problems.
Throughout the series, the Byrde family has been pushed to the limit in the name of their money-laundering business. Omar Navarro, the boss of the drug gang and the man who kidnapped and tortured Marty a while back, has no intention of ending his relationship with Wendy. The Byrde matriarch ordered a hit on her brother Ben to keep their family from being massacred by the cartel.
Ozark Season 4 Part 1
Netflix aired the first part of Ozark's final season 4 on January 21, 2022, and from what we saw, it was better than speculation. This season's Ozark had so many twists, turns, and explosive moments that it was hard to keep up. 
We knew Ruth Langmore would blow up the Byrdes' cash-laundering operation in Netflix's tense crime drama Ozark. The season four finale, part 1, indicates that Julia Garner's character Ruth – a friend and sometimes a foe – has had her breaking point. The finale is approaching, and a raging fire can be expected in its wake.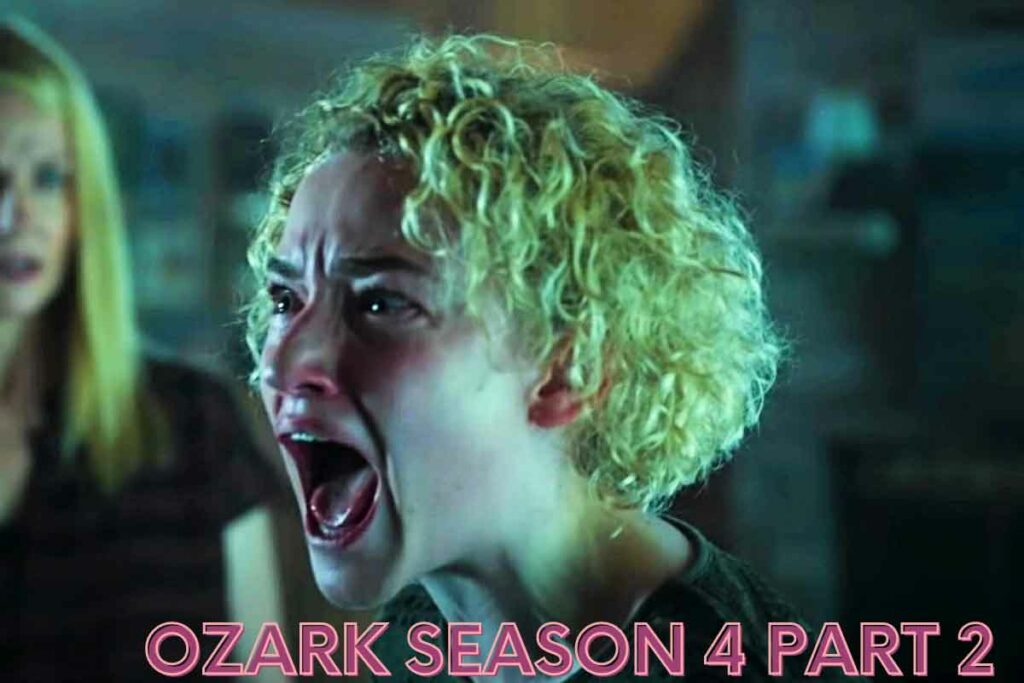 Although Ruth has suffered torture in previous seasons, Wendy Byrde's brother Ben, whom she loved, has passed away. Her brother Wyatt was brutally murdered by the Navarro cartel's new leader, Javi Elizondro, due to his relationship with Darlene Snell, a dangerous heroin addict.
How much responsibility does the Byrde family bear for Wyatt's passing? Regardless of who gets blamed, the danger remains: she's on the hunt and nothing can stop her. Before the Byrdes can leave their laundering days behind and establish a clean career running the Byrde Foundation with Shaw Medical money, they'll have to confront a furious Langmore.
Fortunately, there's still plenty of stories left before we say goodbye to one of Netflix's most persistently intriguing original series. 
Read on for more on Ozark season 4, part 2.
Read More:
Ozark Season 4 Part 2 Release Date Is it Out?
Well, well, well! We have got some fantastic news, folks! After binge-watching part 1 of the crime thriller already, you won't have to wait long because there's a release date for Ozark season 4; part 2 is in sight.
We won't have to wait long for Byrdes' final chapter: Season 4's second half will premiere on April 29, 2022. Fans will be unsurprised by the speedy release, as Jason Bateman (Marty Byrde) told Jimmy Kimmel in January that the release date hadn't been announced yet, but he'd "catch up with it; soon, I think."
In addition, Ozark's creators may have been striving to qualify for inclusion in the Emmy race by May 31; the final season must air by that date to qualify.
Ozark Season 4 Part 2 Trailer Is One Available?
Lucky for you, we also have a trailer on our hands. Netflix released an ominous teaser for part 2 on February 23. Click here to watch the clip.
Ozark Season 4 Part 2: What will it be about?
Ozark's final seven episodes will answer many unanswered questions in Part 1. Here are just a few:
Now that she knows who killed Wyatt, what will Ruth do? Will she be able to defeat the cartel?

What will happen to Jonah, Marty, and Wendy's son?

Where will Charlotte's involvement in the family business lead now that she seems to have adopted it as her own?

Can the Byrdes stay together as a family if they do survive? Does Wendy and Marty's marriage have a chance of surviving?

Ben, how about him? Is Wendy going to continue using the death of her brother as a pawn for her "good public relations"?

Navarro lawyer Helen Pierce's body is still missing, but what else will the private investigator discover? Will he discover anything about Ben?

In part 1, an abrupt car accident was foreshadowed. When and what will happen in part 2 after that accident?

Can Wendy bring the Byrde Foundation to success as she envisions it, or will her past crimes come back to haunt her?

In his role as head of the Navarro cartel, what will Javi do? What about Omar Navarro, who is still behind bars?

Perhaps someone will step in to fill Darlene's place in the Ozarks now that she has passed away?

When will the new temporary sheriff find out what happened to the old one?
Ozark creators seem confident they will be able to resolve all these questions and resolve the simmering family conflict from previous seasons dramatically and satisfyingly.
Mundy says Navarro will still be making moves from prison: "He won't trust the Byrdes, but they're a necessary evil for him." We obviously wanted to pin him down as much as possible, but you haven't seen the last of him, for sure."
A substantial part of part 2 will deal with Wendy's guilt, Mundy hints. She's still grieving the death of her brother, whom she refers to as a drug addict to anyone willing to listen, even though it's false.
"Wendy begins to doubt whether or not she's coping," Mundy told EW. "It appears incremental in the first seven episodes, and then it becomes more apparent in the last seven," he continued.
She seems to be losing her mind through grief and guilt. Is that the case? Can she sort of teach herself the lie and rehearse it enough that she and the world will believe it?
Well, you never know, we have to wait to find out all about it.
Latest posts: