After almost 3 years of waiting, Peaky Blinders Season 6 is finally all set to premiere on BBC One. The fifth season ended on a huge cliffhanger and ever since then, fans are eagerly waiting for the release of the next season to find the answers to all their questions.
Well, their wait is almost over as Season 6 is finally upon us! So, what is the exact release date? Who is starring in it? Are there any spoilers? Keep on reading to find out! 
Peaky Blinders Season 6 Release Date
Soon after the end of the fifth season, Season 6 was officially greenlit. Creator Steven Knight explained his hopes for the sixth season of this popular crime drama saying, 
"The main destination is the end of the whole thing, which is the start of the Second World War. And I know what scene that's going to be and I know how it's going to end." 
Unfortunately, the pandemic greatly delayed the series production. However, all that is in the past as the official release date on BBC One is finally out! 
Peaky Blinders Season 6 will premiere at 9 p.m. on February 27, 2022, in the U.K. The news was announced after the crew unveiled a huge Tommy Shelby mural in Birmingham.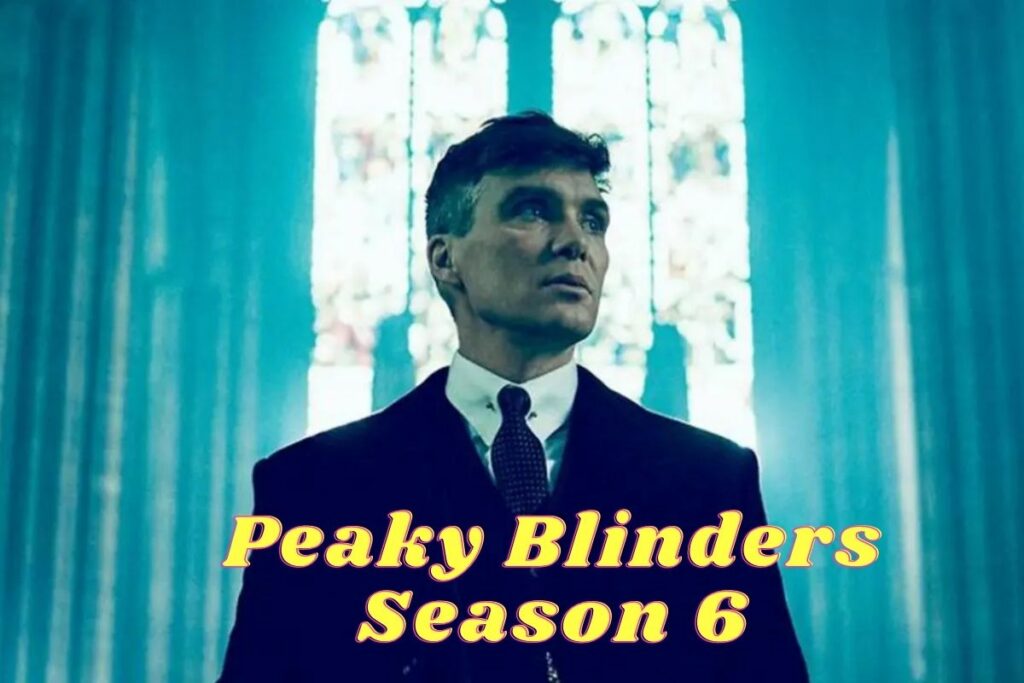 New episodes will come out each week so fans won't be able to binge-watch the whole show together. Unless of course, they wait for a few weeks for the first season to run its course.
An international Netflix release date isn't available as of yet. However, the series always releases its new season on Netflix two weeks after its finale airs on BBC. Thus, fans living outside of the U.K can watch the show in April 2022. 
Season 6 will be the last one in the series. However, it is expected to be the greatest one. Stephan King expressed his views on the upcoming season saying, 
"Peaky is back and with a bang. After the enforced production delay due to the Covid pandemic, we find the family in extreme jeopardy and the stakes have never been higher. We believe this will be the best series of all and are sure that our amazing fans will love it."
latest Post: Mare of Easttown Season 2 Release Date and Renewal Expectations
Peaky Blinders Season 6 Cast 
The following stars will return in Season 6. 
Cillian Murphy in his lead role of Tommy Shelby. 

Sam Claflin as Shelby's opponent, Oswald Mosely

Paul Anderson plays the role of Tommy's brother, Arthur Shelby. 

Finn Cole as cousin Michael Gray

Anya Taylor Joy as Gina Gray, Michael's wife.

Sophie Rundle as returning character Ada Shelby

Tom Hardy as Alfie Solomons 

Natasha O'Keeffe as Lizzie Shelby

Packy Lee as Johnny Dogs

Stephen Graham will also join the cast crew for Season 6. His role is a secret till now! 
Peaky Blinders Season 6
 Plot
The finale of Season 5 left us all shook as we watched Thomas placing a loaded gun on his head. His friend betrayed him and now, he doesn't want to live anymore.
Mosley escapes his assassination and he will return as the main character in Season 6. Will Thomas try to kill the life of his facist enemy again? Will killing him bring an end to fascism? 
Thomas' hate for fascism is a major part of Peaky Blinders' theme which will shape the storyline of Season 6. Additionally, finding the friend that betrayed him will also be on Thomas's list! We have a whole list of suspects but we have our bets on Billy Gray.
One week to go. Peaky Blinders returns next Sunday, 27 February.

📷 @RobertViglasky #PeakyBlinders #BBCiPlayer pic.twitter.com/GW21awVNnF

— Peaky Blinders (@ThePeakyBlinder) February 20, 2022
Additionally, the following plot spoilers were given by Byrne. 
"Gina and whoever her family is will make themselves known, Oswald Mosley and some people around him and his world." 
Peaky Blinders Season 6 Trailer 
Peaky Blinder 6 came out with a trailer on New Year's day and it is nothing less than perfection. You can view the trailer for free on YouTube. 
We see glimpses of the Nazis, Michael and Gina, and Tommy. 
also Check: Shameless Season 12: Possible Release Date! Is the Series Being Renewed or Cancelled?
Frequently Asked Questions
Will Peaky Blinders end for good with Season 6?
Although the series is coming to an end, Peaky Blinders' future has just begun! A movie that takes place after the events of Season 6 is currently in the works! Moreover, Steven Knight also wants to produce spin-off shows for Peaky Blinders! 
What will happen to Polly in Season 6? 
Now that Helen McCrory is dead, the producers will have to find a way to kill her character or send it away somehow! 
How many episodes will season 6 have?
Like its predecessors, Peaky Blinders Season 6 consists of six episodes.