My brilliant friend is an Italian television drama based on the novels written by Elena Ferrante in a Neapolitan tone. Saverio Costanzo serves as the director of this magnificent TV series. HBO, RAI(Radiotelevisione Italiana) and TIMvision have co-created this Italian drama.                     
The show depicts the lives of two women, Elena Greco and Lila Cerullo, as they strive to make their way in a country torn between its past and its burgeoning anti-fascist leadership.
Elena and Lila find themselves caught up in the power struggles of love, poverty, and the class divide. This story takes place in postwar Italy in the 1950s, on the outskirts of an impoverished neighborhood in Naples.
Two seasons have premiered already and have been a blockbuster hit with ratings as high as 96% on Rotten Tomatoes. Season 1(My Brilliant Friend) premiered on 18th November 2018 in the States via HBO, while it premiered on 27th November 2018 on RAI and TIMvision.
My Brilliant Friend: The Story of a New Name (season 2 of the franchise) was released on RAI on 10th Feb. 2020 and HBO on the 16th March 2020.
The Offer: Release Date, Characters, Storyline and Some More Latest Updates!
Knowing that Ferrante's novels will be adapted into four seasons, lasting eight episodes each. The show's fans are eager to learn whether or not the show will return for a third season.
Here we have compiled all the details we know so far on My Brilliant Friend Season 3.
My Brilliant Friend Season 3 Release Date
HBO has officially announced the revival of the third chapter for the show, and it is a piece of big news for all the die-hard fans of this Italian drama.
An official announcement for the third season of My Brilliant Freind came on 30th April 2020, And the show has been in production since.
Its production had faced a few hiccups due to the pandemic but finally resumed in February 2021.
The third chapter, titled Those Who Leave and Those Who Stay, premiered on RAI on February 6, 2022.
And we are so glad to tell you that it will release this month globally. It will premiere on 28th February 2022 on HBO and HBO Max.
After the official announcement of the date on which the show is releasing, you can finally make plans to watch it. So get your subscriptions ready, and then come back to tell us how you felt about the show.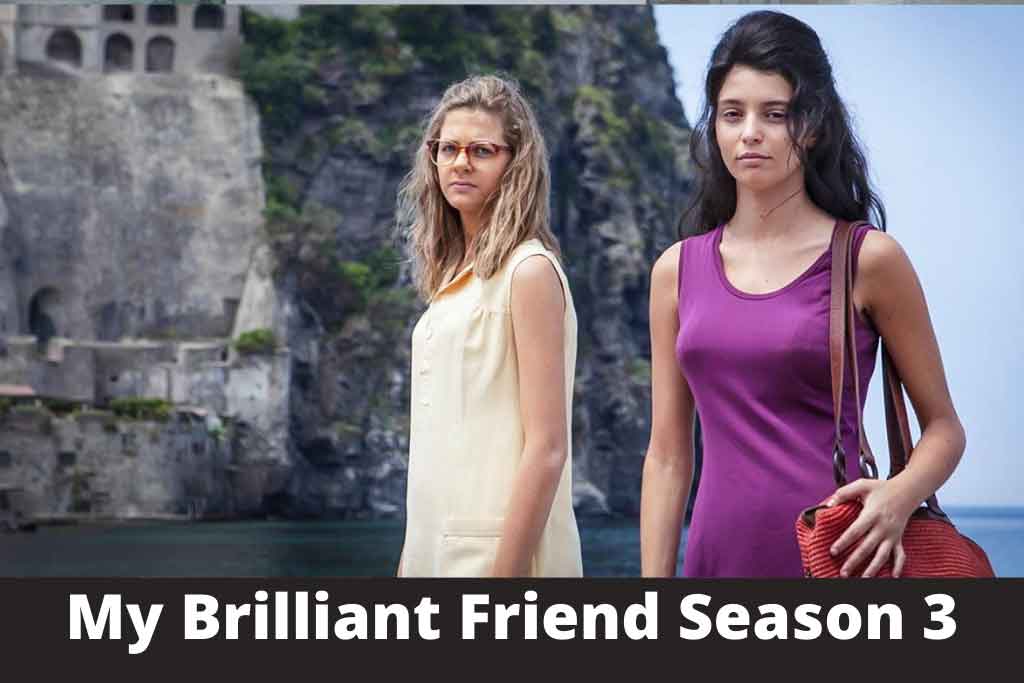 My Brilliant Friend Season 3 Plot
Season 2 of My Brilliant Friend ends with Elena getting published as an author and engaged to the man she loves. At the end of season 2, going gets tough for Lila. She escaped her abusive husband with her child and now works at a meat factory.
The third season will continue where the second season is left. In this season, both Elena and Lila will be shown as adults. We will these women tackling through their own share of problems. Lila works in a sausage factory where she is subjected to sexual harassment but unable to complain because she has nowhere else to go.
Elena is shown in political upheaval with men who do not consider women competent writers.
This season will mark Elena and Nino's reunion. 
With a book full of intriguing drama within Elena and Lila's lives, the third season — when it eventually airs on HBO — is sure to be just as good as the previous two.
My Brilliant Friend season 3 Cast
We will primarily be talking about the cast who will play the characters of Elena & Lila. Elisa del Genio played Elena's younger incarnation in seasons 1 and 2, while Margherita Mazzucco played her adolescent version.
Elisabetta De Palo appeared in a guest role in the show, portraying a senior and older version of Elena.
Gaia Girace takes on the part of Lila's character in her adolescent form, while Ludovica portrays Lila in her younger embodiment.
Elena and Lila's characters will be completely grown grown-ups in Season 3 and will lead truly different lives. So we can expect some new faces getting introduced in season 3 of the show. Gaia Girace is said to be leaving the role of Lila after the third season's third episode. Now, how Lila's adulthood will be portrayed is unknown; it appears that we will have to wait for the series to witness this.
Similarly, some new faces will replace the role of Margherita Mazzucco as Elena in her adulthood.
At last, we suggest that you should watch this series. The upcoming season will be set in 1970s Italy, and if you can handle the subtitles, you should give it a shot.
My Brilliant Friend Season 3 Trailer
HBO's dramatic and contemporary My Brilliant Friend Season 3 is back with its trailer. If you watch closely, you can clearly see that the trailer is trying to tell us that dark times lie ahead for Lila and Elena, and this happens amidst political power struggles.
The trailer of My Brilliant Friend season 3 is out on YouTube. The readers can watch it on HBO's official youtube channel. It was posted two weeks ago, on 26th January 2022.