Well, the legend is coming back to comedy, but everything is not good. Ricky Gervais earlier announced his return but he seems to be joining the cancel squad and is pushing his show Armageddon for cancellation.
Turned 60 this year, the actor in one of his interviews given to one of the big media houses said that "One thing I've decided to definitely do, and can't wait to start on, is my new stand-up show,"
The excitement that is emanating this statement is giving high hopes to all the fans and shows commitment on the part of the actor and that he is also excited for the same. 
But this news that the actor allegedly wants the show canceled is sending bad a wave of disappointment amongst the fans. It is beyond the understanding of the fans that when such charged statements were made by the actor. What has made him go back on his words?
However, from what we have been able to confirm that news is wrong and has more to it. The actor has said that "I want to try and get canceled. No, I just want to go all out there,"  he further added that  "I'm treating it like it's my last one ever. It won't be, but I want to put everything into it. I want to try and get canceled. No, I just want to go all out there."
Ricky Gervais Revealed the Reason Behind the Shows' Title, 'Armageddon'
The show is titled 'Armageddon' because it will talk about the end of the world and will stress how we are going to end ourselves as a race, the actor said "….Armageddon is about the end of the world and how we're going to destroy ourselves for lots of reasons, whether it's media stupidity or the actual end of the world," 
He said that being funny should be free of all restrictions and limits and should be free as a bird. 
Reasons for Cancellation of 'Armageddon,'
The actor has been frequently seen hosting the golden globe awards and he further dealt on the topic by saying: "There's no subject you shouldn't joke about. It depends on the joke. As a journalist, there's nothing you wouldn't write about.
It depends on your angle, right? I think a lot of this pious offense comes from people mistaking the target of the joke with the subject."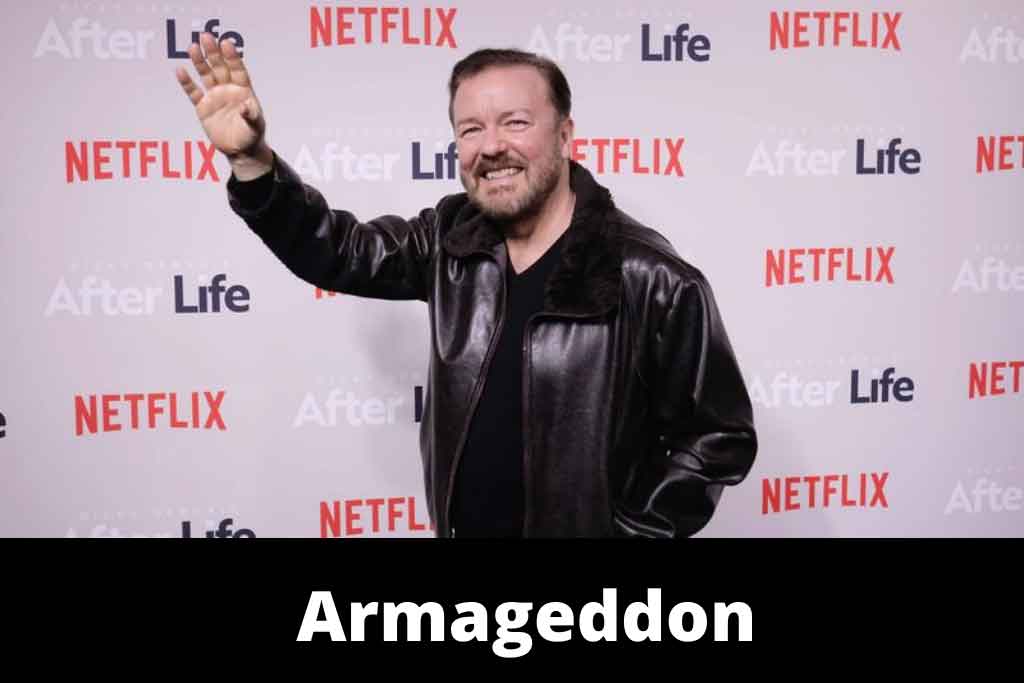 "You can joke about anything, but it depends on what the actual target is. If you use irony and people see that at face value and think you're saying one thing but you're actually saying the opposite," said the actor.
In one of his interviews, the British comedian said that the Hollywood people think and jokingly made a comment on this notion by saying that 
"It's not my fault. Please make it clear that it's not my fault. I didn't kill the awards," he implored. "I did enjoy doing the Golden Globes — it was three hours of my life once every few years, although for a lot of people it's what I'm most famous for."
The actor has been surrounded by controversies in relation to hosting the show and it has been good for the awards we think as he despite all the controversies has been hosting the show on many occasions and has successfully done so in 2010, 2011, 2912, 2016, and 2020. 
The British comedian said that "The last time I hosted it was two years ago, and it feels like a different time … when the worst thing that was happening was me insulting actors," 
He further said that "All I care about is it, 'I've got to do that joke well. I don't care what they think of it. I don't care if I'm hated. I don't care if I have to go into hiding. I just have to say that joke well.' If I fluffed the joke – oh my god, I'd never get over it."
So fans, the show is not getting canceled and we will be seeing our beloved actor/comedian soon with a masterpiece.
Is the Release Date of Fantastic Beasts: the Secrets of Dumbledore Confirmed?