Welcome back fam! Today we are here discussing this amazing series called never have I ever.  If you have watched this series you would probably know how interesting this series is and we have some good news about it for you.
If you reading this article then I am 100% sure that you must have watched the second season of never have I ever. We also know that you are definitely very much eager to know when the 3rd season is going to be out and if Lang fisher and Mindy Kaling have anything more with them for Devi and Co.
The first season of never ever was the most-watched show of 2020. Along with that, the second season was also a big hit and after too big hits it was predictable that the third season was going to be out.
The good news is that the 3rd season is finally confirmed by the makers. This news was shared in August 2021 along with the creators of the show Lang Fisher and Mindy Kaling who made a joint statement regarding this saying they are so grateful to Universal television and Netflix for letting them continue the show and also tell their story to all the fans all around the world who you are willing to see such badly behaved Indian teenagers. 
So do not worry about we have gathered all the information just for you. So keep on reading to know everything about the third Season's cast, release date, plot, trailer, and a lot more. 
Never Have I Ever Season 3 Release Date
As we all know the first season and the second season of the show were released in April 2020 and July 2021 respectively. So we are expecting that the third season for the shows might get released in the first half of the year itself.
The filming for the first season has already started in November 2021 and if everything works as per the schedule the show will be with us really soon in 2022.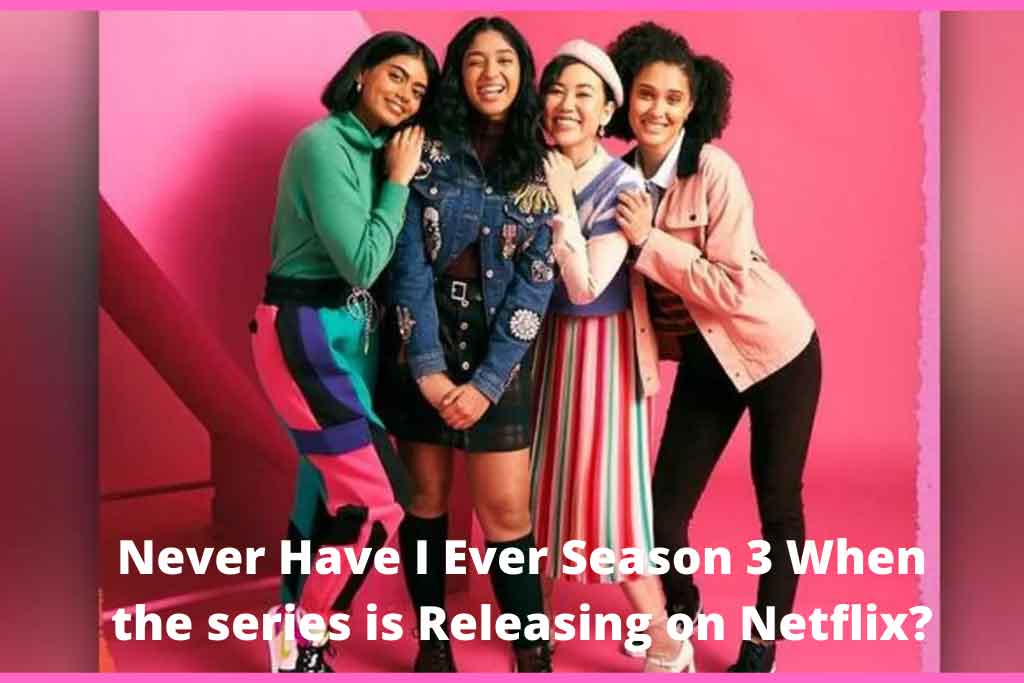 Never Have I Ever Season 3 Cast
As there were no such dramatic exists in the second season we are expecting that all the main characters of the show will be back for the third season and that includes Devi (by Maitreyi Ramakrishnan), Ben (by Jaren Lewison), Paxton (by Darren Barnet), Eleanor (by Ramona Young), Fabiola ( by Lee Rodriguez), Devi's cousin Kamala (by Richa Moorjani) and Devi's mum Nalini (by Poorna Jagannathan).
Other than these characters there are all different characters in the show as well who might be back for the 3rd season including Devi's dad Mohan ( by Sendhil Ramamurthy), Eve (by Christina Kartchner), Devi's counselor Jamie (by Niecy Nash), Trent ( by Benjamin Norris), Aneesa (by Megan Suri), Mr. Kulkarni (by Utkarsh Ambudkar), Prashant (by Rushi Kota), and Mr. Shapiro (by Adam Shapiro), among others.
Also, there is going to be the narrator of the show John McEnroe and undoubtedly the tennis pro who is going to be back.
Never Have I Ever Season 3 Plot

We have seen that at the end of the second season Devi walked in with Paxton into the winter dance and while all the stars of the show gathered that dance both of them had made their relationship official to everyone.
At first, he always wanted to keep their relationship a secret for being judged by everyone and also forgiving Devi for cheating on him. But that never worked with Devi so she walked away from him completely.
Devi went to the dance without any date for that evening. Meanwhile, Eleanor was forced to Dance Floor by Trent when she decided to go back home.  And at that time Paxton entered knocking her with his jeep, sharing his feelings to her.
Yes we finally had our best Hollywood ending but the season didn't end over there at the end we saw that Eleanor told Ben that Devi has spent the last few weeks thinking about him.
He also said that she was a lot jealous of Aneesa and had tried everything to keep both of them apart. Later on, Eleanor added that after he took Devi to Malibu she always wanted to choose them, and just for the record this is not how Eleanor is. And from all this, we knew that Ben was still in love with Devi and that's how the second season ended.
However, it looks like Ben and Aneesa are still together and this really doesn't mean that they are going to start where they have left before their breakups. Also, Paxton and Devi are a thing now and she is clearly a lot attracted to him. 
When we will see what is going to happen we can assure you that the third season is going to be a lot more adventurous than the first so do not forget to watch the first two series if you haven't yet and share your views in the comments below.
Never Have I Ever Season 3 Trailer
After the show is being filmed right now and as well as is being written simultaneously we are expecting the trailer to be out really soon this year itself. If you haven't watched both the Seasons of the show then you should now! and stay tuned with us for all such amazing updates about your favorite shows and favorite characters. 
Minions: The Rise of Gru Release Date, Trailer, Cast, Plot and More