Grey's Anatomy is ABC's most popular medical drama TV series. It features the life of a group of surgical residents, interns, and attendings as they struggle to separate their work life from their personal life.
So far, the series boasts eighteen successful seasons with the last one airing in 2022. Rumors have it that this latest season may be the last one in Grey's Anatomy's future.
Halo Infinite Season 2: Is Official Release Date Out or Not?
Is this true? Is Grey's Anatomy Season 19 canceled in 2022? Or are these rumors nothing but white lies? Keep on reading to find out the latest information about Grey's Anatomy Season 19 including its release date, plot, and trailer.
Grey's Anatomy Season 19 Release Date
Fortunately for fans, rumors of the series ending are false! On January 10, 2022, ABC revealed some exciting information! In the series two most famous stars Ellen Pompeo and Krista Vernoff have renewed their contracts for Grey's Anatomy Season 19! 
Vernoff expressed her announcement about the upcoming new season, 
"I'm excited to work with our extraordinary writers to dream up where we go from here, and I'm always grateful to our partners at Disney and ABC for letting us tell bold stories with real impact."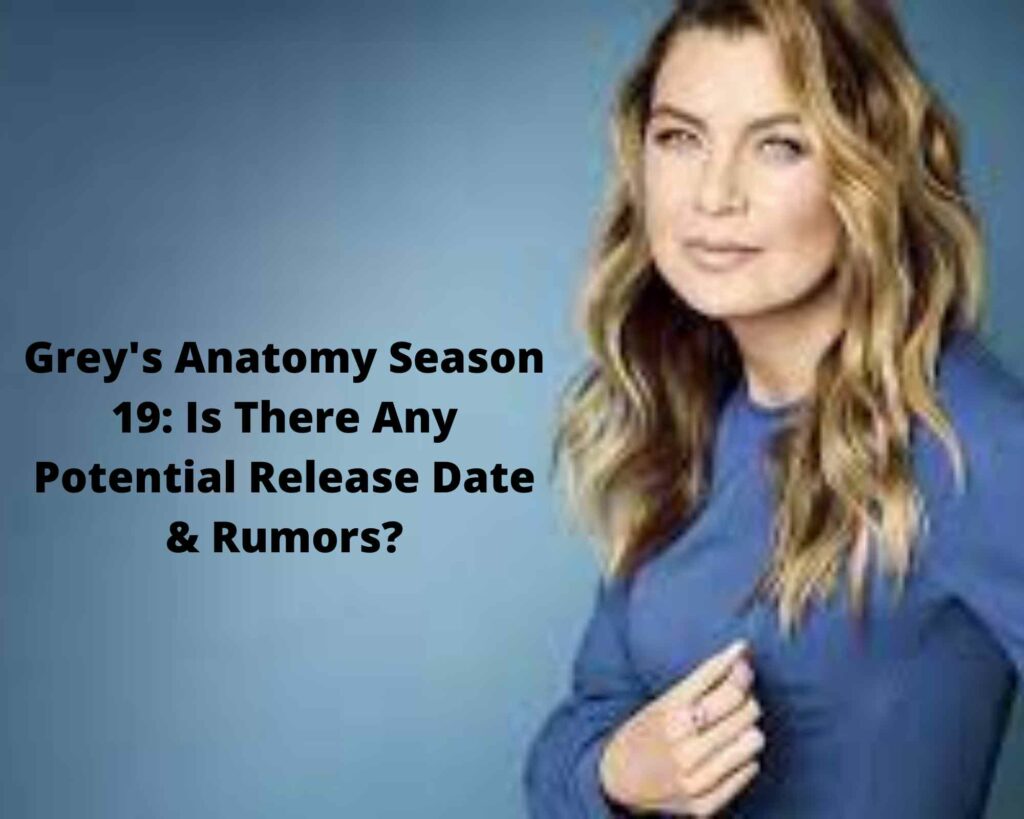 Shonda Rhimes, Grey's Anatomy creator, also reacted to the news of the series renewal saying, 
"I couldn't be more excited that we get to keep telling the stories of Meredith, Bailey, Richard, and all of the other doctors at Grey Sloan Memorial for another season.
This is a true testament to Krista, the cast, the crew, and all the writers who keep the audience on the edge of their seat week after week. And it would not be possible without the generations of incredible fans who have supported Grey's Anatomy for so many years."
If all goes according to plan, we may get to see Season 19 of our favorite medical show in fall 2022! 
Grey's Anatomy Season 19 Plot
According to ABC, the new season "will explore the ever-expanding world of modern medicine through the eyes of beloved returning and new characters."
This description is very vague and does not give any spoilers for Season 19. This makes sense as Season 18 is still premiering new episodes each week. Thus, we can't really predict what will happen in the new season as we're sure the currently airing season is going to have some major plot twists and jaw-dropping revelations. 
Cast
The following main cast will return to star in Season 19 of Grey's Anatomy.
Ellen Pompeo as Dr. Meredith Grey

Chandra Wilson as Dr. Miranda Bailey

James Pickens Jr. As Dr. Richard Webber

Kim Raver as Dr. Teddy Altman

Camilla Luddington as Dr. Jo Wilson

Kevin McKidd as Dr. Owen Hunt 

Kelly McCreary as Dr. Maggie Pierce

Caterina Scorsone as Dr. Amelia Shepherd

Jake Borelli as Dr. Levi Schmitt

Chris Carmack as Dr. Atticus Lincoln

Richard Flood as Dr. Cormac Hayes

Anthony Hill as Dr. Winston Ndugo

Scott Speedman as Dr. Nick Marsh
Grey's Anatomy Season 19 Trailer
Filming for Season 19 has not begun as of yet. Thus, a trailer for it may take quite some while to release. 
Frequently Asked Questions
Is ABC the only streaming platform airing Grey's Anatomy?
Season 18 of the series is available on ABC and Hulu with the new episodes arriving on Hulu one day late. The previous 17 seasons are also available for streaming on Netflix. 
Will the show end with Season 19? 
ABC is willing to keep the show running as long as the series creative team is on board. However, star Pompeo believes the show should end. She said, "I've been trying to focus on convincing everybody that it should end."
However, everyone else seems to disagree with her so we may get a few more seasons of Grey's Anatomy before the show ends for good.
Is there a Grey's Anatomy spin-off? 
Grey's Anatomy released its spin-off series called Station 19 which has had five seasons till now. A sixth one is currently in production.
Doomlands Animated Series: Is This Series Renewed or Cancelled?