Upload caught amazon prime viewers by surprise with its interesting storyline and mysteries. Now, 2 years later, fans are wondering when upload season 2 will be releasing.
After all, they have waited as long as they could and just want to know who will Nathan be within the end. But, it seems like they'll have to wait a bit longer thanks to the pandemic which has managed to slow everything down.
So, continue reading and you'll find the answers to all your questions related to Upload Season 2.
Upload Season 2 Renewal Status
Yes! There will be a season 2 so fans can relax and peacefully wait for it. The news was confirmed back on May 8, 2020, by Greg Daniels. While confirming the news of Upload season 2, he said:
"I am thrilled to continue a great relationship with Amazon Studios and this wonderful cast and find out what happens next to Nora and Nathan and Ingrid and their 2033 world."
Moreover, ahead of Amazon Studios also confirmed that the show had been greenlit for another season. After all, there is so much more for the show to offer to its fans. Jennifer Salke, the head of Amazon Studios said:
"We know our global fans want to see the next chapter with Nathan and Nora, so we are greenlighting season two and are excited that Greg's passion project has found such a devoted audience."
Besides this, the script has been completed, finalized and filming has also come to an end.
Release Date
Filming began back in January 2021 and ended in April. As Robbie Amell aka Nathan from Upload took to Twitter to share the news.
He posted a picture along with his cast members along with a tweet confirming that April 15, 2021, was the last day of shooting. Now, we are sure that post-production will also be almost completed as an official release date has been announced.
Amazon Prime has confirmed that the comedy series new season will be released on Friday, March 11, 2022. In addition to this, all its seven episodes will be released together on that day for fans to binge-watch.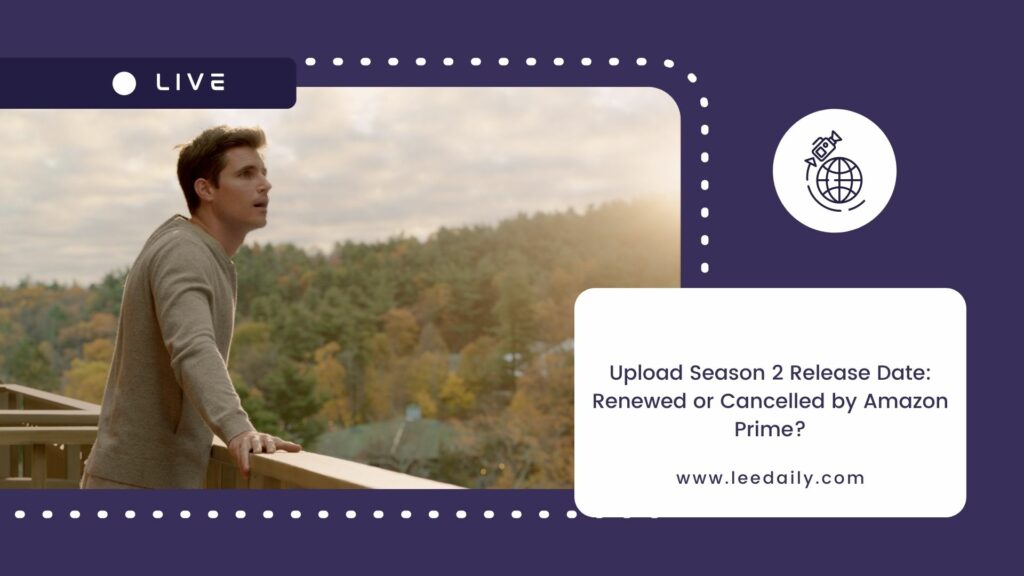 Upload Season 2 Synopsis 
Upload season 2 is going to be anything but simple. The seven-episode-long season is going to show Ingrid get uploaded into Lakeview and take Nathan by surprise.
Ingrid plans to make her relationship with Nathan rock solid once again but it seems like someone else is on his mind. The episodes unveil that he is hung up over his service angel aka Nora.
But Nora has other plans as she gets involved with The Ludds. The Ludds is no ordinary group. It is an anti-tech rebel group. The upcoming season will show technology get more and more advanced as the world dives deeper and deeper into science.
In addition to all this, we still don't know who killed Nathan. This mystery will also probably be solved by the end of season 2. Upload season 2 is going to be crazy, dramatic, and funny.
Cast
Many previous characters will be returning for Upload season 2 along with a couple of new faces. Here is a list of all the uploaded season 2 cast members that we know of:
Robbie Amell as Nathan Brown

Allegra Edwards as Ingrid Kannerman

Andy Allo as Nora Anthony

Zainab Johnson as Nora's co-worker Aleesha

Barclay Hope as Ingrid's father Oliver Kannerman

Josh Banday as Ivan

Kevin Bigley as Luke

Jordan Johnson-Hinds as Jamie

Chris Williams as Nora's father Dave

Andrea Rosen as Nora's boss Lucy

Jessica Tuck as Nathan's mother Viv

William B Davis as David Choak

Chloe Coleman as Nathan's niece Nevaeh 

Rhys Slack as Dylan

Paulo Costanzo as Matteo

Mackenzie Cardwell as Tinsley
Upload Season 2 Trailer
Now although a trailer for Upload season 2 isn't available yet, we are sure it will be released very soon as the release date is quite close. However Amazon Prime has released a short clip which is a review of season 1.
The clip is great for viewers to watch before diving into upload season 2 when it releases as it will refresh their memory and remind them of all the main events from season 1.