Season 2 of Invincible is one of Amazon Prime Video's most awaited series, but it may be a long period before it arrives on the streaming platform.
Amazon's R-rated animated version of Robert Kirkman and Cory Walker's comic series was a hit with fans (including us) in 2021, and with the Prime Video series extended for two more seasons, fans were ecstatic to learn that there will be more Invincible material in the future.
But, for the time being, it's unknown when that will happen – and, according to primary voice actor Steven Yeun, Invincible season 2 may be a bit away.
According to recent statements made by the show's star, Invincible's second season may not arrive until 2023, which means it will be another 12 months before it returns to our televisions. If that's true, it's enough to make any fan throw a rage tantrum in the style of Omni-Man.
Amazon's 'The Lord Of The Rings' Show Gets A Title, Release Date And Plot Description
What do we have about Invincible season 2 as we wait for a more clear release date? In the meanwhile, we've assembled all of the pertinent facts on Amazon Prime Video's adult animated entertainment.
This covers possible release dates, returning and new cast members, narrative strands to be taken up or addressed in Invincible's second season, and more.
Invincible Season 2 Release Date: 2023?
Amazon Studios has not yet set a release date for Season 2 of Invincible. The second season of Invincible was announced with season 3 on April 29, thus work should have commenced by now.
Kirkman and the series' management staff are very certain to have discussed what story points to employ next season (more on this later), and we were hoping that much of the pre-production preparation would have been accomplished by this stage.
However, as previously stated, the show's primary performer Steven Yeun (who plays series protagonist Mark Grayson) recently revealed to Collider that he has not been approached to begin capturing lines for Invincible's second season.
This, together with his usage of the term "we," implies that most of season 2's production has yet to begin. Nonetheless, we're convinced that some pre-production work has already been completed.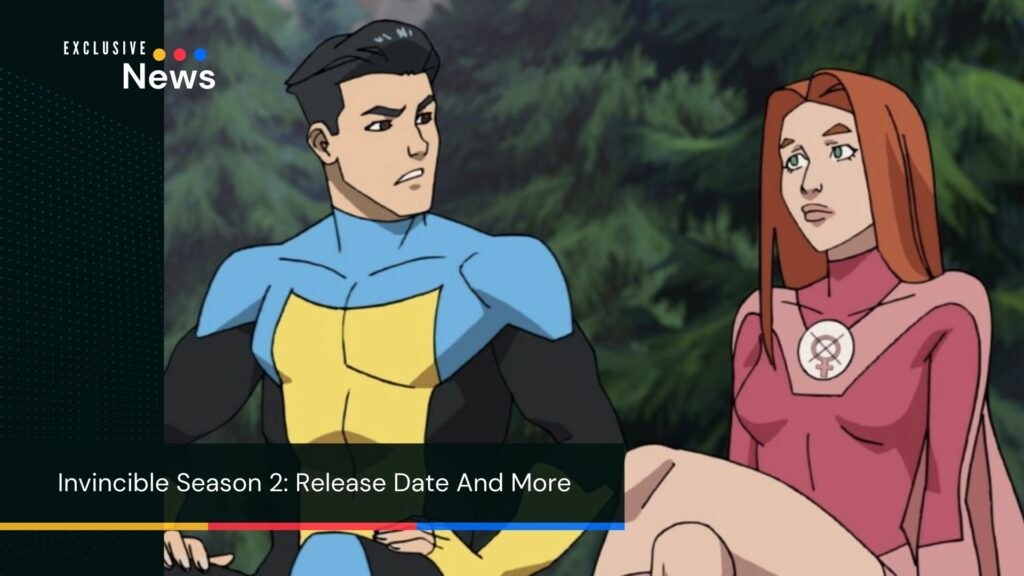 Because of the significant turnaround time for making new episodes, animated series occasionally get an early renewal behind the scenes, so, likely, it's further along than we realize. We'd like to think so if only so that season 2 can arrive sooner than planned.
Even yet, we don't anticipate Invincible season 2 to air until early 2023. Unless the creative team works feverishly to get an episode or two out by the end of 2022, we'd be amazed to see it any sooner.
A production like this requires as much respect and concern to info as possible, so we're hedging our chances on that.
Invincible Season 2 Cast
There have been no casting announcements, but we expect the key characters from Season 1 to return:
Steven Yeun as Mark Grayson/Invincible

J.K. Simmons as Nolan Grayson/Omni-Man

Sandra Oh as Debbie Grayson

Zazie Beetz as Amber Bennett

Gillian Jacobs as Samantha Eve Wilkins/Atom Eve

Andrew Rannells as William Clockwell

Walton Goggins as Cecil Stedman

Jason Mantzoukas as Rex Sloan/Rex Splode
We'll likely see other voice actors repeat their parts in addition to the core cast. Zachary Quinto provided the voice of Robot in season one, but it's uncertain if he'll be required again.
As we have seen the last season, Robot is the artificial host body of Rudy Conners, a man whose genetic abnormalities meant he couldn't exist outside of his saline tank at first. Ross Marquand has taken up Rudy's vocal responsibilities when his mind was transplanted into his new clone body in episode 7.
Nightmare Alley Gets Streaming Release Date on HBO Max and Hulu
As a result, we don't know if Quinto will return. Robot plays an important role in the comics, but we're not sure if those events will be included in Invincible season 2, season 3, and maybe beyond.
Invincible Season 2 Plot
The comic series is entertaining yet at times perplexing. Invincible season 2 might go in a variety of directions, but we already have an idea of what the second installment might involve.
This is based on the season one finale as well as some indications from the series' official Twitter account. We should also find out what happened to Omni-Man/Nolan.
In the comics, Nolan takes out to attack another planet, hoping that the Viltrum Empire will compensate him for deserting his duty on Earth.
There's a lot more for the TV show to cover in terms of Mark and Nolan's relationship, which has been thoroughly explored in the comics as well. We'll be here forever if we get too far into this father-son relationship, so for now, we'll just say we're hoping to see more of J.K. Simmons' Nolan next season.