Kirby and the Forgotten Land, which leaked only hours before the presentation at the Nintendo Direct in September 2021, is definitely the next addition in the lengthy history of games featuring this charming round pink puffball.
Kirby's most recent venture, Kirby: Star Allies, was also released on Switch in 2018, and it was an excellent bundle for both casual and hardcore gamers. There was also the game series offshoot title Kirby Fighters 2, but now Kirby is back in his original level design genre, but with a huge twist.
On the surface, Kirby has always been a lighter, more casual experience. He's a charming figure that appears in games where dying is either extremely difficult or, in some cases, impossible.
His main mechanism of sucking up foes to fling as missiles or take their powers is addictive and keeps his gameplay fresh. At the very same time, there's a noticeable undertone of sophistication in certain games, as well as extra challenges that may put the player's talents to the test.
While we won't know with certainty until we get our hands on this installment, here's what we do hear about Kirby and the Forgotten Land.
Release Date
Nintendo revealed in January 2022 that we would be able to play Kirby and the Forgotten Land in only a couple of months, on March 25, 2022. 
Platforms
Kirby and the Forgotten Land will be available only on the Nintendo Switch. It should unsurprising given that Kirby has long been one of Nintendo's special titles, despite the fact that developer HAL Lab is not officially owned by Nintendo.
Kirby is as inextricably linked to Nintendo as Mario and Zelda are, so any fans of his games would already be aware that they'd need to purchase a Switch in order to enjoy his latest title.
Trailer
The tone of the Kirby and the Forgotten Land revealing trailer isn't what you'd expect from a Kirby game. It begins with a devastated city being reclaimed by nature.
We observe abandoned stores, streets, and buildings until Kirby wakes up on a beach, presumably bewildered about his surroundings before heading into this deserted city. As he sprints and hops around the landscape, he encounters a few monsters while traversing broken-down highways, building areas, and even a rusted amusement park.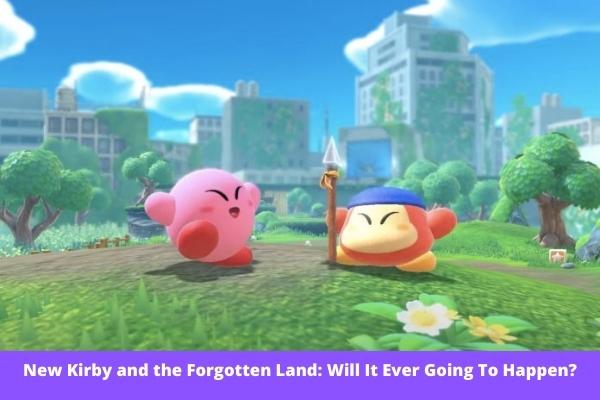 The seaside area is also surveyed, as is what appears to be a funhouse inside, as well as a winter locale. Iconic characters like Waddle Dees, villains such as Kabu, and a slew of changes and abilities all make appearances.
There was practically no mention of a narrative, although we suspect it will be the major emphasis of the game.
"In this new amazing 3D level design adventure, Kirby explores a fascinating environment filled with deserted constructions from a previous civilization," as per the official definition. "What surprises are in store for the pink puffball?" 
Gameplay
This is Kirby and the Forgotten Land's most interesting part. Almost every Kirby game, particularly the mainstream ones, has been a 2D adventure. Now we have a completely 3D Kirby game in which we may explore this fully realistic metropolis.
Many people are comparing it to Mario Odyssey, but we believe that's a bit much. The clip showcases a variety of controls for the game, ranging from the aforementioned completely 3D viewpoint to a more inverted camera option and even 2D parts.
In terms of gameplay, Kirby performs precisely what you'd expect him to do. He can sprint, jump, and perform his famous air float, but sucking up adversaries is still his bread & butter.
We see Kirby eating one adversary and firing it at another, as well as him sucking up a gigantic bull-like foe and delivering it barreling through various items. Of course, there are opponents that you would prefer to absorb than launch.
We see the reintroduction of Kirby's weapon, fire, ice, and boomerang skills, but we predict much more to be featured. Kirby employs these abilities not only in battle but also as a convenience and puzzle-solving device.
The boomerang was shown being used to retrieve a collectible, and flames were seen being utilized to ignite a light in the surroundings. We notice a lot of coins and stars to gather, so we think that it's going to be a collection at the core.
The other dees we saw were similarly imprisoned in a golden cage until Kirby rescued them, implying that we will need to discover and free more of them around the landscape.
Other copy skills seen in the new teaser include one in which he digs into the surface like a mole and a Warrior power that grants Kirby a pop-gun to fire foes from a distance.
There will also be a minimum of one hub location, which we believe will be Waddle Dee Town, where you may do side activities such as collecting symbols, fishing and serving up some yummy foods. More stores and events will appear in Waddle Dee Town when you save more Waddle Dees.