Welcome back Fam! Today we have some amazing news regarding the Outer Banks.  Yes! you heard it absolutely right Netflix has planned on bringing back this crazy and fan-favorite show with us.
Along with having new Seasons for Cobra Kai, Emily in Paris, and The Witcher we will also be having Outer Banks with us. As We Know that you have been eagerly waiting for Outer Banks to be released we are here with all the news for you.
The Outer Banks was released last year in summer and it had left all the fans with a lot of amusement withs such twists and turns. And the way the show had ended the fans got all crazy about the return of the third season.
El Marginal Season 5 Release Date Updates, Cast, Synopsis and More
And if you are wondering when the third season of outer banks will be out then we have got it all covered for you!
If you are not sure how the story goes then let me share it with you. This show is about teenagers named John B who must be searching for Treasures all around the Outer Banks.
He, later on, gathered a group of friends and a girlfriend Sarah Cameron and suddenly things started getting a lot more messy than expected. After the first season, Sarah and John B would be separated from the rest of the group.
Other than that season 2 had a lot of other emotions attached to it. Other than that here is everything we know about season 3 of Outer Banks. So let's dive in and see what we have in our pockets for you 
Will Outer Banks Be Renewed for Season 3?
Definitely, the Outer Banks has been renewed for season 3 as well. In December 2021, Netflix has recently announced that season 3 will be back And has also added we are going to see you soon.  so all the Outer Banks fans get ready for another roller coaster ride of this show.
Outer Banks Season 3 Plot
Even though the third season has been finalized no official plot has been released yet for the show. The end of the second season has left us with a lot of questions in mind and we are wondering when they will be answered.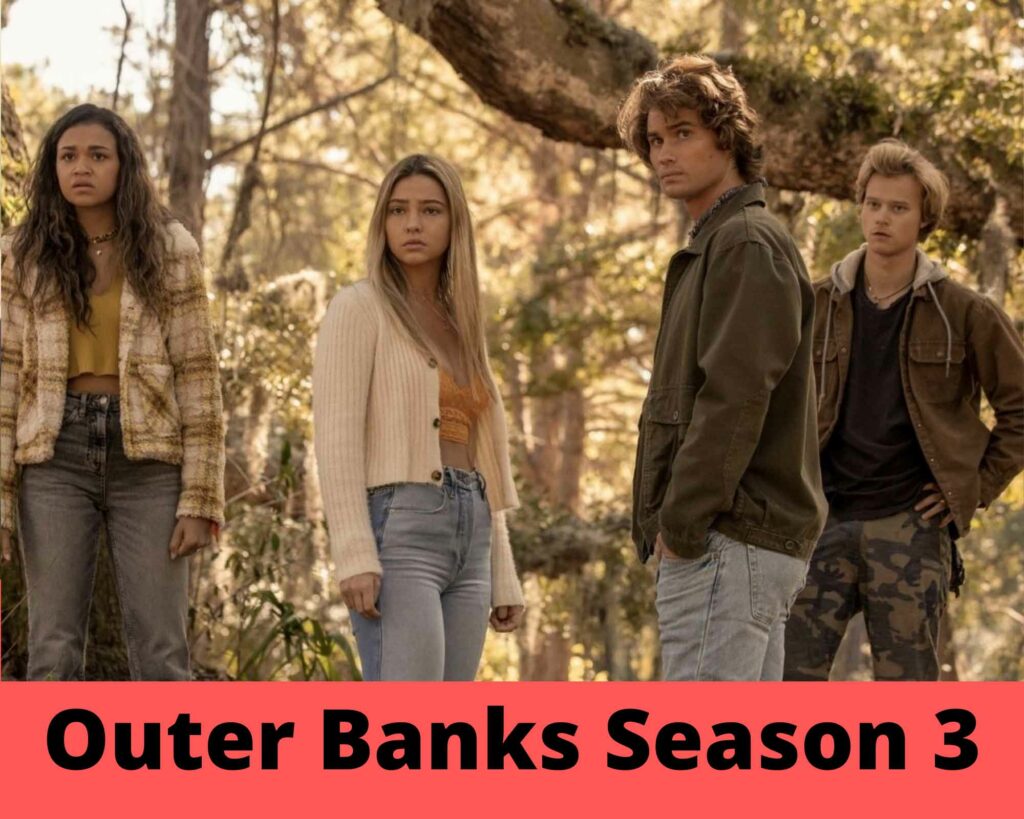 In a matter of fact, the ward had faked his entire death and now he's trying to save his family members. Other than that Big John was also alive. The second season was all about Jon B and Sarah while they confronted their fathers.
And all the other teams we're working on different ways to find a way on the island and as they were stuck in the middle of nowhere.
Outer Banks Season 3 Cast
It is expected that all the cast members from the first and second seasons will be back for the third season as well. This includes Chase Stokes, Madison Bailey, Jonathan Daviss, Madelyn Cline,  Austin North, Rudy Pankow, Charles Esten, and Drew Starkey. 
These characters are most likely to be back for season three. And other than that fans are also waiting to see a lot more of Cleo as the actress Carlacia Grant has been promoted recently and it is also expected that she will be back in this show as well. 
Outer Banks Season 3 Trailer
As of now, no official announcement has been made for the release of the trailer yet. As this show has just been renewed we have to wait for a few more months for the trailer to be out. But meanwhile, you can enjoy the first two seasons and keep a track of what is going on in the show if you haven't already. 
Outer Banks Season 3 Release Date
As no announcement has been done other than the news of renovation we are not sure about the release date of the show. As the first part of the show was released back in April 2020 and further, the second part of the show was released in July 2021.
And if we keep track of this time frame it almost takes 1 year for Netflix to produce. And with this track, we are expecting that season 3 might be released by the end of 2022 or the beginning of 2023.
If we keep track of the first season, which was announced in April 2019 and then released in April 2020, it is most likely for the third season to follow the same path. But we are still not sure and it can be released earlier as it mostly gives a vibe of Summer.
Until further updates stay tuned with us for all such amazing content about your favorite shows and favorite characters.
Wolf Like Me Season 2 Release Date: Renewal Status, Cast, Plot and Everything You Need to Know