The Youngest Emmy Award Winner, Zendaya, Has Confirmed the Release Date for the Second Installment of the Hbo Dark Series, Euphoria.
After a long hiatus of two years, HBO's one of the most popular series is going to hit the screen this January. Yes, Folks! Euphoria season 2 is finally arriving, and it seems it is going to be darker. 
Euphoria, an American teen drama, first premiered on HBO on June 16, 2019. Based on the Iserile tv series of the same name, the show revolves around a spoiled bunch of teenagers who are into drugs and all. The show is quite talked about amongst teenagers.
Attack on Titan Season 4 Part 2: Release Date, Cast, Plot, and Trailer
Critics also praised the show for its cinematography, acting especially of Zenda and music. Season 1 of the series got an excellent IMDB rating of 8.4 out of 10. However, the series became a matter of controversy due to the exceeded nudity and sexual content in the show. 
It is also nominated for several accolades and managed to get Outstanding Actress, Drama Series in Black Reel Awards for Television.
Without wasting any time let's delve into the details of the upcoming season.
Euphoria Season 2 Release Date

Finally, Euphoria season 2 is coming after the long waiting period of two years. season two of the series got delayed due to the global pandemic of coronavirus. Now, the teaser of the show officially confirmed that Euphoria season 2 will finally hit the screen on January 9, 2022, on Wednesday on HBO.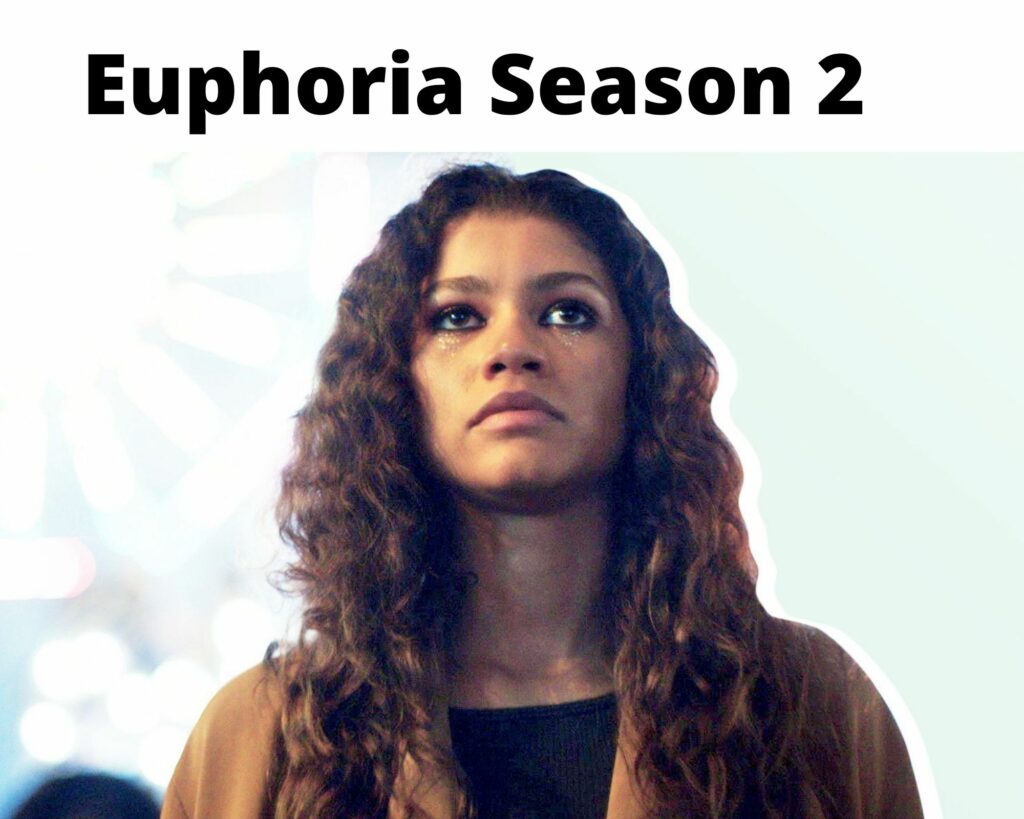 So, mark your Calender accordingly. And be prepared to enjoy the series with your popcorn.
Euphoria Season 2 Cast 
The Emmy award winner and protagonist of the show, Zendaya, will reprise her role as Rue.
The other characters whom we meet in season 2 are-
Barbie Ferreira as Kat 

Sydney Sweeney as Cassie

Alexa Demie as Maddy

Maude Apatow as Lexi 

Angus Cloud as Fez  

McKay as Algee Smith

Storm Reid as Rue's sister Gia

Nika King as Leslie

Austin Abrams as Ethan 

John Ales as David
The creators have also revealed that we will also encounter new faces in season 2. The actors whom we meet in season 2 are:
DARIAN: He will play a character of a 17-year-old brat who is badass. He is sensitive and mischievous and be seen as struggling with drugs. His role is going to be interesting in the upcoming season.

Ray: He will also play a 17-year-old attractive brat who is not going anywhere in his life. However, he always carries a smile on his face. The boy is not educated, but a fighter who is fighting with his problem courageously. 

Ami: She will play the role of 18 years old who is a drug addict. She is a stripper by profession who hates her boyfriend. She has the talent of making any situation worse.

Serena: She will play a 50-year-old white-skinned woman. She had enjoyed her whole life, and now he is struggling and numerous different things to make her living.

There are rumors that Kelly will play an obstinate, drug addict- housewife, and Flenory might play the role of Maddy's lover.
Euphoria Season 2 Plot
Season 1 of the show left numerous threads opened that need to be tied in season 2. Let's deal with it individually:
Relationship of Rue with Jules:

 
At the finale, Jules breaks up with Rue to go to her family. However, Rue could not handle it and took an overdose of the drug. In the final moments of the last episode, it seems that Rue passed away due to the overdose, but she is alive. However, from the teaser, we can say that Rue has again indulged in drugs after remaining sober for a long time for Jules. Will Jules cancel his plan and return for Rue? 
What Does That Dvd Contain Which Maddy Took? 
Maddy took a DVD from Nate's room. However, what does the DVD contains is still behind the curtains. The DVD possibly contains the clip of Nate's dad Cal having sex with Jules. Well, season 2 will reveal the real content.
Reason for Nate's Panic Attack:
In the final moments, Nate suddenly started slamming his head against the door for unknown reasons. Season 2 will look into these angles.
 At the beginning of the series, Jacobs' family picture has three boys in it. However, we only met two boys, Nate, and his elder brother, in season 1. The introduction of his one more sibling is still left. We might meet him in season 2
Euphoria Season 2 Teaser
An exciting teaser of the upcoming season premiered on November 23, 2021. The trailer showed Rue dancing to the song "Call me Irresponsible", and her sister asked her if she is high, to which she did not reply. We also see somebody put his hand on Rue's mouth and drag her somewhere. The teaser also shows a few people dancing and in a smoked room. You can enjoy the teaser here.
Well, it seems season 2 is going to be more thrilling. So, be prepared to watch bombshell Season 2.