With Netflix celebrating Stranger Things Day on September 6, 2021, we have several exciting new updates for you that will probably make you jump up and down in glee. The series producers revealed some thrilling information about the upcoming season four including a new teaser and some new plot details.
This is particularly exciting as filming is complete and season 4 of our favorite supernatural TV show may be coming to our screens sooner than we expected.
So what is the exact release date? Have the producers announced it yet? What new juicy details did the directors share with fans on Stranger Things Day? Keep on reading to find out all about Stranger Things Season 4 including the latest updates. 
Stranger Things Season 4 Release Date
Stranger Things Season 3 aired back in 2019. The series was green-lit for a fourth season soon after but it's been almost 2 years and Season 4 still hasn't premiered.
The major reason for the delay is the pandemic as filming had to be shut down quite a few times. This was done by changing covid restrictions to ensure the safety of producers and cast members. 
Fortunately, filming for the upcoming season is complete as confirmed by Noah Schnapp, the actor who plays Will. He announced the news in an interview in September, 
"We just finished last week… yeah we're done. We've been filming forever. And we're finally done." 
Although Netflix did not announce an exact release date, they've confirmed the release of Stranger Things Season 4 in 2022. Keeping in mind that filming is complete, we will probably get to see new episodes somewhere between early and mid-2022. 
Plot
Season 4 will pick the story up from the third season's tragic ending. In the finale of the previous season, we saw Hopper sacrificing himself to kill the Mind Flayer. He was left inside the underground room with the exploding key.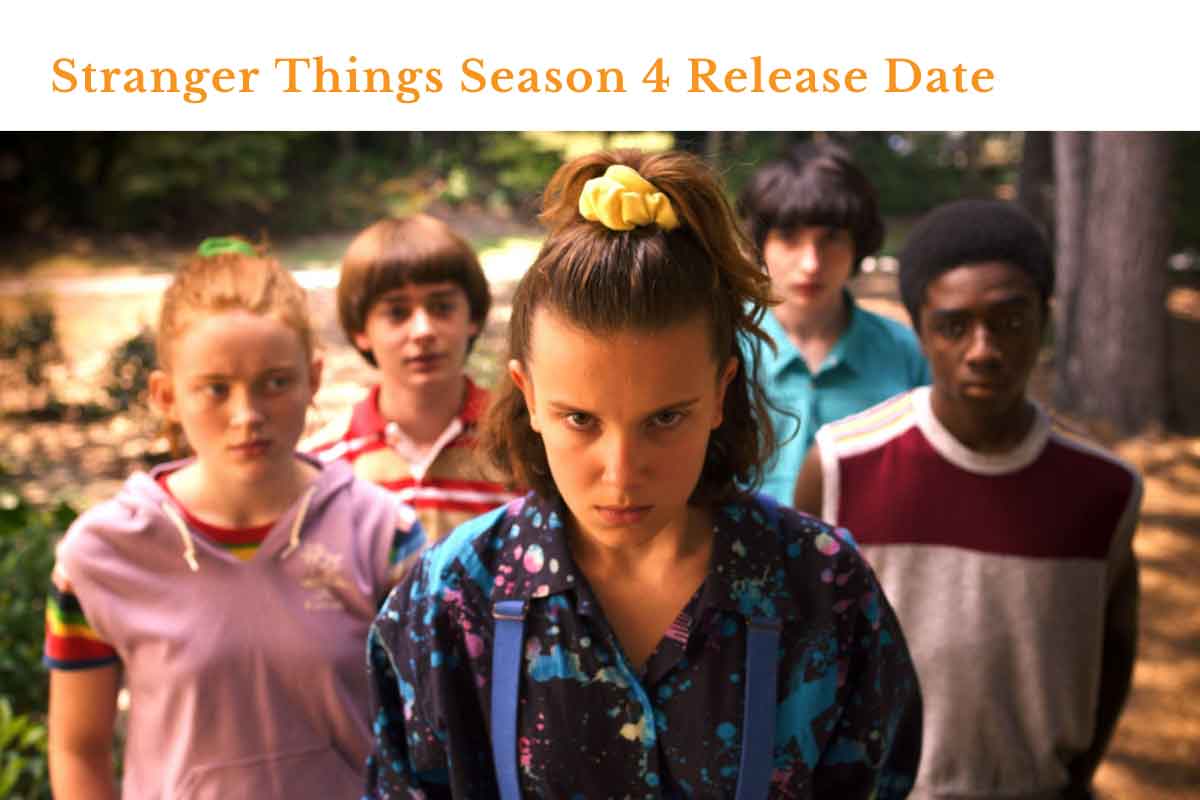 Although we thought this was the end of Hopper's career in Stranger Things, we couldn't be more wrong! David Harbour, the actor who plays Hopper, confirmed that his character will be returning.
He explained season 3's ending saying that "his character had to change and resurrect in some way." He also added, "So we'll see a very different guy going forwards. The same guy but in a different vein.
It's a very cool thing to be able to play." We still aren't sure how Hopper survived but we're extremely glad that he did. Moreover, he will play a major part in Season 4 as his backstory will be one of the key storylines in it. 
Additionally, Season 4 will not be confined to Hawkins, Indiana as confirmed by the teasers. It will explore several different states including California where Eleven now lives.
She will face several difficulties including shootings at her house and the government trying to capture it. Plus, the fact that she has lost her powers makes her a lot more vulnerable! 
The Soviets will also return with more sinister plans. They have a Demogorgon in their captivity. Does this mean the Gate hasn't been properly closed? Or can Demogorgons create tears in reality and come into this world? 
There is also the mysterious Creel House. Are the inhabitants in it possessed? Does it have any connection with the Upside-Down? We're not sure what the story of this house is but we do know that it will be a major part of Season 4's plot. 
The Duffel Brothers explained the premise of Season 4 saying, 
"We're excited to officially announce that production for Stranger Things 4 is now underway—and even more excited to announce the return of Hopper!
Although it's not all good news for our 'American'; [Hopper] is imprisoned far from home in the snowy wasteland of Kamchatka, Russia, where he will face dangers both human… and others.
Meanwhile, back in the States, a new horror is beginning to surface, something long-buried, something that connects everything… "
Stranger Things Season 4 Cast
The main cast will be returning for Season 4 including 
Millie Bobby Brown as Eleven 

Finn Wolfhard as Mike 

Caleb McLaughlin as Lucas 

Gaten Matarazzo as Dustin 

Noah Schnapp as Will 

Sadie Sink as Max 

Joe Keery as Steve 

Natalia Dyer as Nancy 

Charlie Heaton as Jonathan 

Maya Hawke as Robin 

Winona Ryder as Joyce

David Harbour as Hopper
Several new actors will also be making an appearance in season four including Myles Truitt as Patrick. He is a basketball player with a "spiraling out of control" life.
Amybeth McNulty will also appear as Vickie, a "cool, fast-talking band nerd who catches the eye of one of our beloved heroes."
Regina Ting Chen will play the role of a guidance counselor named Ms. Kelly. And, Grace Van Dien as Chrissy, the popular high school cheerleader with a "dark secret."
Robert Englund will join the team as Victor Creel, the psychotic man with Tom Wlaschiha playing the role of a handsome Russian guard, Dmitri. 
Another Life Season 3 Release Date, Cast, Plot – What to Expect
Mason Dye plays Jason Carver, "a handsome, rich athlete dating the most popular girl in school." 
The cast list also includes Jamie Campbell Bower as Peter Ballard, Eduardo Franco as Argyle, and Sherman Augustus as Lt Colonel Sullivan. 
Stranger Things Season 4 Trailer 
The producers have revealed several teasers to keep fans excited for the upcoming season. This includes a sneak peek teaser and an official announcement teaser. They've also released four unique teasers which deal with several different storylines as mentioned down below.
From Russia With Love…- Featuring icy Russian snow-lands and the military, this trailer deals with Hopper's captivity. 
Eleven, Are you Listening?- Dealing with Eleven's backstory, the teaser features a camera, a huge clock, kids playing with cars, a chessboard, and a Magic 8 ball. 
Creel House- The Creel House teaser shows us its backstory with a possessed dad killing his family in it back in the 1950s.
Jumping to the 1980's timeline, Max, Dustin, Steve, Robin, and Lucas break into it to find a grandfather clock. This clock is probably either related to the Upside Down or time traveling. 
Welcome to California- This teaser introduces us to Eleven's new life in California with the Byers family. After 125 days away from Hawkins, Eleven feels miserable as she's bullied in school. To make things worse, her house is attacked and the government wants her in custody. 
The official trailer is still in process and will be released somewhere in 2022. 
Frequently Asked Questions
How many episodes will Season 4 have?
The Duffel Brothers confirmed the news of Season 4 having nine episodes. The names of the first few are The Hellfire Club, Tick Tock Mr. Clock, and You Snooze You Lose. 
Will there be a fifth season? 
The Duffel Brothers informed fans that season 4 won't be the end of the series. Hence, a fifth season is almost confirmed.
Additionally, Netflix CEO Ted Sarandos wants to expand Stranger Things into a franchise. Thus, we may get several spins offs including a movie series for our favorite horror sci-fi series.