Produced by anime production company Bones, Bungou Stray Dogs is a fantasy anime that revolves around detectives with magical abilities who solve supernatural crimes.
It is based on a manga series in which the author Kafka Asagiri has brought dead writers and poets back to life with special abilities. And who doesn't love an anime which has mystery, crime, and fantasy altogether?
Hence after 3 successful seasons, fans are wondering where Bungou Stray Dogs 4 is? When will it be renewed? When will it be released? Is there enough material? So, to find answers to these questions and many more, continue scrolling.
Bungou Stray Dogs Season 4 Renewal Status
The anime series started airing back in 2016 with the first season which was 12 episodes long. The success of the first season was so huge that a second season followed soon in the same year i.e. 2016.
However, there was a huge time gap between the second and third seasons. As the third season was announced on 21st July 2018 and aired on 12th April 2019 (exactly three years later).
But, fans were blessed with an original video episode in 2017 and a movie titled Bungou Stray Dogs: Dead Apple in 2018.
Now, it's been 2 years since no official news has been released about the Bungo Stray Dogs Season 4. And we think fans will probably have to wait a bit longer looking at the gap between season 2 and season 3.
Although, we are sure that a season 4 will happen probably in 2022. This is because the series is a huge hit. They became a part of the HBO Max streaming library back in July 2020. And there is plenty of content available for two new seasons.
Since the series is based on a manga of the same name. This manga has a total of 90 chapters out of which only 53 have been used. Moreover, each season from seasons 1 to 3 have only used 17-18 chapters for the material.
This clearly shows there is ample material available. Besides this, there is a comic book series for the manga as well in the Young Ace magazine which releases every month.
Thus, whenever the producers are ready to renew and start the production of Bungo Stray Dogs Season 4, the content will be available.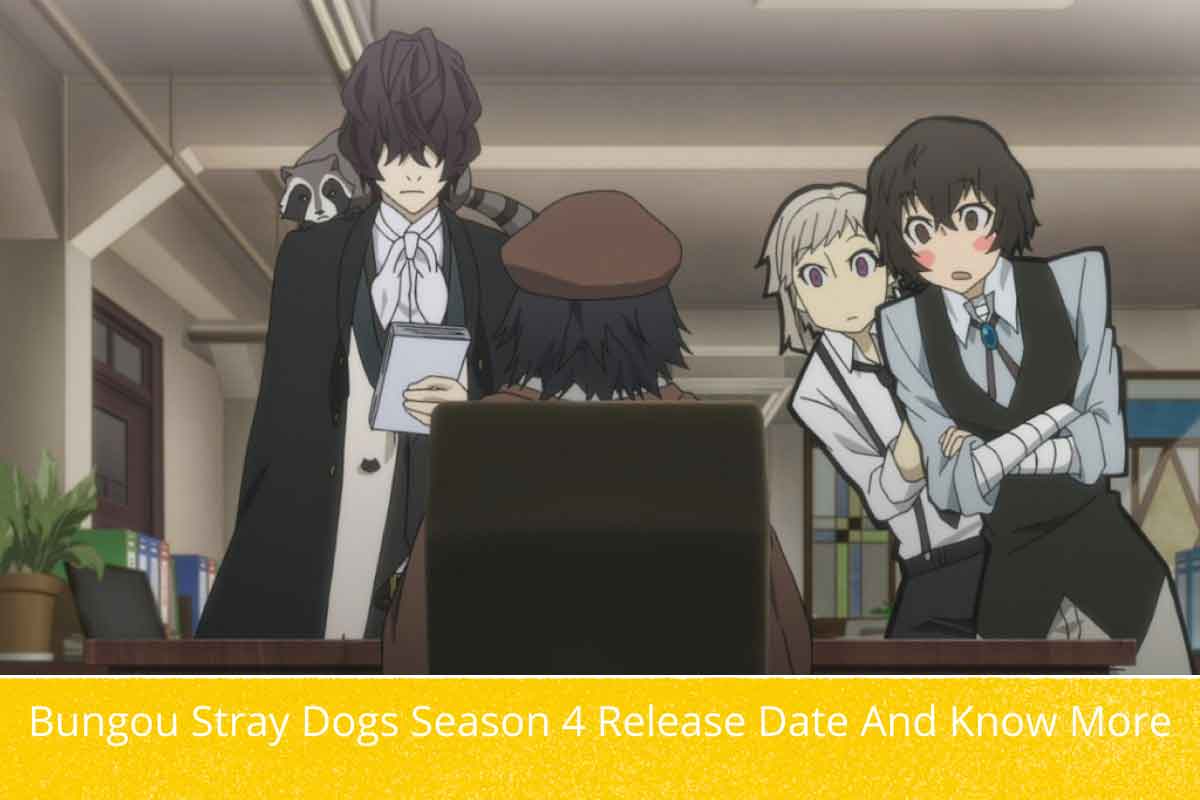 Release Date
Since the show hasn't been renewed yet, its official release date has not been released as well. Although, we expect that news on season 4 will be announced sometime in the following year i.e. 2022.
Bungou Stray Dogs Season 4 Cast
While a couple of new characters will be added to the fourth season of the anime, here are the main cast members that will be coming back for Bungo Stray Dogs Season 4.
Yūto Uemura as Atshushi Nakajima
Mamoru Miyano as Osamu Dazai
Yoshimasa Hosoya as Doppo Kunikida
Hiroshi Kamiya as Ranpo Edogawa
Toshiyuki Toyonaga as Junichirō Tanizaki
Hiroyuki Kagura as Kenji Miyazawa
Yu Shimamura as Akiko Yosano
Rikiya Koyama as Yukichi Fukuzawa
Sumire Morohoshi as Kyoka Izumi
Synopsis
The story begins with Atsushi Nakajima, who is the protagonist and an orphan who has been kicked out as he turns into a white tiger whenever he is exposed to moonlight.
In his terrible time of need, he comes across Osamu Dazai, a detective from an armed detective agency, who recruits him. Here, Atsushi finds out there are more like him. As in this organization, all the detectives possess supernatural abilities that make them special.
And help them solve the crime. Every episode is more interesting and every season unveils something new and exciting. The same can be expected from season 4 where a new crime organization namely Decay of Angels will be introduced.
The detectives will have to come together and fight them.
This is all we know about the synopsis of season 4. If we get any more details, we will update this section.
Bungou Stray Dogs Season 4 Trailer
The anime has not been renewed for a season 4 yet. Hence no trailer has been released and there is no release date for it either. So, for now, fans of the anime can rewatch the first 3 seasons on HBO Max, Crunchyroll, or Funimation.