Rent A Girlfriend is a romantic comedy anime whose first season was a huge hit. It is based on a manga by Reiji Miyajima whose new chapters are still being released.
The first season ended in September 2020, and since then fans have been wondering about the future of Rent A Girlfriend Season 2.
The summer hit is quite different from other anime as its protagonist Kazuya Kinoshita is a kind of failure. He isn't good at his studies at all. And once, by luck, he ended up getting a beautiful girlfriend, Mami Nanami.
But she dumped him within a month. Heartbroken, he decided to use a dating app that allows the user to rent a girlfriend. And so, he rented the beautiful Chizuru Mizuhara. Surprised by her beauty and the unrealistic feel of the relationship, he ends up giving her a low rating.
Moreover, things take a turn when Kazuya's hospitalized grandmother meets Chizuru and end up liking her. Kazuya keeps the act up with Chizuru for his grandma. The season ended with a cliffhanger as Kazuya gets feelings for Chizuru (which he hasn't confessed yet).
And this is why fans are impatiently waiting for Rent a Girlfriend Season 2. So, here is everything you need to know.
Rent A Girlfriend Season 2 Release Date 
The anime was renewed immediately for a new season after the end of the first season. The news was confirmed with the help of a teaser.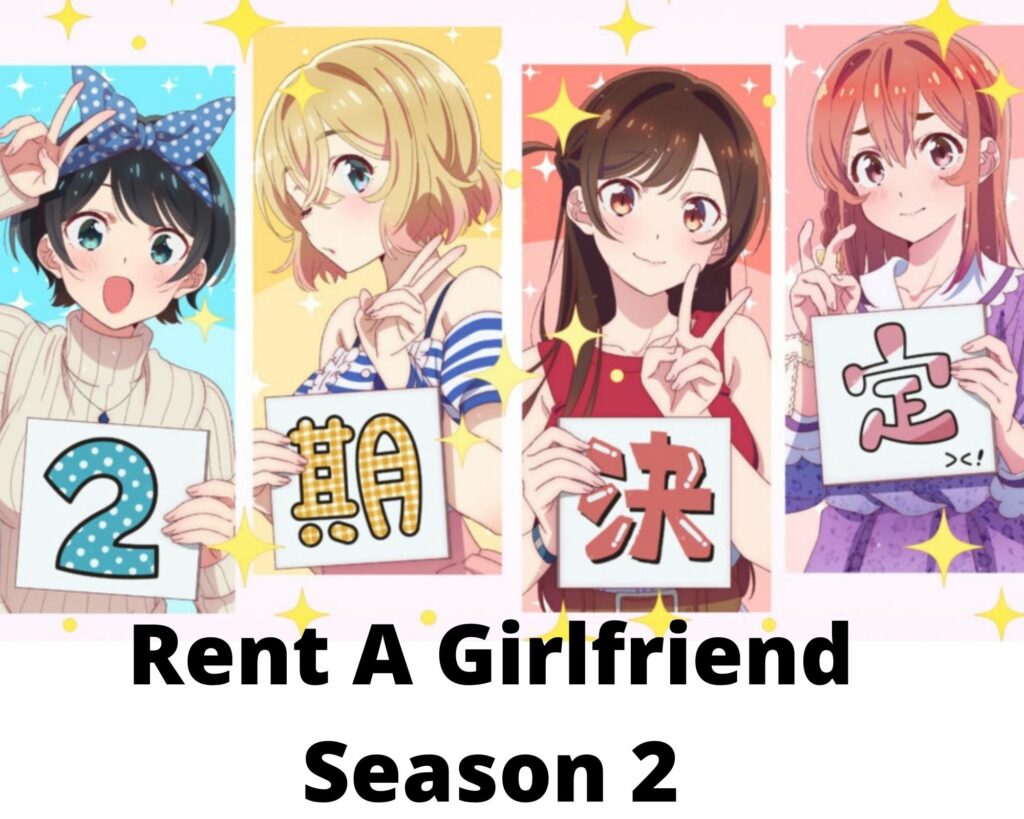 However, it's been a while but no official release date for rent a girlfriend season 2 has been out. But the producers have confirmed that the new season will be released in 2022.
According to us, the upcoming season will probably release around the same time as season 1 i.e. in the summer of 2022. 
We think that this delay in the release date has been caused due to the pandemic. As there was already enough content present for a season 2. Hopefully, it won't take longer than the summer of 2022 to release.
Rent A Girlfriend Season 2 Cast
While an official cast list has been shared yet, it would be quite safe to say that the cast of season 1 is returning. Because in the short video that was released to announce the renewal of season 2, the main anime voice cast from season 1 was featured. So, here are all the cast members for the new season.
Shun Horie as Kazuya Kinoshita

Sora Amamiya as Chizuru Mizuhara

Nao Tōyama as Ruka Sarashina

Aoi Yūki as Mami Nanami

Rie Takahashi as Sumi Sakurasawa

Yukari Nozawa as Kazuya's grandmother Nagomi Kinoshita
Synopsis
No official synopsis has been released for the upcoming season. But since it is based on the manga, we can predict a few plot details. According to us, Mami will get a bit jealous of Kazuya and Chizuru's relationship.
In addition to this, we also think that Kazuya and Chizuru will finally confess their feelings for each other. And their relationship will move to the next level. Because until season 1, all viewers have witnessed is the characters teasing their feelings but not opening up about them.
Another Life Season 3 Release Date, Cast, Plot – What to Expect
Season 2 will change it all and stir things up. Once we get more details about renting a girlfriend season 2, we will share them with you.
Rent A Girlfriend Season 2 Trailer
A trailer for the new season hasn't been released yet. And it will be a while until this happens. This is because rent a girlfriend season 2 will be released in 2022. Until then, fans can rewatch season 1.
Frequently Asked Questions
Where can I watch Rent A Girlfriend Season 2?
You can watch the first season and the new season after it is released in 2022 on Crunchyroll.
How Many Episodes Will Season 2 Have?
According to us, season 2 will have just as many episodes as season 1 i.e. 12 episodes.