After several scandalous affairs, leaked tapes, and summer flings, Paris Hilton, the iconic actress, and socialite, has finally tied the knot! Her relationship with Carter Reum began in 2019 and two years later the couple is happily married!
Paris posted pictures of her wedding dress soon after marrying Carter Reum. The internet went crazy over the couple's fairytale wedding as Paris flaunted her magnificent white dress. 
Carter's Proposal
Carter got down on one knee last year at Paris' 40th birthday party. He made a romantic speech and of course, a teary-eyed Paris happily agreed.
Carter Reum asked Jean Dousset, the great-great-grandson of French jeweler Louis-François Cartier, to design a custom ring for Paris. She described it as " breathtakingly beautiful." 
The proposal took place on a beach with the lettering "marry me."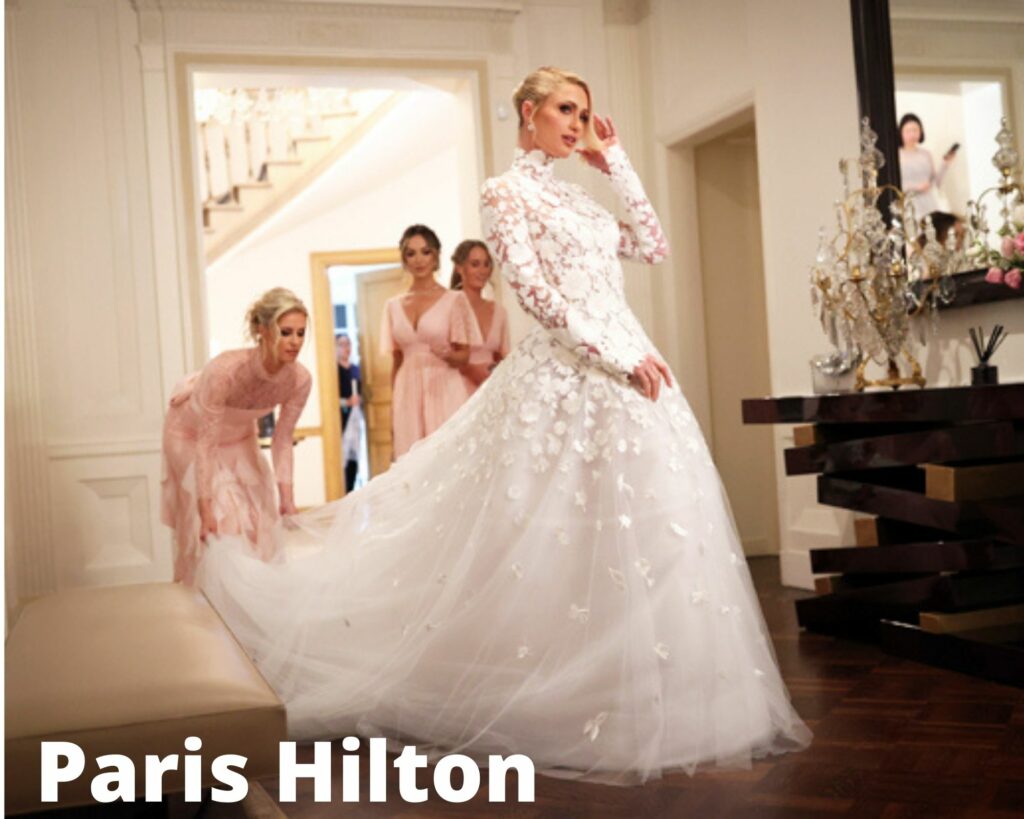 Paris described her feelings after the proposal in a USA TODAY interview. 
"I feel like a grownup finally, and I'm so excited for the next phase of my life: to have a family and just grow up." 
She also added that she is "so incredibly happy and in the best relationship of my life."
Paris Hilton Marriage Ceremony
The wedding took place on Thursday, nine months after the grant proposal. Paris updated her blog website with pictures of the event along with her feelings. 
She wrote, 
"Yesterday was the big day: My Wedding. I finally got to kiss my Prince and begin the happily ever after I've been dreaming of since I was a little girl." 
Another Life Season 3 Release Date, Cast, Plot – What to Expect
She described her event as "glam" with lots of champagne and a "dancing and raging to a DJ set" to end the night. She also fangirled over the moment the two locked eyes at the wedding while also gushing about her husband. 
Her blog post read, 
"I told him he couldn't cry because then I'd start crying and I would ruin my mascara before my walk. Of course, he did cry, but I think I started crying first. It was a Cinderella moment and I knew I found my true love."
She ended her post with sentimental nostalgia, 
" It was the best day and night of my life. If I could do it all again I would in a heartbeat." 
Paris Hilton Wedding Dress
Paris wore an exclusive custom-made Oscar de la Renta gown which made her look like a real-life princess. 
She gushed over her dress in an interview with Vogue saying, 
"I love how it turned out. I wanted something timeless, elegant, chic, and iconic, and I am so happy." 
Oscar de la Renta described her masterpiece saying that it "was crafted and hand-embroidered by eight modistes over 1,400 hours." The dress featured long sleeves, lace details with pressed flowers, and a matching veil.
It was poofy and flow-y which made it look like a creation right out of a fairytale. Hilton agreed that the dress made her "feel more like a Princess than ever before." 
She described her "Cinderella moment" saying, 
"I remember my first two steps down the aisle so clearly. Getting to see the faces of all my loved ones, and closest friends out in the crowd, and all their eyes on me. I had to hold myself together though because if I didn't then I'd be crying in all the footage for the show. It was such pure magic."
Paris posted a sneak peek picture of her dress on Instagram on early Friday morning. It was paired with the caption, "My forever begins today… #ForeverHiltonReum." 
She then added several more photos with cute captions like "Paris and Carter 11/11" and "Wifey for Lifey." 
Paris wore not only one spectacular dress but also another one! However, we don't know many details about this new wardrobe change except that it too was a white ballroom gown. 
Paris Hilton Bride Crew 
Nicky Hilton Rothschild, Paris' younger sister, was the maid of Honor. She looked breathtaking in her pink Alice +olivia by Stacey Bende gown. It had lots of chiffon ruffles, intricate lace patterns, and a satin bow. 
Her bridesmaids included Halle Hammond (Reum's sister), cousins Farrah Aldjufrie (Kyle Richards' daughter), Tessa Hilton (Hilton's sister-in-law), Whitney Davis, and Brooke Wiederhorn. They all wore similar pink Alice +olivia  gowns.  All dresses had flutter sleeves with lace details. 
Paris shared her experience with her bridesmaids.
"We sipped on champagne and laughed, and cried tears of joy when sharing all of the memories from the past. I was in awe that this day had finally arrived," she wrote in her blog post. 
Lily Grace and Teddy, Hilton Rothschild's daughters, served as the flower girls at the event. Both of them wore customized floral frocks by Oscar de la Renta. 
Wedding Attendees 
Among the most famous wedding guests were Kim Kardashian and Demi Lovato. The latter even performed her song "I will always love you" at the reception.
Hilton expressed her love for Demi's song saying, 
"I loved Demi Lovato's performance." 
Other notable celebrities who attended the wedding include Kim Petras, Nicole Riche, Paula Abdul, and Bebe Rexha. Emma Roberts, aunts Kim Richards and Kyle Richards, and Meghan Trainor also attended the wedding. 
Paris Hilton and Carter's Love Journey Series
Paris and Carter will be releasing a thirteen-episode docuseries called Paris in Love. It will include all the exclusive juicy details about their journey together. It will be streamed by Peacock who said that they will include never seen before footage from the engagement party, bachelorette party, and bridal shower. 
The first episode came out on Thursday. It is called "This is…Paris Getting Married." The couple shared their excitement and nervousness before the wedding in the episode. 
"It is going to be your fairytale wedding. That first kiss and that first hug and as we always say, the electric bolts that are going to shoot between us — I'm going to think about all those memories," Reum said, describing his expectations for this wedding. 
Paris, on the other hand, discussed her fears about the first dance.
"I'm not used to this ballroom dancing, it's not my thing. Plus I'm going to be in this huge gown that has a long train… this dress is so long… so I'm just nervous that (my husband and father) are going to step on it. Everybody, please pray for me," she said.
She also added, "But everything is just perfect. I am just so excited and nervous and happy. Just lots of emotions right now."
Why Princess Diana's Revenge Dress Is Still So Relevant, 27 Years on