Although true virtual reality experience isn't a reality yet, you can live in a world where it exists through Kaede Honjō, the main character in Bofuri. She plays the VRMMORPG NewWorld Online Game and takes viewers on a unique and thrilling adventure.
Too scared to get hurt, she uses all her status points to increase her defense. Her speed sucks and she can't do magic but her unparalleled strength allows her to become one of the strongest game players.
The plot of Bofuri is like no other- it's funny, dangerous, and full of suspense (a weird combo that surprisingly works great). Currently, the series only has one season. However, since the first one was such a hit, it is no surprise that fans are asking for a second season.
If you too are interested in Bofuri Season 2, then buckle up because we've got some pretty exciting news for you.
BOFURI Season 2 Release Date
The first season came out in January 2020. During its finale, the producers announced the renewal of the series for a second season. Then, in January 2021, they told fans that production is underway.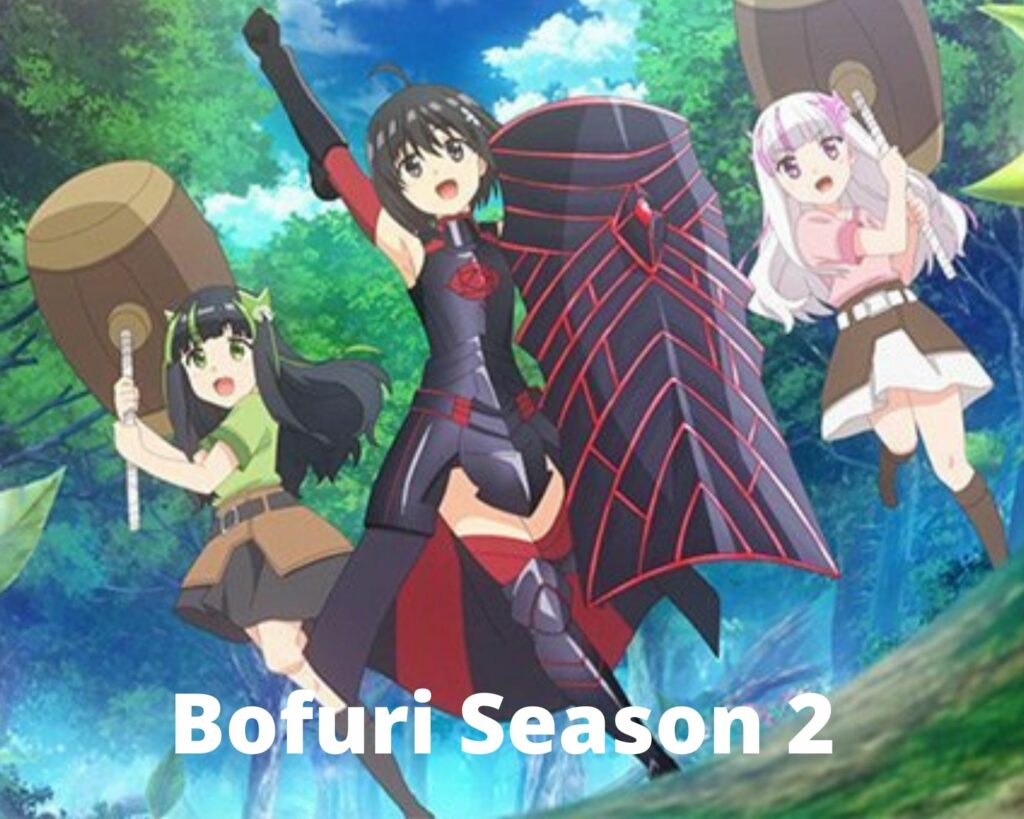 They also announced that the release date for Season 2 will be in 2022. This came as a pleasant surprise because anime shows normally take a few years gap before releasing a new season. 
Based on the production team's announcement, Season 2 will probably come out in early 2022. This is only possible if the pandemic did not halt filming! Fortunately, the producers haven't made any comments on a delay which means Season 2 will come out according to schedule. 
The second season will first be released on various TV channels in Japan including AT-X, ABC, and Tokyo MX. It will then air on Hulu TV internationally. 
Plot
In Season 1's finale we saw Kaede, i.e Maple, become one of the last surviving teams and win the third position. Unfortunately, the producers have not released any information about the storyline of Season 2.
However, we do know there's plenty of source material as the series is based on a 2016 web novel series. The first season covered only four volumes out of the 12  volumes making up the novel series. 
Despite not knowing much about Season 2, we are sure it will be just as epic as the first season. It too will feature mind-boggling battles, humorous cute moments, and lots of new friendships. All we know for now is that a spectacular adventure awaits us in 2022! 
BOFURI Season 2 Cast
Since the plot of the series mostly deals with Kaede making new friends, there will be lots of new characters in Season 2. A lot of actors from Season 1 will also return to voice characters including,
Kaedo Hondo- Voiced by Kaedo Hondo in Japanese and Megan Shipman in English. 

Sally- Voiced by Ruriko Noguchi in Japanese and Jad Saxton in English. 

Kanade- Voiced by Satomi Arai in Japanese and Brittney Karbowski in English.

Iz- Voiced by Satomi Satou in Japanese and Caitlin Glass in English. 

Syrup- Voiced by Miyuri Shimabukuro in Japanese and Natalie Hoover in English. 
BOFURI Season 2 Trailer
The trailer for Season 2 is not out yet. But, a new teaser may come out any day now that filming is almost complete.