What happens when an aircraft goes into turbulence and disappears for five years? You think it has crashed and all the people on board have died.
However, this isn't what happens in Netflix's popular supernatural show called Manifest! The crew and passengers survive somehow and return after five years!  But of course, things aren't the same anymore and each passenger realizes their loved ones have changed.
The series explores exciting storylines like blooming romances, supernatural abilities, and lots of drama. It's been a huge success and all three of its seasons have broken records and received praises from critics all around the world.
Thus, it is no surprise that fans are asking for a fourth season to see their favorite characters back in action. But will this happen? Will fans get a fourth season? Keep on reading to find out the latest information about Manifest Season 4. 
Manifest Season 4 Release Date
The series was initially owned by NBC which released the first three seasons of Manifest in 2018, 2020, and 2021. However, it canceled the series after the third one and sold it to Netflix.
Fortunately for fans, Netflix renewed Manifest for a fourth season after the first three topped its viewing charts in several countries.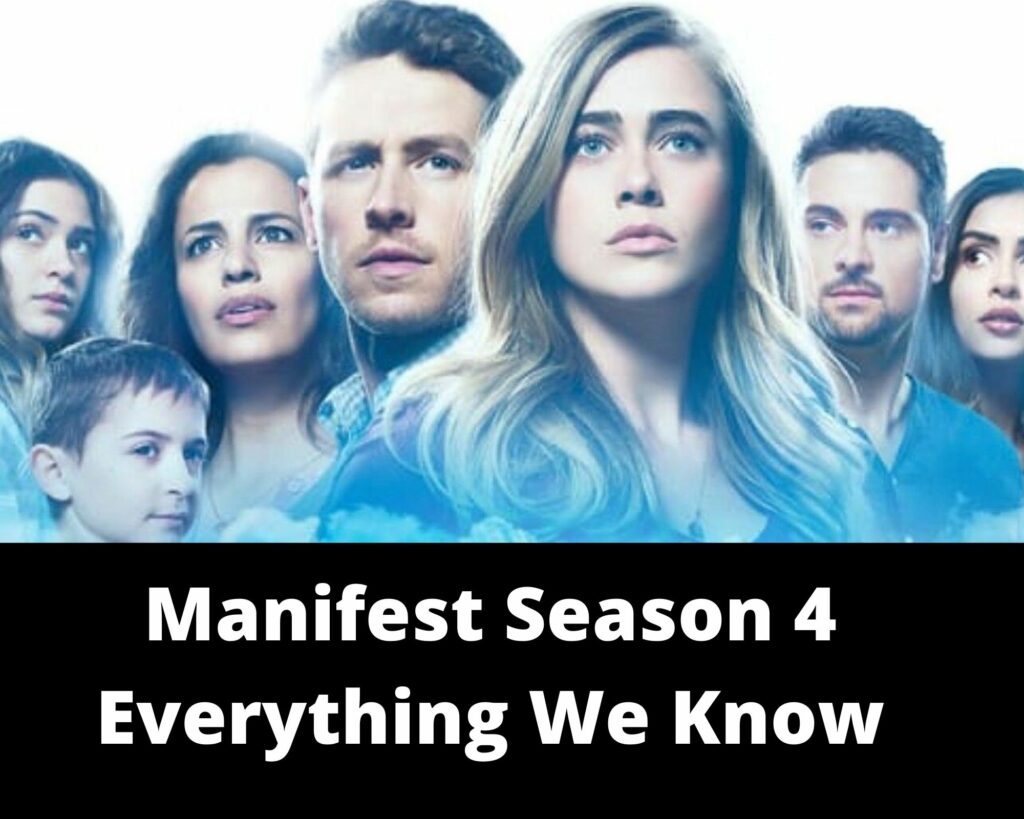 Manifest had a viewing streak of more than a million views per week for six weeks! Moreover, the series was in Netflix's Top 10 for one hundred days; a record that was previously held by only two other shows. 
Creator Jeff Rake commented on this sudden cancellation and renewal, 
"There is something very meta about the show's death and rebirth, given that that's the story of the series itself."
We do admit that this is a spooky coincidence! Because just like the characters who were presumed dead but came back to life, Manifest too returned for a fourth season after being canceled! 
Manifest Season 4 will be the last one in the series! It will consist of 20 episodes after which the show will end for good. Filming for the season will begin in November. It will take a few months to complete. Thus, the earliest possible release date for Manifest Season 4 is in late 2022. 
Jake also informed fans that filming will begin soon. He said, 
"I'm hopeful that cameras are rolling in November or December [2021] latest… It might take a minute for a brand-new batch of episodes to show up in people's homes, but it's going to be worth the wait."
Manifest Season 4
Plot 
The plot for Season 4 will be quite exciting! A lot of things will happen in it! This is because creator Jake Rake wanted to make 6 seasons. However, now he will be fitting all his ideas for three seasons into one 20 episode season. According to Jake, 
"The endgame won't change at all…I am confident that 20 episodes give me enough time to tell the entirety of the story as I always intended to."
Hence, he won't be cutting down on any plans and will make sure we get the spiciest juiciest season possible! 
Season 4 will deal with the consequences of the third season's finale. Jared knows about Sanvi's involvement in Sarah's mother. What will he do with this new information? Will he tell Sarah? Will Sarah get revenge? 
Additionally, where has Cal disappeared too? He had mysteriously vanished when he touched the tailfin.
Moreover, Captain Daly's hideout will be a major part of the fourth season's storyline. Jake remarked on this saying, 
"Whether it's purgatory, whether it's the netherworld, these are terms and concepts that Ben and others will struggle to understand. Let's put it this way: Captain Daly has been exactly where the passengers as a group were for those five and a half years.
Captain Daly has been exactly where Cal was from the end of Episode 312 when he disappears to when he returns right there at the very end of the season finale. What that place is, I'm going let Cal speak to that when we come back in season four."
Manifest Season 4 Cast
Most of the cast members signed up for season 4 as soon as its renewal was announced. This includes 
Melissa Roxburgh -Michaela Stone- A NYPD detective who is one of the passengers of Flight 828. 

Josh Dallas -Ben Stone- Michaela's brother who is on the same flight as her. 

JR Ramirez -Jared Vasquez- Another NYPD detective who is Michaela's ex. He too was on the flight. 

Parveen Kaur -Saanvi Bahl- A doctor aboard Flight 828. 

Luna Blaise -Olive Stone- Michaela's niece. She is a passenger on flight 828. 

Ty Doran- Cal Stone- Ben's son. 

Holly Taylor-Angelina Meyer- One of the passengers. Her religious parents hold her captive after her return. However, Michaela saves her!

Daryl Edwards -Robert Vance- The NSA director who is in charge of Flight 828's investigation. 
Additionally, Matt Long, who plays the role of Zeke Landon, may or may not return for Season 4. He told Deadline, 
"I love the character in the show so much, but as you know, when the show was canceled I booked another show. It was a pilot. We don't know what's happening with it yet.
It's also an awesome project. So we're just trying to work out schedules. Everybody wants the best thing for everyone so fingers crossed it all works out for the best."
Manifest Season 4 Trailer
Once filming starts in a few days, the directors will probably release some exclusive footage. As for the actual trailer, it won't be out for quite a bit as filming will take a few months to complete.